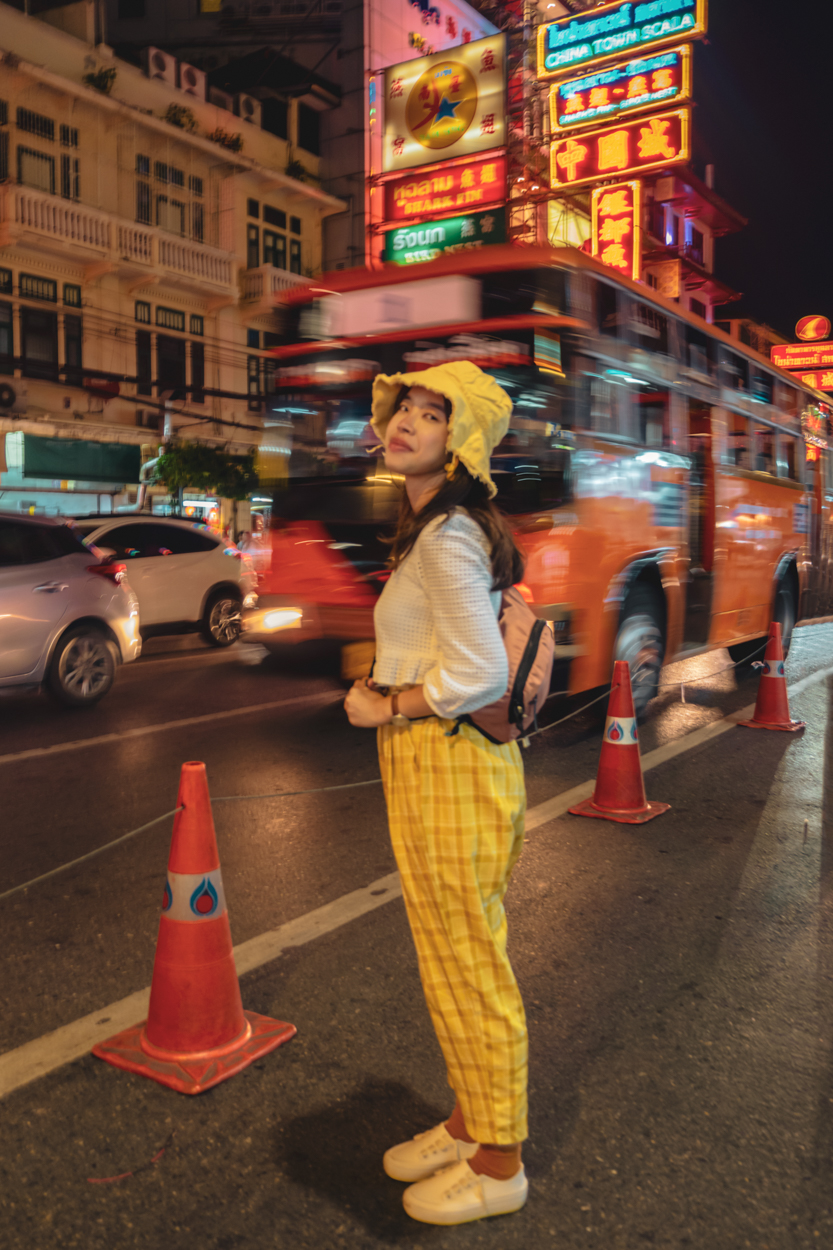 While we have been sharing our favourite photo spots in Thailand, we decided to compile a post dedicate for all food lovers and our love for food. There is so much great food spots in Thailand, especially Bangkok. You can rediscover something new at every corner, there might be a beautiful cafe or hidden local restaurants and you will never miss out – their street culture at each turn.

Therefore during our trip, we have planned a day solely to discover great food that we never try before on my previous trip. In this post, you will be finding lots of great food spots at Yaowarat Road. Yaowarat Road, also known as Chinatown Bangkok, is the home of Bangkok's Chinese community. By day, it doesn't look any different from other parts of Bangkok, but this big street has some hidden gems waiting to be explored. If you are planning to Bangkok in the future, you never ever want to miss visiting Yaowarat Road, you can explore all their food culture at one goes.

Are you ready to join us to explore our ultimate Bangkok food trail in a day?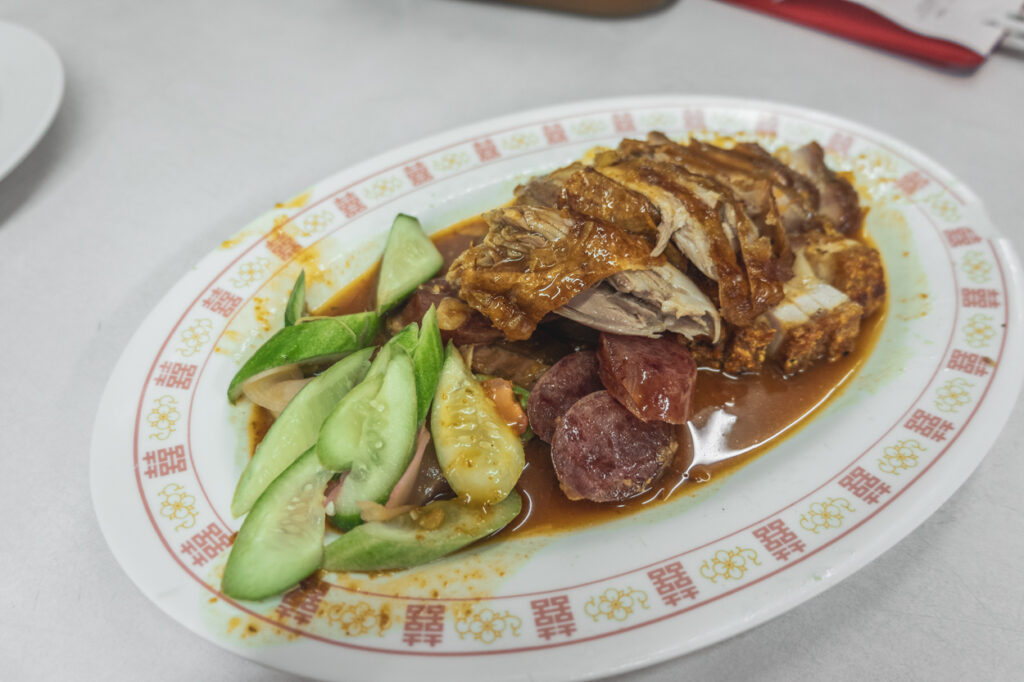 Prachak Roasted Duck
Charoenkrung, home to Bangkok's first and oldest paved road built 150 years ago along the banks of the Chao Phraya River. I fell in love with this beautiful distinct at the first sight – it blends of old and new. We stayed a couple of streets away and when we thought we have time to explore, sadly we have to shift to another hotel due to no water supply at our hotel.

With the thought of revisiting this distinct again, we are still able to share one of our favourite restaurant along Charoen Krung Road. This restaurant has been there for more than 110 years, they served delicious Roasted Duck and Wanton Mee. Never miss having it before you leave Thailand. We also recommend spending time to walk down the busy street to hunt for great breakfast that we have it totally missed!

Prachak Roasted Duck
Address: 1415 Charoen Krung Rd, Silom
operating Hours: 8 am to 8.30 pm
Dog in Town Ari
There is so many pet cafe in Thailand but sadly I do not have a pleasant experience in my previous trip however thanks to Joe, I have an amazing one this time around. She brought me to this Dog cafe – Dog in Town Ari. Located near Ari neighbourhood, which is Bangkok's trendiest neighbourhood now! It's away from the major tourist attractions and also known for its relaxed vibes and hipster cafe scene.

After paying an entrance fee of 350฿ which is inclusive of a drink from the cafe we clean ourself and change into their slipper before entering the cafe. We are then "not" welcomed by the dogs, yes they are less calm then what we think, however, in no time we get to play with the dogs. What we love about this dog cafe is that there is a range of different breed of dog (you definitely will find one that's your type). The staff of the shop will also host a mini photoshop session for you and the dogs which are great. Head there earlier for a lesser crowd, that's what we did.

Dog in Town Ari
Address: 16/1 Ekkamai 6 Sukhumvit Road Khlong Tan Nuea Wattana
Operating Hours: Sundays to Thursdays: 11 am to 8 pm, Fridays & Saturdays: 11 am to 9 pm.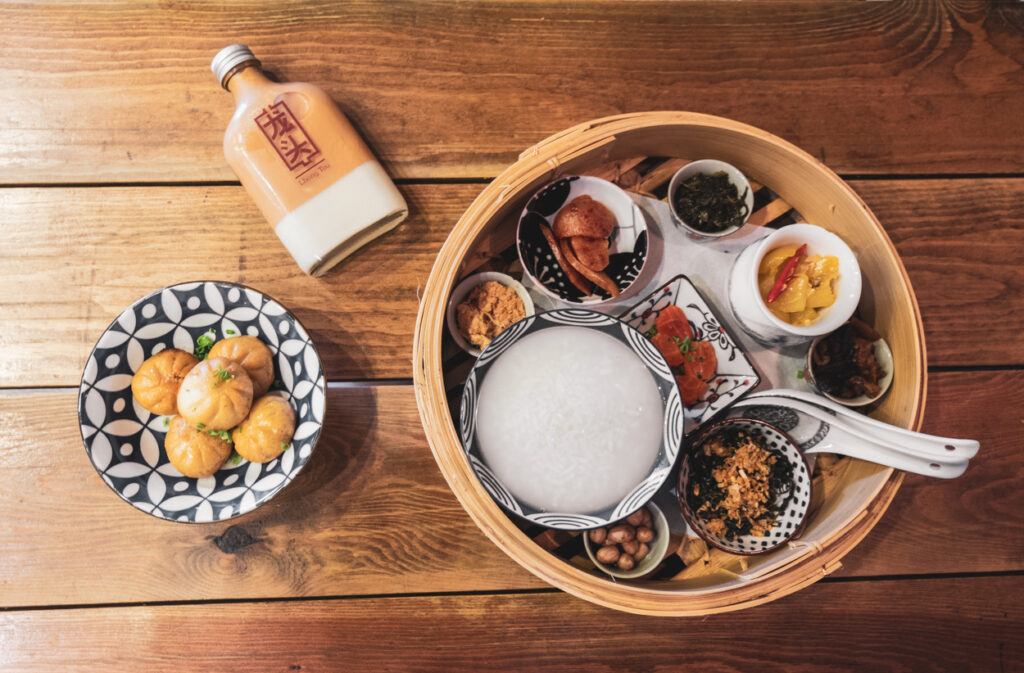 Lhong Tou Cafe – Hipster Cafe
Lhong Tou Cafe instantly became an internet sensation because of their unique double-decked seats, an Instagram-able cafe that you need to visit. Yes, this is not your "coffee" cafe but one which sells "hipster dim sum". More importantly, this place is beautiful for photos which is an important criterion for new openings these days.

As we are preparing for our stomach to eat the whole day, we decide to order their Signature Set [129฿], Egg Lave Bun[29฿] and the recommended Tofu Jelly Milk Tea to share. The Signature Set which comes with porridge and other sides, similar to Teochew Porridge. It makes a good breakfast if you prefer something light and less oily. It's our favourite.

Lhong Tou Cafe
Address: The Market Bangkok, 111 Ratchadamri Rd, G Floor
Operating Hours: 10 am – 10 pm
Siang Ki (Fish Porridge)
Siang Ki is a very simple and traditional shop that sells Teochew-style fish porridge using pomfret and made more luxurious with the addition of fresh fish maw. Growing up eating Teochew-style porridge made by our mom but this instantly makes us fall in love with how fresh the fish and soup are.

The tenderness and freshness of the fish cooked in the old-school style are so impressive that you'll want to make the trek out here time and time again. While eating it alone is great but dipping it into the provided spicy bean paste dip it deeper the taste of the fish. I regretted not ordering more but yet I need to reserve the place for other food.

Siang Ki at Soi Charoen Krung
Address: 54 Soi Bamrungrat, Thanon Yaowarat, Bangkok (behind Grand China Hotel)
Operating Hours: 4 pm-10 pm daily (except last Sunday of each month)
Burapa Bird's Nest 东方燕窝
While researching for "What to eat at Yaowarat?" the first thing that pops up on my research is Bird Nest. You are able to spot the store from far as it welcoming you with the bright led light. The decor within the shop; traditionally Chinese with wooden chairs and jars and jars of pricey bird's nest of all grades!

At the usually store a menu will be pass to you. At Burapa Bird's Nest, the friendly lady just started putting out the metal carrier with numbers like 300, 1000 and 2000 and introduced the types of cooked bird's nest they have! And yes, the numbers represent the type and corresponding value and since we are no wealthy, we made do with the mid-range; the 500 baht blood bird's nest. The staff will also ask how would you like the bird nest to be served. We decided to order a rock sugar bird nest and a milk bird nest. It tastes so good and not diluted at all, although the bowl is small a good experience.

Burapa Bird's Nest
Address: 63 Plaeng Nam Rd, Khwaeng Samphanthawong
Operating Hours: 8 am to Midnight daily
Nai Weng Gao Lao Moo – Pig Organ Soup
If you are the adventurous type, head to Nai Weng Gao Lao Moo for the pig organ soup. An original dish of Yaowarat, the taste is a blend of perfection resulting from the combination of secret ingredients and spices. So, don't miss out on ordering this delish menu.

It is located right next to the Burapa Bird's Nest. As all the street store only start open after 5 pm, you can head to the Burapa Bird's Nest to rest your stomach for more food. This shop is located on the left side of the road, between Soi Yaowapanit and Soi Yaowarat 11, in front of Hua Seng Hong Restaurant.
T&K Seafood
While this is not on our checklist, but our very first hunch if there's a crowd or a queue it means the food is great – thus we decide to give it a try for our last stop that day. Ranking all the steamed fish we have at Thailand so far T & K serves my 2nd favourite steamed lemon sea bass. The combination of green chillies and chunks of fragrant garlic made it remarkable. The price at Yorawat is slightly pricy compare to many places, so get your wallet ready.

T&K Seafood
Address: 49-51 Soi Phadung Dao, Yaowarat Rd, Bangkok 10100
Operating Hours: 4:30 pm to 2 am
After all the food you can end your night by looking the night light down the street. As it is a hot day, prepare a fan, a big package of tissue and bottles of water to make sure you survive this food tour. Looking at all these food photography makes we want to dig into them again soon.

xoxo, Angela