Have you tried our last week weekend brunch Summer Steak with Coriander Chutney yet? If you haven't please try it, we promised that making Ciabatta can be very easy if you follow our suggestion.
Other than seafood just out of the ocean, I can't wait for all the summer farm produce. All I need is a loaf of great bread for making sandwiches pack for the day. I don't know why, but even sitting in a beach chair doing not much of anything, digging my toes into the sand every now and then, makes me really hungry.  This week, we would like to share another Ciabatta recipe for those who are vegan or prefer having superfood like me.
But I won't be spending a whole lot of time planning meals – as always, simplicity is key.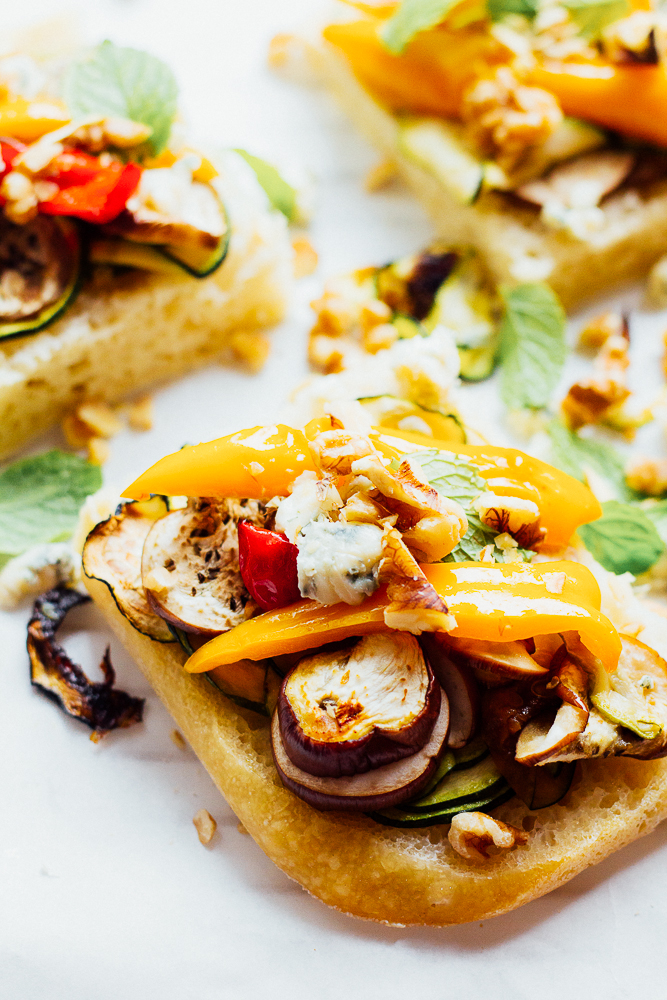 This sandwich can be assembled the night before or in the morning in advance of heading out to the beach or wherever summer takes you. I love the way freshly roasted peppers and eggplants smell and taste, but to make things even easier (and keep the oven off), jarred roasted peppers, and roasted vegetables from the prepared food section of the grocery store will make a fine sandwich, too.
Today's recipes use all of my favorite late summer produce – zucchini, peppers, and eggplant. These are some of our all-time favorites and I hope you enjoy them as much as we do! Let get started with this Toasted Ciabatta with Roasted Summer Veg & Blue's Cheese sandwich.
INGREDIENTS
50g walnut pieces, roughly crushed
2 eggplants, cut into 1 cm slices
1 zucchini, trimmed and cut into long, thin slices
2 red peppers, deseeded and cut into thick strips
3 tbsp of olive oil
1 tbsp of chopped fresh oregano
blue cheese for garnish
mint for garnish
METHOD
Place a large rimmed baking sheet on middle oven rack and heat to 425 degrees. When the oven has reached temperature, remove the hot baking sheet and pour olive oil over the bottom. Arrange the zucchini, red peppers and eggplant on the sheet; sprinkle with salt to taste and roast 20 minutes, until browned.
Slice the ciabatta in half horizontally and tear out some of the excess dough. Layer the bottom half with the bell peppers, tomatoes, eggplant, blue cheese, oregano, walnut, and mint; grind black pepper over to taste. Close the sandwich and press down firmly.
Toast the sandwich in a hot pan for 3 minutes on each side. Wrap sandwich tightly in plastic wrap and place in the refrigerator. You can keep in the fridge up to 2 days.
NOTE FROM THE TWO SISTERS: We suggest you could try it with the fresh vegetable you could get in the market.
Make them take a photo, send us an email, tag us on Instagram, tweet us, anything. More stories on our #stellerstories, we want to see yours! It would make the day!
Happy Friday!
xoxo, Joe.