Bossam is a crunchy cabbage wrap filled with Korean boiled pork belly. Great as a one-dish meal but also great for parties, you just can't stop eating it, especially if you are a pork and kimchi lover. To make it flavourful we infused it with apple, making it sweet, tender and delicious! It's very easy to make if you nail down the broth measurements. The only other tricky part is finding a (Korean) mart that sells thick cuts of pork belly. If you can get your hands on it, you're in for a treat!
What is Bossam?
In case you've never heard of Bossam, the main part of Bossam is pork belly boiled in water with some spices (e.g. onion, garlic, ginger and green onion etc.) until the meat is fully cooked and tender then it's thinly sliced. By boiling it over a long period of time, the meat is defatted. The oil and fat in the meat are melted into the broth, which we discard. And you're left with an ultra-tender piece of pork.It's typically served with lettuce or napa cabbage leaves along with sometraditional topping sauce – Ssamjang, kimchi and fresh crunchy vegetables.
Why Apple?
Koreans have this thing with gamy-ness or strong smelling meat. And they've developed all kinds of tricks to prevent meat, especially rich and fatty kind, from smelling overly strong. Many of the recipes using instant coffee to do the job, however, we still want to taste the unique pork taste thus we choose the apple over coffee. The acidy of the apple not only add a hint of apple fragrance to the meat but the acidy of the apple also work to tenderize them. We also added some soy sauce to give a brownish colour to the pork and extra flavour.
Getting the Texture of Bossam Just Right
It is best to use an instant pot for this dish, as all you need is a quarter of the time and it is more flavourful with all the juice and flavour keep it in the pot all time during cooking. However, with our trusty pot and stove, you can get a similar result as instant pot. One main tip is that DO NOT OPEN THE LID, only until it is done. The pork belly needs to be jiggly and soft enough so that every bite feels decadently fatty. And yet the meat needs to be firm enough to hold together and have some chew.

To ensure the right texture, examine your pork belly closely. If your pork belly looks on the skinny end, try cooking for 45 minutes, but do not cook it longer than 90 minutes. When it is done thinly slice the meat (about 1cm/0.4 inch thickness) with a knife. (You may want to use tongs to hold the meat if it's still hot.)You could also reserve some of the pork broth to use for drizzling the pork if the pork gets too dry before serving.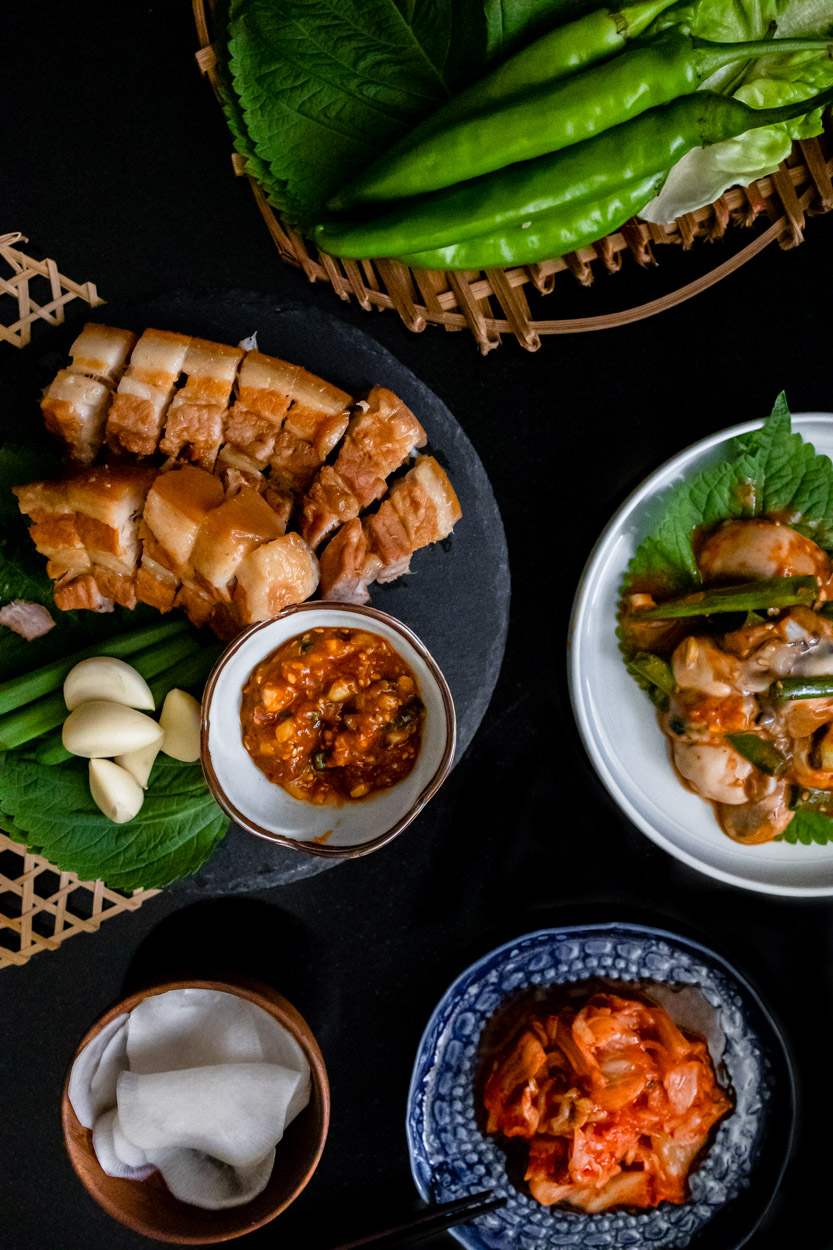 How to eat Bossam?
Bossam consists of the following parts:
cooked pork belly or pork shoulder (samgyeopsal)
spicy kimchi
napa cabbage leaves
You can also add in:
marinated fresh oysters
other ssam greens like perilla leaves
raw or toasted garlic
To enjoy it, take a piece of cabbage (rip into smaller pieces if needed), put a piece of pork, then add the spicy kimchi radish salad and top it with any of the additional ingredients below such as ssamjang to taste.
While we never have leftovers and the pork tastes best when it's freshly cooked but you can store it in the fridge and reheat it in a pan or in the microwave. Personally, we prefer reheating by frying in a pan (no oil, on medium heat). We hope you like this recipe as we do.

xoxo, Joe
Bossam (Boiled Pork Wraps)
Ingredients
1kg (2.2 pounds) skinless boneless pork belly, rinsed in cold water

1 onion, skin peeled and cut into quarters

1 red apple (160g/ 5.6 ounces) – I used red delicious variety, rinsed and cut in half

2 stalks of green onions (50g/ 1.8 ounces) – I used only the white part, rinsed and root trimmed

25g (0.9 ounces) fresh ginger, skin peeled and thinly sliced

25g (0.9 ounces) fresh garlic (about 5 cloves), skin peeled

1 tsp black whole pepper

2 tbsp Korean soy bean paste (Doenjang)

2 tbsp soy sauce

4 tbsp apple cider vinegar

8 cups water

For sides

Lettuce leaves washed and stem removed

Perilla leaves washed and stem removed

Some green chillies washed and thinly sliced

Marinated Spicy Oyster

Homemade Korean spicy dipping sauce (Ssamjang) – Refer to this recipe or buy from a store.

Garlic, Sliced
Methods
Boil the pot with the pork and ingredients with the lid on medium-high heat until the pork is cooked. (It takes about 1 hr.) Take out the meat. Cool it down for about 5 to 10 minutes. Thinly slice the meat (about 1cm/0.4 inch thickness) with a knife. (You may want to use tongs to hold the meat if it's still hot.) Serve the meat with the side ingredients.