Time passes so fast before we could realise Le Plain Canvas is already three years old. Last year to celebrate our big 2 we baked an edible Earl Grey Flower Cake! As Angela will be travelling during Le Plain Canvas birthday we decided to celebrate earlier.

After years of practise and experiment, we have finally successfully discovered the magic of making a perfect cake! Lately, early mornings and late nights have been filled with late-night planning and brainstorming to find a special cake for the special day.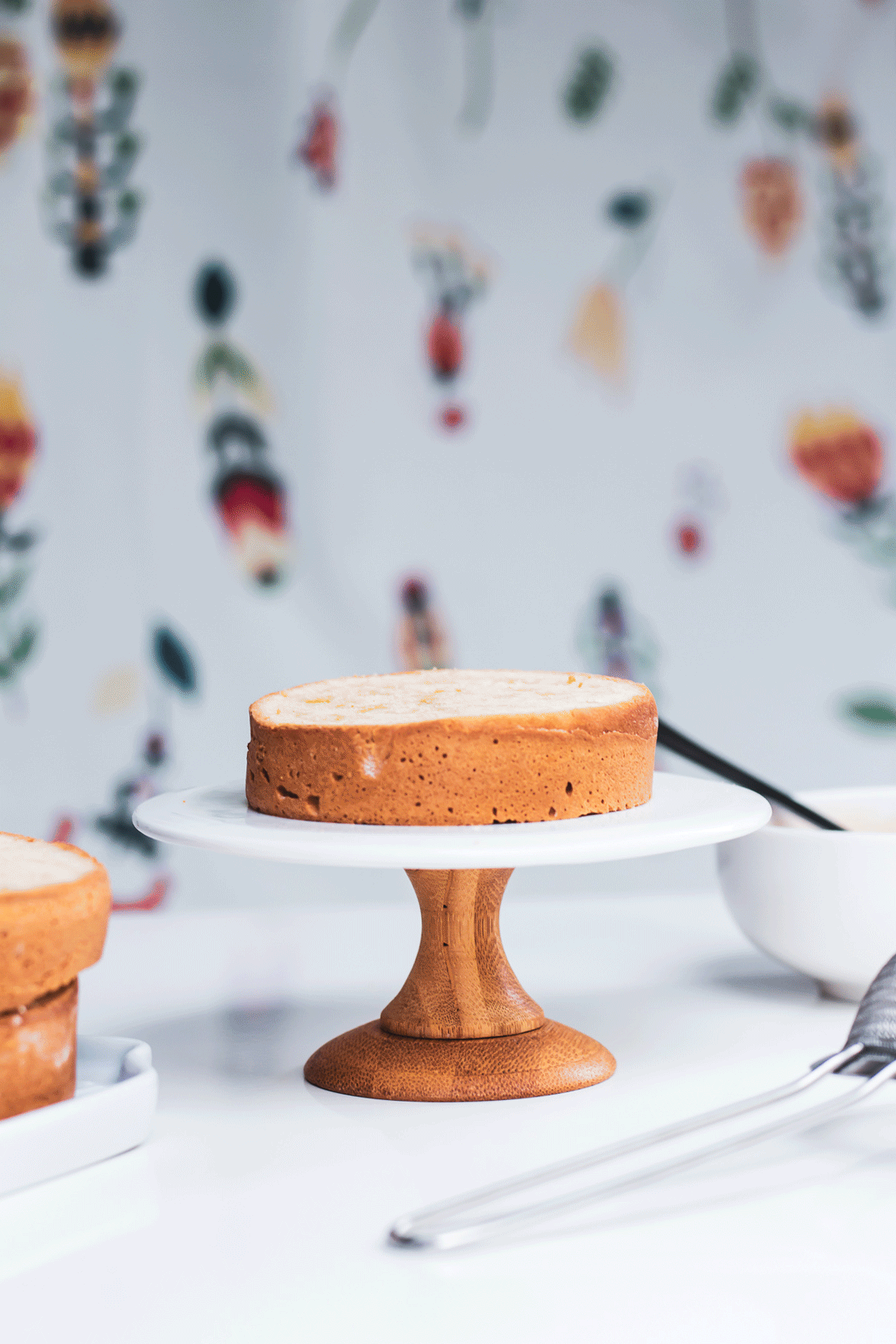 Raise your hand if you have ever made Tiramisu?I'm not sure how many of you actually have your hand up but I will tell you that it's not as easy as it may seem.
So we created this tiramisu layer cake with whipped mascarpone frosting! It's way simpler than classic tiramisu but you still reach all of those classic tiramisu flavours that we all love so much! The base and classic ladyfinger component of tiramisu are being swapped out for a buttery vanilla cake base that is soaked with an espresso/rum mixture that will make you literally go 'mmmm' after every bite.
Each layer is stacked with a whipped chocolate mascarpone filling. The secret ingredient?! Tim Tam ® Biscuits! Tim Tam ® add a rich chocolatey flavor and crunch for added texture.
After you've added your last mascarpone frosting layer, Tim Tam ® Biscuits and cocoa powder be sure to place your cake in the refrigerator until serving!
Ingredients |

for cake

2 Sticks of unsalted butter
1 1/4 Cups of Granulated Sugar
2 Teaspoons of vanilla extract
3 Cups of all purpose flour
1 Tablespoon of baking powder
1/2 Teaspoon of salt
4 Large eggs
1 1/4 Cups of whole milk
for espresso soak

1/2 Cup of milk
2 Teaspoons of instant espresso powder
Splash of rum
for filling + frosting

16 Oz of mascarpone cheese
2 Cups of powdered sugar
3/4 Cup of milk if milk as needed for consistency
5-7 Chocolate Tim Tam ® Biscuits, crushed
Cocoa powder
Method |


Preheat oven to 350 degrees Fahrenheit. Grease and flour three 6-inch cake tins and set aside.
In a large bowl combine flour, baking powder, baking soda, salt, for cake and whisk well.
In a separate large bowl fitted with a hand or stand mixer beat butter and sugar for 3-5 minutes or until light and fluffy. Add in eggs one at a time with your mixer on low. Add in vanilla extract until combined. In 3 separate increments add flour mixture and milk, alternating and finishing with the last flour addition. Pour batter evenly into three cake tins and bake for 30 minutes or until a toothpick comes out cleanly. Cool for thirty minutes and remove from cake tins to finish cooling on a wire baking rack.
In a large bowl fitted with a stand or hand mixer beat mascarpone until light and fluffy, about 1-2 minutes. Add 1 Cup of powdered sugar to mascarpone mixture until fluffy. Add in a 1/4 cup of milk at a time after powdered sugar. If frosting is stiff or you live in a dry climate add in milk little by little. If you live in a humid climate, you may need less milk. Continue to add powdered sugar and milk in two separate increments and mix until light and fluffy. Reserve 1/3 of mascarpone filling for the top of cake and add in crushed Tim Tam ® Biscuits to the remaining mascarpone.
In a small bowl whisk together milk, espresso powder and rum. Trim off dome cake tops. Assemble cake layers and brush on a thick layer of espresso milk mixture with a pastry brush. Add on one half of Tim Tam mascarpone mixture and repeat. Top the very top layer with reserved mascarpone frosting (without Tim Tam ® Biscuits) and sift a thin layer of cocoa powder over the top.
Thank you for being with us for the past three years, you are our motivation for this journey.
xoxo, Joe