Happy Chocolate Milkshake Day! At the same time, it 's still a humid day in Singapore and thus we have prepared this S'more Milkshake for our breakfast. Who says milkshake can't be healthy and fun at the same time? Just a little bits of chocolate in the morning, it helps energize yourself for the day.
S'mores. Oh, how I love S'mores. But, who doesn't? If you don't then I'm sorry we just can't be friends. The combination of graham crackers, marshmallows, and milk chocolate. How could you go wrong with that? Especially in milkshake form. Heck yeah. This milkshake is sure to fix an s'more craving. There are toasted S'mores blended right in!
Although summer has just left us, but when it comes to nostalgic sweets, S'mores rank at the top of the list. The combination of gooey toasted marshmallows, creamy chocolate, and crunchy graham crackers instantly brings back memories of the carefree days of summer (we still can enjoy the memories of summer).
The flavor of toasted marshmallows — I like mine blackened and crispy on the outside and soft inside, by the way — is everything. It's a burnt sugar whiff of vanilla coating a stretchy white cloud. It's summer and time spent outside and crackly campfires and I know this is getting really twee but I don't care, I just want to stuff everything awesome about them into a frosty glass and slurp it through a straw. I hope you join me.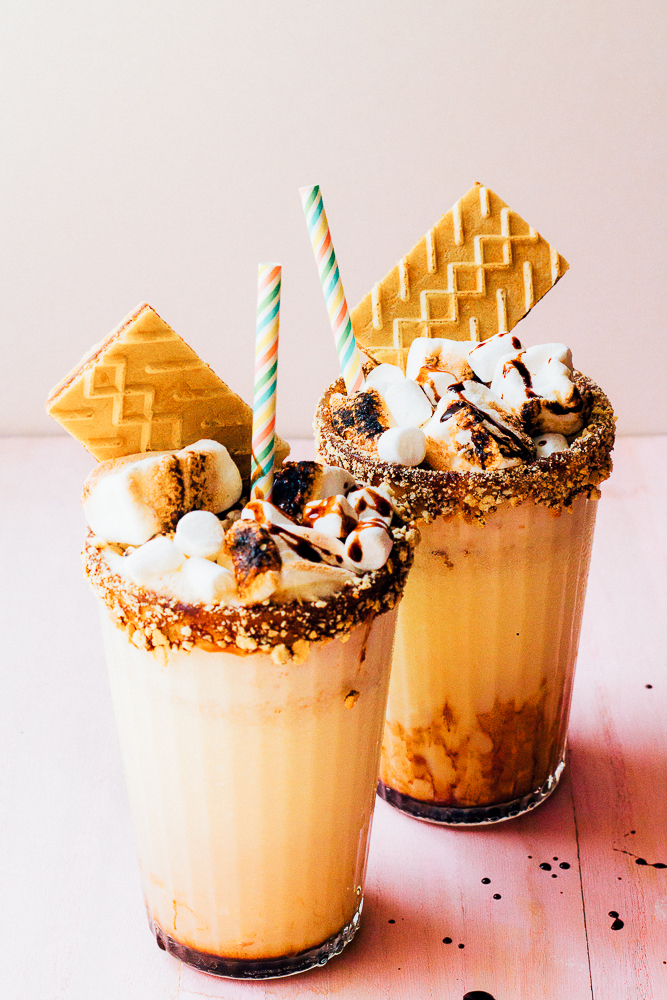 If you enjoy the flavor of toasted marshmallows you will LOVE these milkshakes. They taste like you are drinking a toasted marshmallow – they're so good!
This delicious milkshake is the perfect way to cool down and get your S'mores fix this summer. Sipping on these milkshakes inside a cozy blanket fort with my kiddos is one of my most cherished summer memories. How do S'mores help you create summer memories?
INGRIENTS |
6 scoops vanilla ice cream
1/2 cup milk
a mixture of large and small toasted marshmallows
graham cracker crumbs for garnish, about half of one sheet or less
Optional * chocolate sauce for drizzling and 1 extra toasted marshmallow for garnish
METHODS |
Torch the marshmallows with a kitchen torch until they begin to brown.
Place 5 graham cracker squares in a plastic bag and crush until finely ground. Pour the crumbs onto a small plate.
Dip the top of your glasses into the melted chocolate, then into the crushed graham cracker crumbs. Set aside.
Place ice cream and milk in a blender, top with the rest of the crushed graham cracker crumbs. Blend until smooth. If you have to add more milk, you can do so.
Pour into glasses, drizzle with some of the remaining melted chocolate, top with remaining toasted marshmallows, and garnish with remaining graham cracker crumbs. If desired, you can also garnish with whole pieces of chocolate biscuits!
What kind of Chocolate Milkshake did you have for your Chocolate Milkshake Day? Didn't get to do it? It's okay, try this recepie now. It is never too late!
Please make them and take a photo, send us an email, tag us on Instagram, tweet us, anything. We love to yours! There will be more exclusive stories on our #stellerstories profile thus check it out whenever you can! 
It would make our day! Happy Friday!
xoxo, Joe.