Every day, around 4 pm, my sister and I start talking about dinner. If there aren't any leftovers or a previously thought-through dinner plan, my most common proposition is 'meat and pasta?' Those two are such staples and always leave us feeling nourished. These days I love to have tomato-based pasta (I used to hate it when I was young) – the sweet-sour of the tomato juice just makes the meal so easy to digest.
Indefinitely All'Amatriciana Meatball Pasta is the star of our choice. We love handmade meatballs, it is so easy, small little pieces can taste so fabulous and explosive than any of those you have out there. Why we say so, as we never minimise the food we serve on the table. We don't just mix the meat, onion, spice and herb only – that will be an insult to the ingredients and the meal bring on the table. We want it to be flavourful and therefore we have added in smoked bacon, crushed red pepper, parmesan cheese to create a balanced and wholesome experience.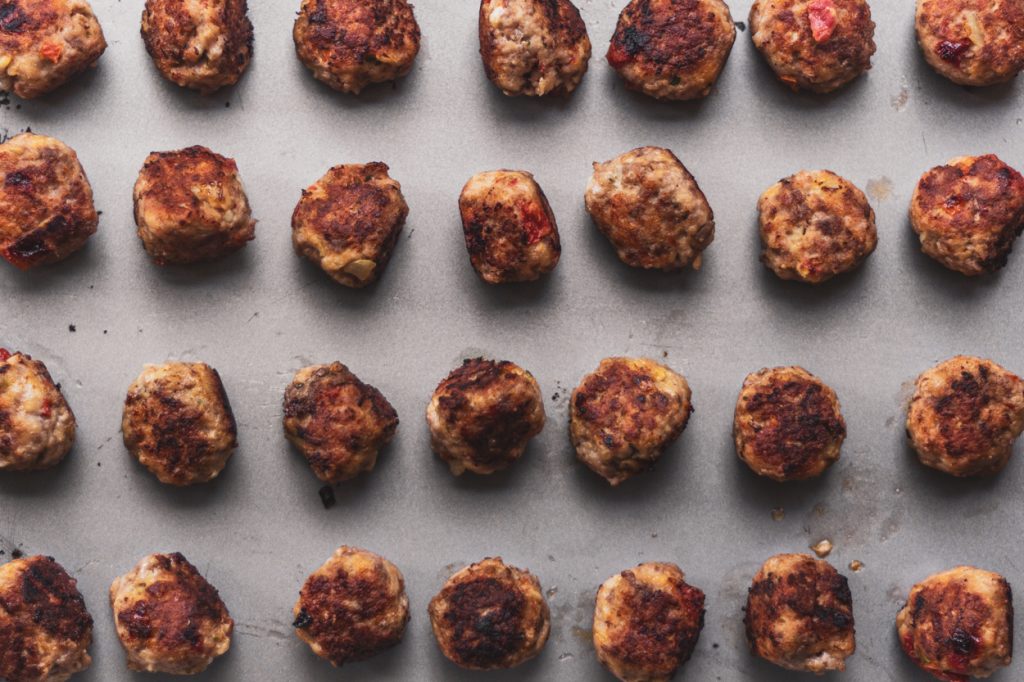 Bacon vs Smoked-Bacon
The usual bacon can be fatty as it came from pork belly, while the smoked bacon does also come from pork but it uses the leg meat of the pig which is way less fatty. In terms of taste, smoked bacon is more flavorful than unsmoked bacon. The flavour varies depending on the equipment used to smoke the meat and how long it is smoked. Generally, smoked bacon has a combination of nutty, sweet, grassy, and buttery taste.

We preferred Infused Smoked Bacon. As they each bring a different flavour to the meatball. We have used Applewood Smoked Bacon, we love the light, fruity and slightly sweet aroma of applewood deep into the meat.
Baked vs Sauce-pan
While many baked their meatball in the oven, we prefer the sauce-pan as we have better control of the heat and how well done we wanted for our meatball. One of the plus points was we make the meatballs and the sauce in the same pan. It adds even more flavour to the sauce and it saves me dirtying another dish.

When we are in rush for a quick meal, we will toss the meatball in the oven and drizzle over some oil to cook them as it is easy, so it's basically a no-brainer. It is still good however some flavour will be lost in your sauce and a less crispy meatball.
How to cook them?
Oven-Baked Meatballs: Place a wire cooling rack on a baking sheet lined with aluminium foil and spray it with cooking spray. Arrange meatballs on top and bake at 400 degrees F for 15-20 minutes. Pro: clean, healthier, hands-off cooking. This is my weeknight approach.

Pan-Seared Meatballs: Heat about 1/4-inch of oil (I use half olive oil, half vegetable oil) in a large cast-iron skillet. Working in batches, brown the meatballs by cooking 2-3 minutes per side and turning with a spatula to create a nice crust around outside of each meatball. At this point, either transfer the partially cooked meatballs to a baking sheet lined with aluminium foil and bake at 300 degrees for 10 minutes until done OR set aside and add to the sauce to simmer for 15-20 minutes until the meatballs are cooked through.
Quick and Easy: Freezing technique
Freezing meatballs can be an extremely helpful process to do if you're looking for a quick feed to pop on the stove and eat for lunch or dinner. Most stores sell frozen meatballs but many have fattening ingredients that you're probably not satisfied with, or have certain ingredients that you're allergic to. Thankfully you can freeze your batch of homemade meatballs that can last more than a month and still taste just as good.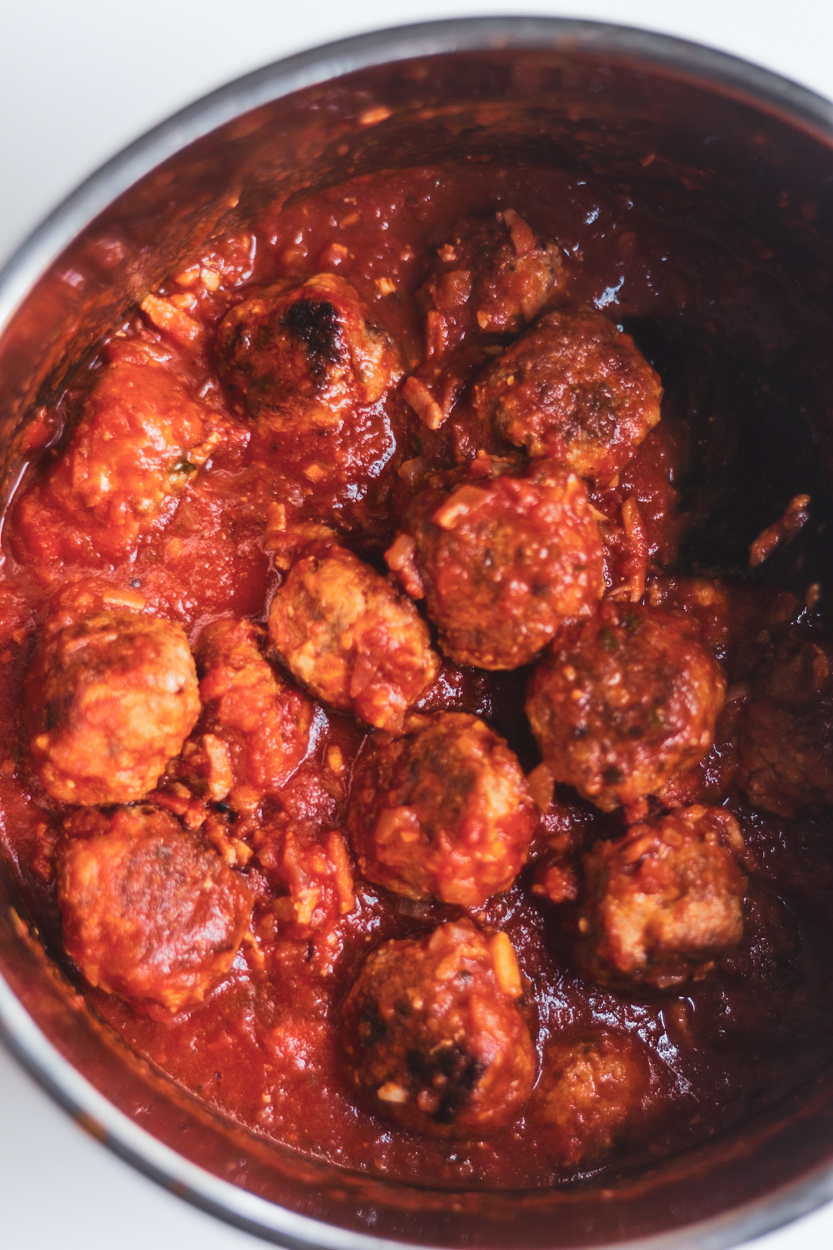 Variation for this Meal
While this recipes is already prefect but we love to make a twist to the recipe making it a whole new flavour.
Substitute ground pork for sweet Italian sausage, which is pretty much just ground pork with seasonings added to it already, but that doesn't hurt when adding it to meatballs.
Substitute ground turkey for any or all of the ground beef or ground pork for a healthier, lower-calorie alternative.
Make baked Italian meatballs instead of browning them in a pan first for another calorie saving option. Baked meatballs are totally delicious and hands-off (which is our favourite part), so this is another good option that we honestly do most of the time if it's just us, even though we prefer frying the meatballs for special occasions.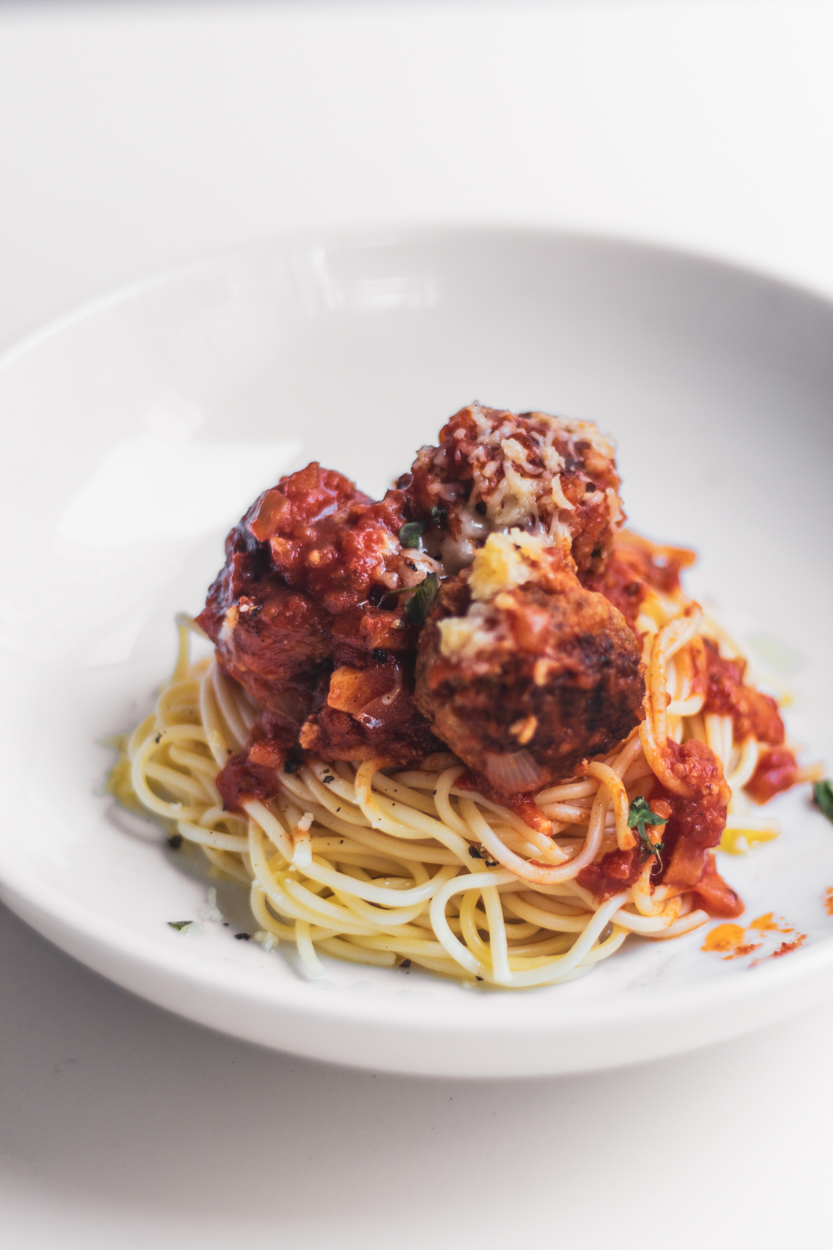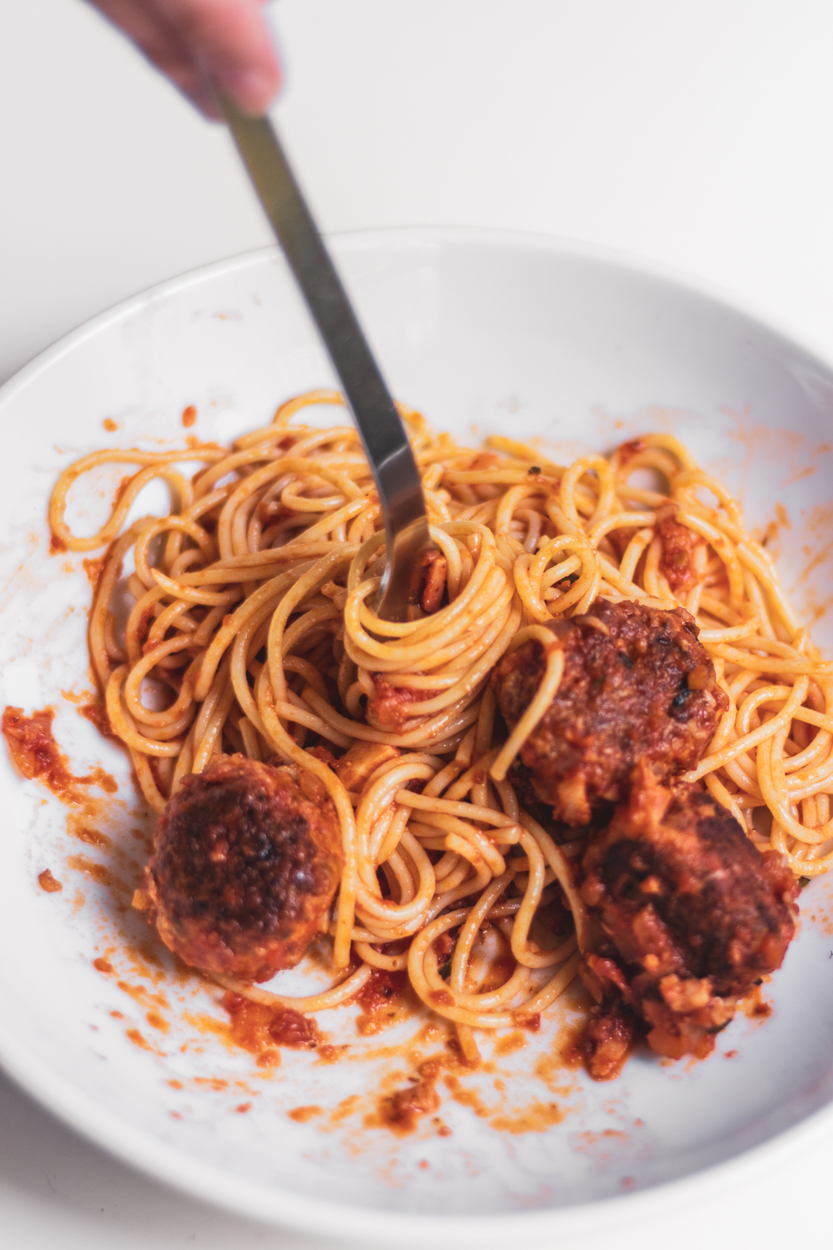 If you're in the mood to recreate your own romantic spaghetti moment, then this recipe is perfect for you. We much rather stay in and cook a meal at home. For any special day, we always want something comforting and warm and easy to throw together. This recipe for Spaghetti & Meatballs fits the bill perfectly! Don't forget to tag us on Instagram as @leplaincanvas and use the #byplaincanvas hashtag. We love seeing your takes on my recipes!

xoxo; Angela
All'Amatriciana Meatball Pasta
This is a classic spaghetti and meatballs recipe—with a big kick of spice!
Ingredients
Meat Ball

170g uncured applewood-smoked bacon (about 6 slices), diced

2 large garlic cloves, peeled

400g ground beef

400g ground pork

2/3 cup chopped drained roasted tomatoes from a jar

2/3 cup panko (Japanese breadcrumbs)

2 large eggs

1/2 cup coarsely grated onion

1/2 cup freshly grated Parmesan cheese

1 tablespoon minced fresh marjoram

2 teaspoons dried crushed red pepper

1/2 teaspoon coarse kosher salt

1/2 teaspoon freshly ground black pepper

Sauce

500g diced tomatoes in juice

2 large garlic cloves, peeled

170g uncured applewood-smoked bacon (about 6 slices), cut crosswise into thin strips

1 tablespoon (or more) extra-virgin olive oil

3 cups finely chopped onions

1 1/2 teaspoons dried crushed red pepper

2 cups dry white wine

1 tablespoon minced fresh marjoram

Pasta

400g spaghetti

2 to 3 tablespoons extra-virgin olive oil

1 1/2 tablespoons minced fresh marjoram

Freshly grated Parmesan cheese
Methods
Meat Ball
Place bacon in the processor. Using on/off turns, grind to a coarse paste. Transfer to a large bowl. Using a garlic press, squeeze in garlic. Gently mix in beef and all remaining ingredients. Let stand 15 minutes.
Line large rimmed baking sheet with plastic wrap. Using moistened hands and scant 2 tablespoonfuls for each, roll meat mixture into 1 1/2-inch meatball. Arrange meatballs on sheet.
Sauce
Puree tomatoes with juice and garlic in batches in a blender until smooth.
Cook bacon in a large pot over medium heat until crisp; transfer bacon to a plate.
Add 1 tablespoon oil to drippings in pot and heat over medium heat. Add half of the meatballs. Cook until brown on all sides, turning carefully with a small metal spatula, about 9 minutes. Transfer meatballs to the baking sheet. Add more oil to the pot if needed and repeat with remaining meatballs.
Increase heat to medium-high. Add onions and crushed red pepper to the pot. Sauté until golden, about 6 minutes. Add wine; boil until reduced by half, stirring up browned bits, about 8 minutes. Add tomato puree and marjoram. Boil until sauce thickens slightly, stirring occasionally, about 8 minutes. Season with salt and pepper.
Mix bacon into sauce. Add meatballs; bring to simmer. Reduce heat to low; cover and simmer until meatballs are heated through and tender, 10 to 15 minutes. Season sauce with salt and pepper.
Pasta
Meanwhile, cook spaghetti in pot of boiling salted water until just tender but still firm to bite, stirring occasionally. Drain; transfer to large bowl. Toss with 2 tablespoons oil and marjoram, adding more oil to moisten, if desired. Divide spaghetti among bowls. Top with meatballs and sauce. Sprinkle with cheese and serve, passing additional cheese separately.