Before the summer is gone in the flash of eyes, we always will spend time making some pies. What's better than a pie dish delight? This week, we love to share with you this very simple recipe – Creamy Chicken Pie in a pot. It's fulfilling and to serve in a serving for each guest so it's a very easy meal for a weekend brunch. In my eye, it is also a beautiful dish that is not messy and easily serves with a green salad.
While pie making is quite an addicted event in our family, I always love to make the crust as it could be as simple as the one demonstrated in this post or the complicated one we share before – Lemon Peach Pie for last Christmas. It's very therapeutic for me especially these stressful months have been to me – all the time and weekend are just about work, work and work. I barely sleep and rest well. So I told Joe that I need really a gentle afternoon to do something that we enjoy and love – and pie making is just being the top choice other than Netflix.
Baking is a very challenging course for us, but when you grab the hint of it, it could be really easy. Making at home is so much better than eating out, apart from the dishwashing. In Asia, we do not have the fashion of a dishwasher so in my future home I might want to consider have one install in my kitchen.
Okay, now you can skip this portion and dive right into the method and recipe.
We used ready made dough instead of making them as we are in the rush. However, when we are freer homemade dough is our go to. To make a perfect circle, you don't have to buy any equipment, as you always can find something around your kitchen to make it. For us, we used this little steel bowl and a scraper to trace the circle out.
Remember to pinch your dough to the bowl, when they are in the oven they tends to rise and leave away if they are not pitched well. Brush the eggs washed well onto the dough. Great chicken makes the great chicken pot pie. You want to use juicy, perfectly cooked chicken meat. Dry chicken meat is a no go. All that gravy in the filling will not be able to make a dry, overcooked chicken taste good.
Ingredients |
6

 

Tbsp

 

unsalted butter

 

softened

1/4

 

cup

 

all-purpose flour

1/2

 

cup

 

milk

A small onion

 

finely chopped

A medium carrot

 

peeled and diced

1

 

celery stalk

 

diced

1

 

cup

 

condensed chicken broth

1/2

 

medium-size russet potato

 

peeled and diced

2 cups of cheese

2

 

medium-size baked chicken breasts

 

diced

1/2

 

cup

 

frozen peas

Salt to taste

Freshly ground black pepper to taste
Method |
To prepare the filling, combine 4 tablespoons of the softened butter with the flour in small bowl. Set aside.
In a large saucepan, add two tablespoons of butter and saute the onion, and carrot, over medium-high heat for about 3 minutes. Add the broth and the potatoes, and bring to a boil. Cover and simmer for about 10 minutes or until the vegetables are just tender.
Add the butter and flour mix and bring to a gentle boil, constantly stirring. Pour in the milk and cheese and bring to a boil. Add salt and pepper to taste. Stir in the chicken and peas. Cover and let cool.
Preheat the oven to 400F. On a lightly floured work surface, roll out the dough to a flat sheet and cut out your chicken. Spoon the chicken filling into the baking dish. Cover with the second sheet of dough. Crimp the edges and tuck them in. Brush the top with egg yolk wash. If making single portion pot pies in ramekins.
Bake on the rack positioned in the middle of the oven for about 50 minutes or until the pastry is golden brown. Let rest for 15 minutes before serving.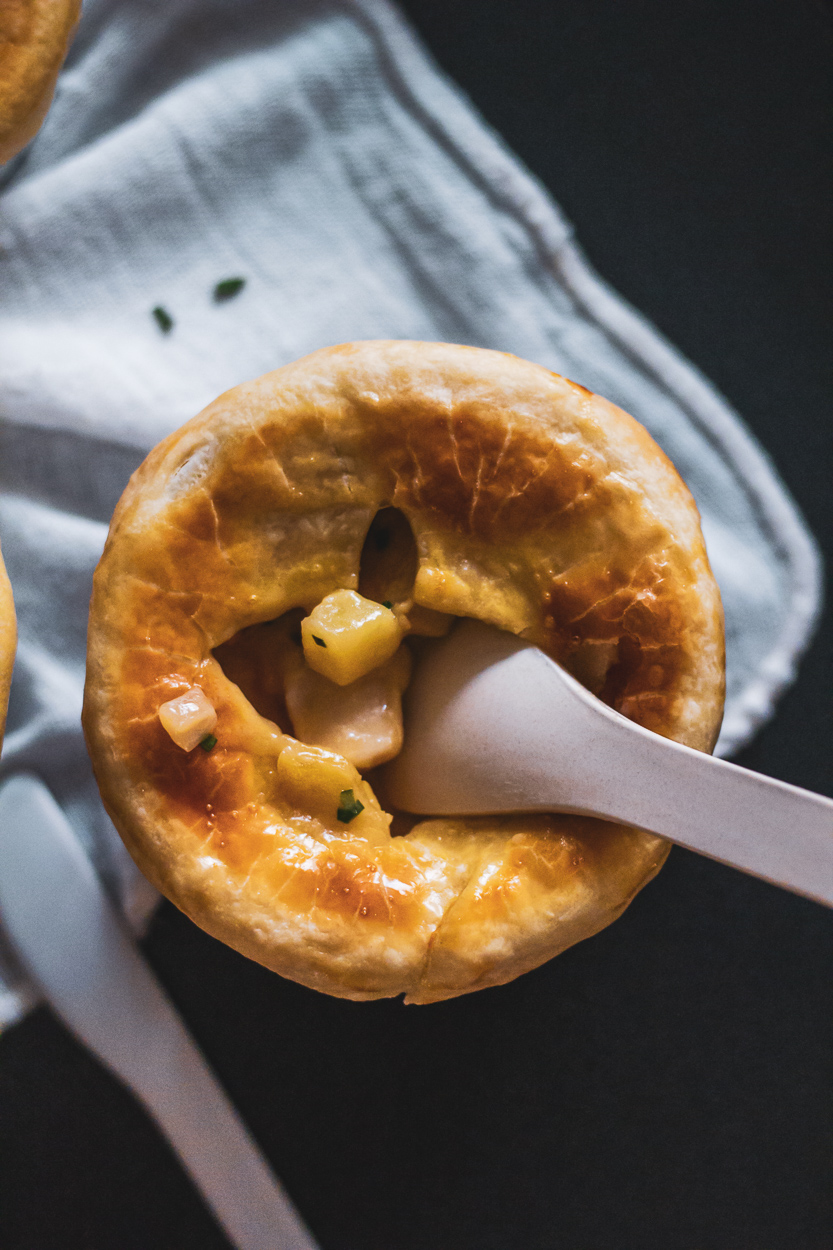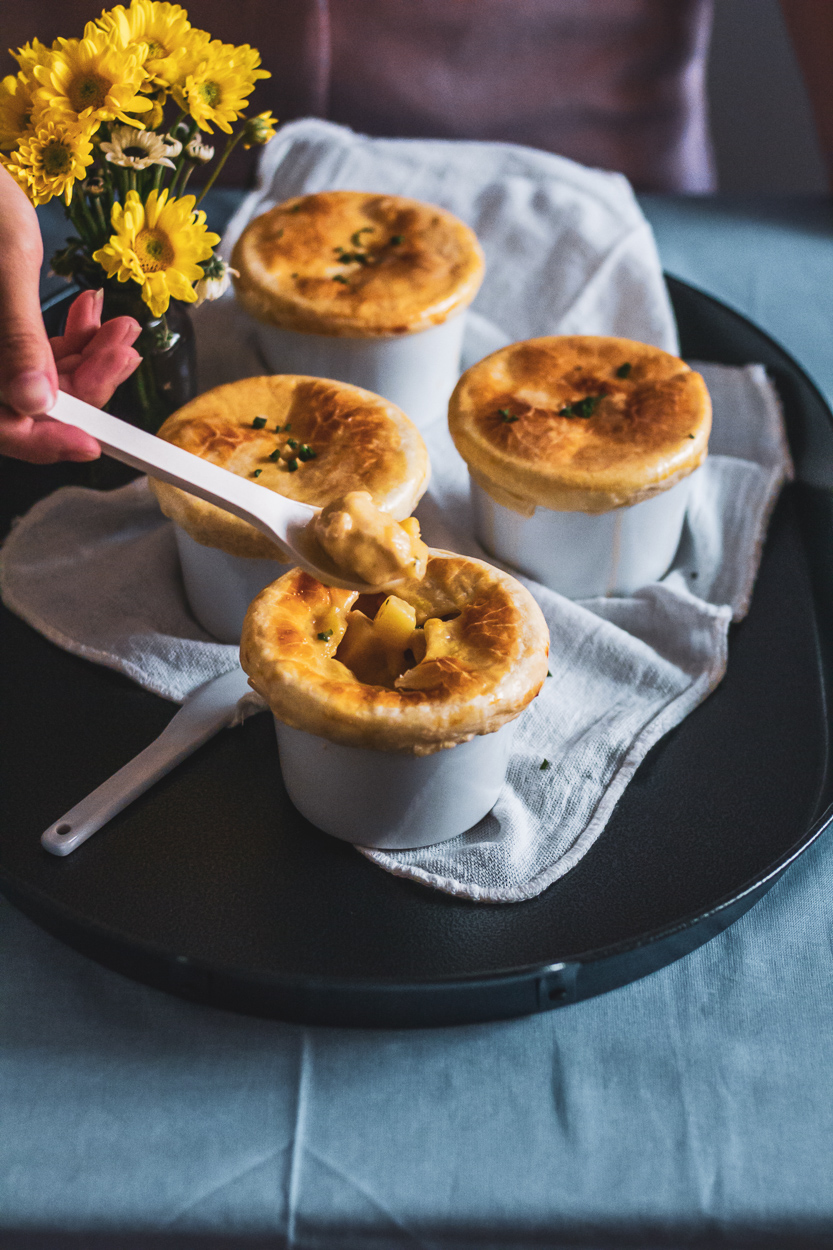 Take a photo of your version, send us an email, tag us on Instagram, tweet us, anything. We love to see you trying out our recipe!
xoxo, Angela.