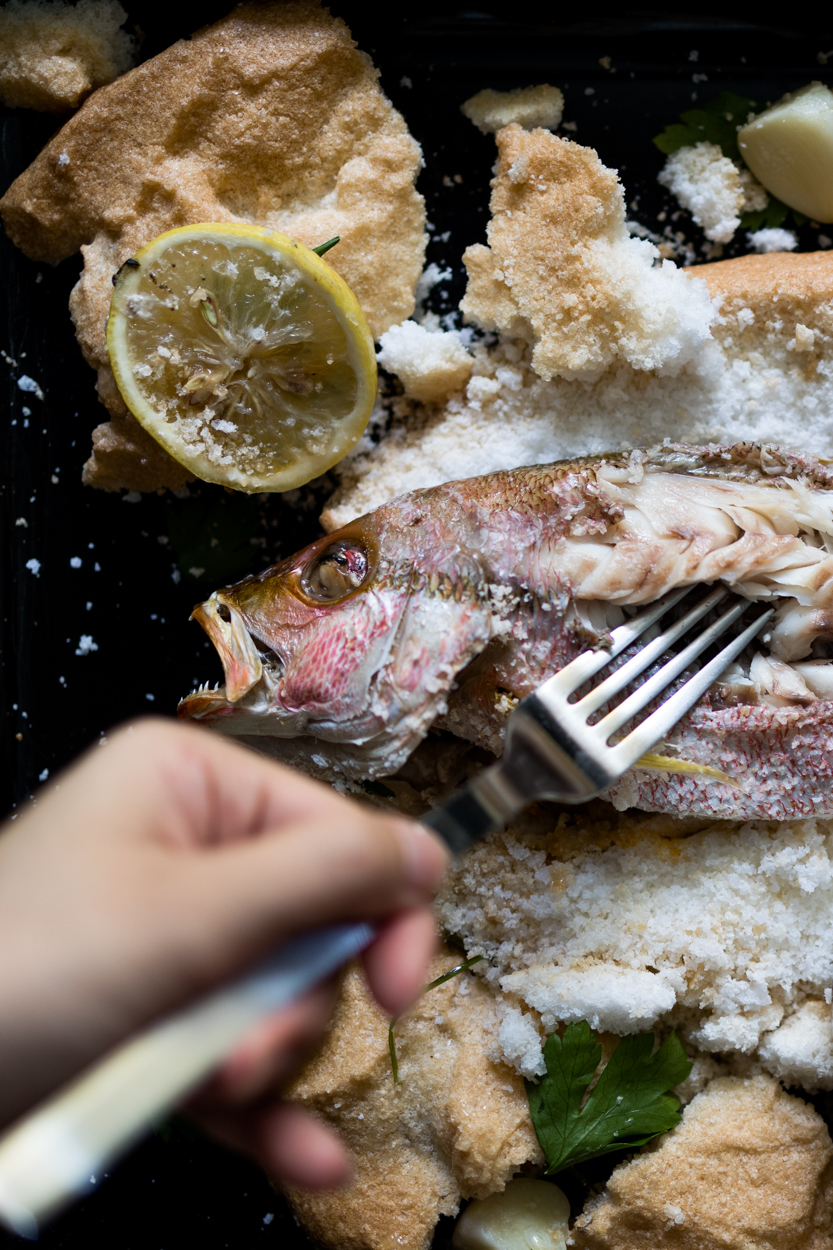 Too much of the meat for this holiday season? For those who are sick of meat – we are glad to share with you this dish for your family occasion. You also might be surprised to learn how easy it is to make a salt-baked fish, it might be the most fancier dish but the taste of the fish will make your guests in love with you all over again. We promised that the results are an incredibly moist and well-seasoned fish with a gorgeous presentation! Are you ready to dive in the journey with us in making this delicious salt-baked fish!
Why Salt-Bake Fish?
Most of the dishes will lose it moist during baking and the meat of the fish will become dry and flaky. Using the salt crust keeps the fish moist and locks in the flavours of the aromatics. You can use any herbs and citrus, that you preferred, depending on your individual preferences for the serving. In order to prepare this dish – the most important of the star is the salt. You have to ensure your salt is well mixed in order to wrap the fish beautifully. In addition to the impressive presentation that uncovering a mound of salt to reveal a beautiful whole fish or chicken makes at a dinner party, salt-baking provides a few useful functions:
Insulation: The salt layer insulates food, slowing down cooking and allowing foods to cook evenly. This makes salt-baking ideal for foods that are easily overlooked, such as fish, or beef tenderloin.
Seasoning: Whole fish cooked in a salt crust will be perfectly seasoned—not too salty—once you remove the skin.
Moisture retention: The salt traps moisture within the food so that it cooks in its own juices (similar to sous vide), retaining more flavour.
How much salt do you need?
Many will be questioning, how much salt we need? Depends on how big your fish will be. We got a few boxes of salt for this medium-small fish (roughly 8 inches long ). We encourage you to purchase extra salt just incase you might estimate wrongly. Don't worried that you using too much, do not fear of the salt!
How to make a Salt-baked Fish?
You can use any herbs you like or you already have in your kitchen for the serving. We are using garlic and spring onion for an Asian touch of taste. Thyme and English parsley are also great choices for your consideration.
You can also use any citrus you preferred. The selected choice you have in mind or a mixture of a few kinds, we used lemon, however, orange is also a good choice for a favourable festive taste. For those who like a stronger taste, onion is highly recommended.
Use two egg whites per cup of kosher salt. We got a couple of boxes for this small-ish two-pound fish.
Start by whipping the egg white in the mixer till peak. Add in the salt by portion till a sandy texture.
The Scaillions Dip you will enjoy
This Scallion Dip is a recreation from Raw Ginger Scallion Oil, it is a deceptively simple recipe that's an absolute must when enjoying a classic Cantonese Poached Chicken. But we also find that it's an addictive topping for almost anything and it is a perfect choice for this fish.

This version, however, is more fun. It represents the epitome of Cantonese cooking: pure flavours, simple preparation, and very little added spice or seasoning. It consists of raw garlic, raw scallion, oil, and salt. That's it!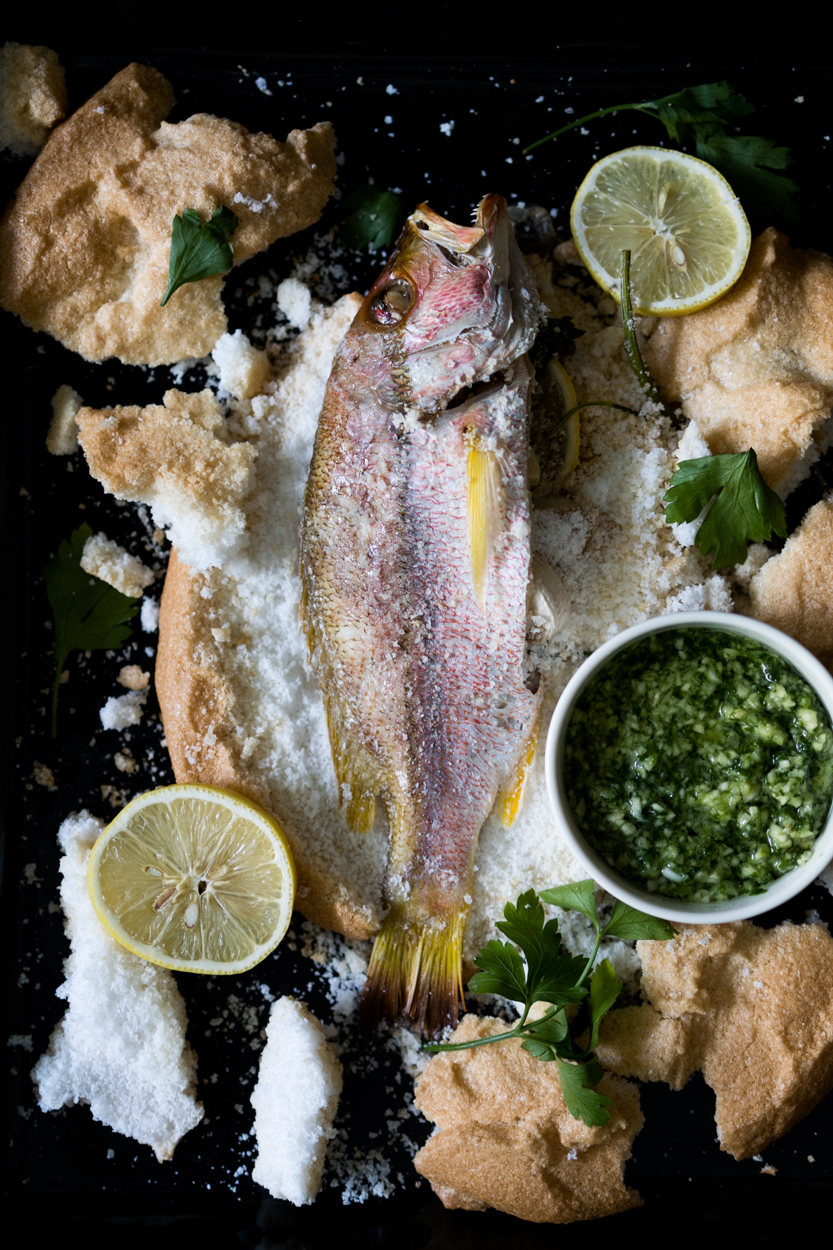 Don't you think this is gorgeous? We think that it's awesome for a party serving for this holiday season, it is a beautiful main for you to showcase your technique as host! What more, it is an easy last minute that you just need a super fresh fish, some herbs and citrus, lots of salt and stuff in the oven for 20 minutes!

We hope that you will enjoy this dish as we do, try it and share with us your version of salt-baked fish! We are excited to exchange with you of the beauty in great food! Happy holiday!

xoxo, Joe and Angela
Salt-Baked Fish
A whole salt-baked fish is an easy recipe for entertaining. It's a showstopper that will wow your guests, but keep you stress-free. It can be made with almost any combination of aromatic herbs and citrus, perfect year-round for dinner parties or holiday meals.
Ingredients
1kg of kosher salt

3 egg white

2 sliced lemon

Spring onion

3 cloves garlic

One 2 1/2-pound whole dorade or red snapper with scales, gutted

2 tablespoons Spanish extra-virgin olive oil

Flaky sea salt, for serving

Scallions Dip

2 scallions

(must have white parts, 50g)

4 cloves garlic

1/2 cup vegetable oil (120 ml)

1/2 teaspoon salt (or to taste)
Methods
Preheat oven to 220 degrees.
Remove fins from fish. Or ask your fish monger to do so. They can be bony and difficult. Stuff the cavity of the fish with the herbs (stems and all) and sliced citrus.
Mix salt and egg whites until the mixture becomes the consistency of wet sand. Put a layer of the salt mixture onto the sheet pan. and place the stuffed fish on top. Smear the rest of the salt mixture over the body of the fish – you can leave the head and tail exposed. It doesn't need to be too thick, but enough so that it forms a coating that isn't see-through or cracking.
Place the fish in the oven and cook about 8 minutes per pound until the flesh is about 48 to 55 degrees. This fish took a little longer than that – I checked after 16 minutes, then gave it another 5 and checked again. It took a little over 20 minutes in all.
Gently crack open the salt crust – we used a rolling pin. Remember you are just trying to loosen the crust, you don't want to smoosh the fish inside!
Remove crust and peel back the skin of the fish. Lift out the flesh, then carefully remove the backbone, and lift the remaining flesh. Be sure to check for small bones. Don't forget the meat up around the collar of the fish – that's good eatin'! Don't leave it behind.
Scallions Dip
Wash the scallions and pat them thoroughly dry. Thinly slice them into rounds, and then use your knife to mince them further.
Next, slice garlic very thinly. Julienne them into matchsticks and mince them finely. (These steps could be done with a food processor.)
Combine the scallion, ginger, oil, and salt in a bowl. Mix thoroughly, and it's ready to serve!