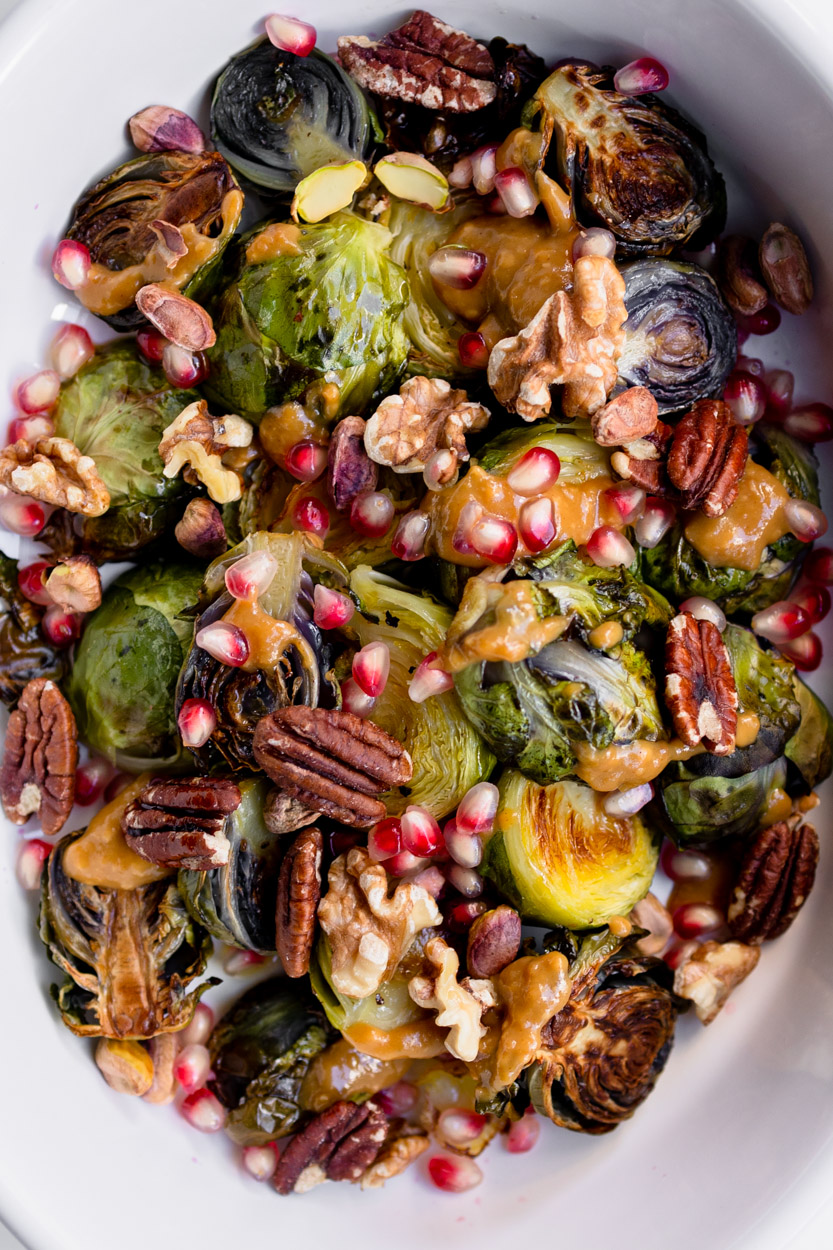 Seeing we are moving into November, we have Joe's birthday around the corner and also thanksgiving. We'll say most of us are fairly prepped when it comes to the big day (do you?). When you ask us to plan on our meal, between mains, sides and desserts, sides will be the most difficult decision to be made, as there are just so many choices to choose from.

However, if we are to choose Brussel sprouts is one of the vegetables that we will be using! We like using Brussel Sprouts with Bacons, but this time we decided to go with somethings different – Roasted Sprouts with Pomegranate. Here we've paired roasted Brussel sprouts with a salty and tangy miso-mustard vinaigrette glaze. This makes a great side dish for Thanksgiving or any fall meal.
How to prefect Brussel Sprouts?
Brussels sprouts are still one of our favourite fall vegetables, though these days we prefer them roasted instead of boiled. We like them charred and crispy on the outside, lightly caramelized and meaty on the inside, and ready to serve faster than you can say "hustle!" these roasted Brussels sprouts have become our go-to quick and easy side dish. When cooked properly, Brussels sprouts taste fantastic, even addictive. While Brussels sprouts can be bitter raw, cooking them at a high temperature ensures they have a rich, caramelized flavour, and a tender, satisfying texture.

First, you need to make sure you divide your Brussel sprouts into the equally same size. As you don't want some undercooked vegetables but yet some overcooked ones. Then, all you need to make roasted Brussels sprouts is a pan, some olive oil, salt, and 25 minutes over medium-high heat.
Why is our Brussel Sprouts's purple in colour?
Purple brussels sprouts are very similar to the green brussels sprouts you're used to, but they're purple! They're so pretty and not always in season, we make sure to pick them up if we spot them. They're not completely purple, however, in fact, they have purple and green leaves. The purple colour is quite obvious and vibrant though and makes for a gorgeous presentation in a dish.
How do purple brussels sprouts differ from green ones?
Although they're very similar, there are a few small differences between a purple brussel sprout and the green ones you're likely used to. If you haven't tried a brussels sprout before, they have a taste that's similar to cabbage.
Besides the obvious difference in colour, there's also a slight difference in flavour. Purple is slightly sweeter and not quite as pungent as the green brussels sprouts. They're still earthy like the green variety but are a little milder in flavour.
Miso-mustard Vinaigrette Glaze
Miso is a great ingredient to keep on hand, as it adds umami, or a savoury flavour, to recipes. Besides soup, miso can be used in many applications, including marinades, dressings, and stir-frys. This miso mustard dressing recipe is ready in 10 minutes. It combines sweet white miso with a few simple pantry ingredients for a unique and delicious dressing that is a welcome addition to any weekly meal prep.
Combine all the elements together
You'll only need a few tablespoons of the miso-mustard vinaigrette glaze for this recipe. The leftover will keep refrigerated for up to a month and you can use it for glazing other vegetable dishes, spoon over roasted meats, or even mixed into a cocktail.
We recommend tossing the sprouts with the glaze after the Brussels sprouts are fully cooked because. The sprouts look better that way, and you can really taste the flavour of the glaze.
Sprinkle some fresh pomegranate arils and walnut over the finished Brussels sprouts and you have a beautiful side dish for your holiday table!
This Roasted Sprouts with Pomegranate is one of my absolute favourites! It has such amazing flavours and is so easy to make. With Thanksgiving almost here, this makes a wonderful addition to the table.
xoxo, Joe
Roasted Sprouts with Pomegranate
Ingredients
1 1/2 pounds brussels sprouts

3 tablespoons olive oil

1/2 to 2/3 cup pomegranate arils

a handful of walnut; tossed and chopped

Miso Mustard Dressing

1 small knob of fresh ginger

4 Tablespoons white or yellow miso paste

2 Tablespoons honey or real maple syrup

2 Tablespoons Dijon mustard

1/4 cup rice vinegar

1/2 teaspoon avocado oil
Methods
In a jar, combine all the ingredients for the dressing and mix it well.
Preheat the oven.
Trim the ends of the Brussels sprouts and slice them in half. Chop very large sprouts into quarters. Toss with olive oil and a good pinch of salt. Divide the sprouts between 2 baking sheets and roast for 20 to 25 minutes, stirring halfway through.
Let the Brussels sprouts cool for a few minutes before tossing them with 2 to 3 tablespoons of the miso mustard glaze, walnut and the pomegranate arils. Taste and add more glaze if you like. Serve immediately.