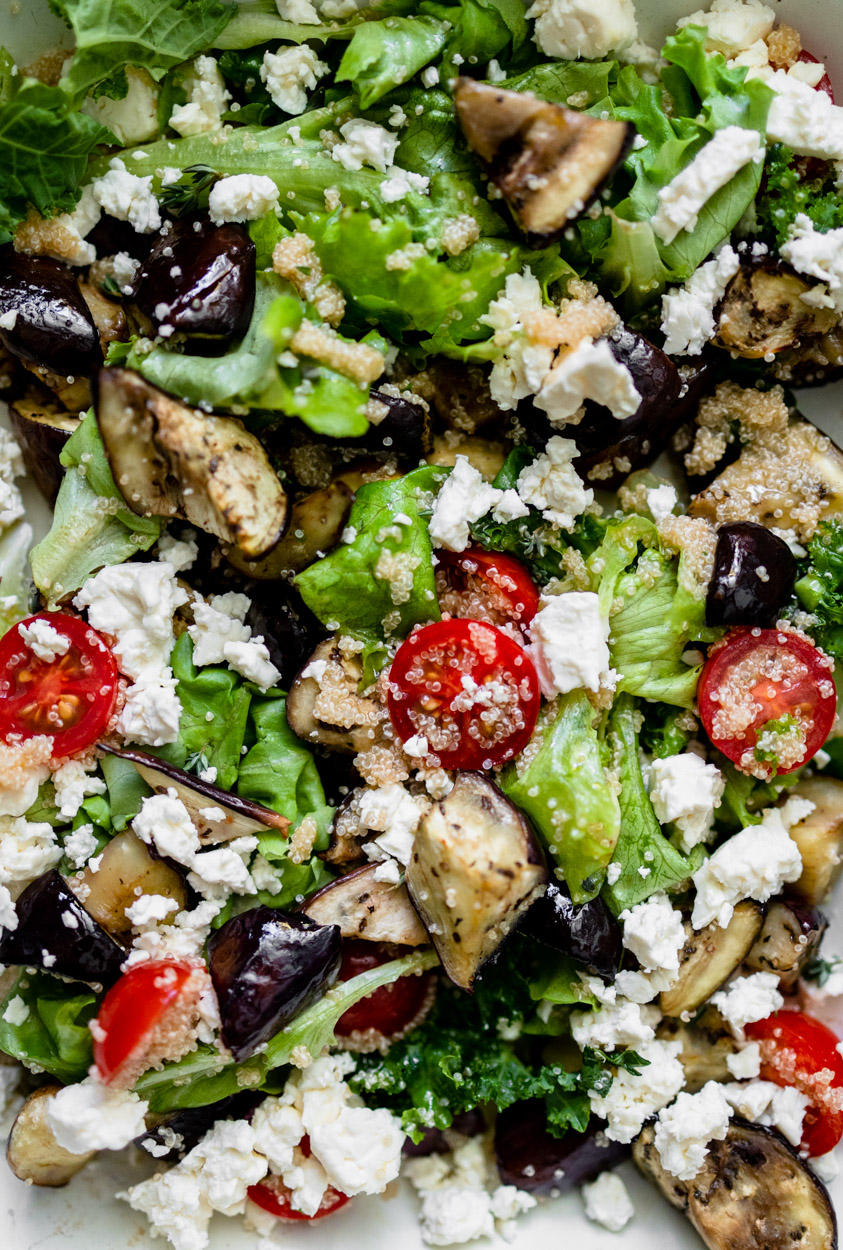 The quickest way to elevate (almost) any vegetable is to roast it. And eggplant is no exception! It's nothing interesting when raw – pretty tasteless actually. But when you give it a good blast in a hot oven, it completely transforms. That moment when you bite through the gorgeous caramelised edges and the juicy flesh inside bursts in your mouth.
This is an eggplant salad that proves two things: 1) that quinoa has an undeservedly bad reputation for being bland and boring and 2) that eggplant really is one of the best vegetables in the world to roast in the oven. Combine them together and you have a winner of a salad!
This recipe calls for a heck of a few ingredients, they are all "normal" things and you won't just make this once and be exhausted, you will make it over and over again.
Oven-Roasted Eggplant
A common problem people run into when roasting eggplant cubes is that they turn into mush before they caramelise. Been there, done that!
The key to fixing this is simple:
cut into large pieces – smaller pieces cook too quickly and turn into mush before the outside has a chance to caramelise; and
roast at a high temperature so the surface gets "sealed" and holds in the juice inside.
How to Roast Eggplant?
So with that said and done, here is how to cut and roast eggplant:
cut into thick 3cm / 1.2″ slices, then cut each slice into pieces to form cubes / rectangles
drizzle with olive oil, sprinkle with salt and pepper then toss well in a bowl using a rubber spatula
spread out on tray and bake at 240°C/ 450°F for 20 minutes, flip, then for another 10 minutes, until the eggplant is super soft and caramelised on the edges
How to cook quinoa?
Joe and I always have an issue when it comes to quinoa. It either ends up uncooked or wet, however now that we have mastered it, we can tell what you want to do. All you need is quinoa and water! If you look at different methods for how to cook quinoa, you'll find a range of water ratios. Some recipes call for as high as a 2:1 water to grain ratio, while others go as low as 1 1/2:1. In my experience, the sweet spot for light, fluffy quinoa is right in the middle. We use 1 3/4 cups water for every cup of quinoa. Any more water and the quinoa gets mushy. No less, and it's too dry. 
Once you've measured both, follow these easy steps:
Combine the quinoa and water in a medium pot. Bring to a boil, cover, and reduce the heat. Simmer for 15 minutes.
Remove the pot from the heat and let it sit, covered, for 10 minutes more.
Then, remove the lid and fluff with a fork!
The soul of the salad – Miso, Mustard Olive Oil
To complete this dish, the sauce is very important and we have Miso, Mustard Olive Oil. Do an internet search for 'miso dressing' and you'll probably come up with a slew of Japanese-inspired recipes with similar ingredients. That is not this miso dressing.

This olive oil uses the salty, savoury flavour and thick texture of miso to elevate the usual suspects of a traditional American vinaigrette – adding lemon juice, olive oil, Dijon mustard, garlic and thyme – into a punchy, flavorful dressing with an unexpected twist. It's perfect for a variety of dishes, from a simple green salad to roasted veggies, to your favourite meat or fish.
How to make the sauce?
Mince the garlic and thyme.
Add everything to a jar, bowl, or glass measuring cup and shake or whisk to combine.
Enjoy on everything! You can store leftovers in an airtight container in the refrigerator for up to 5 days.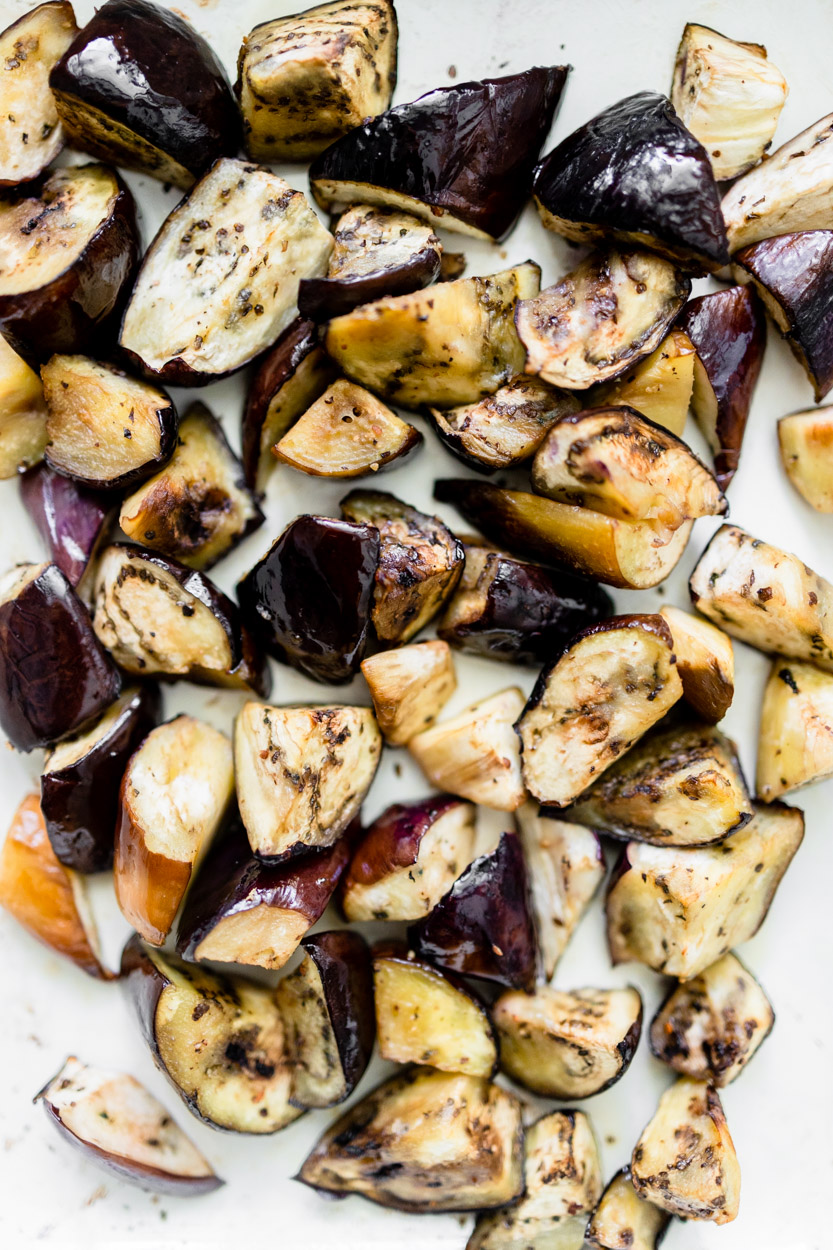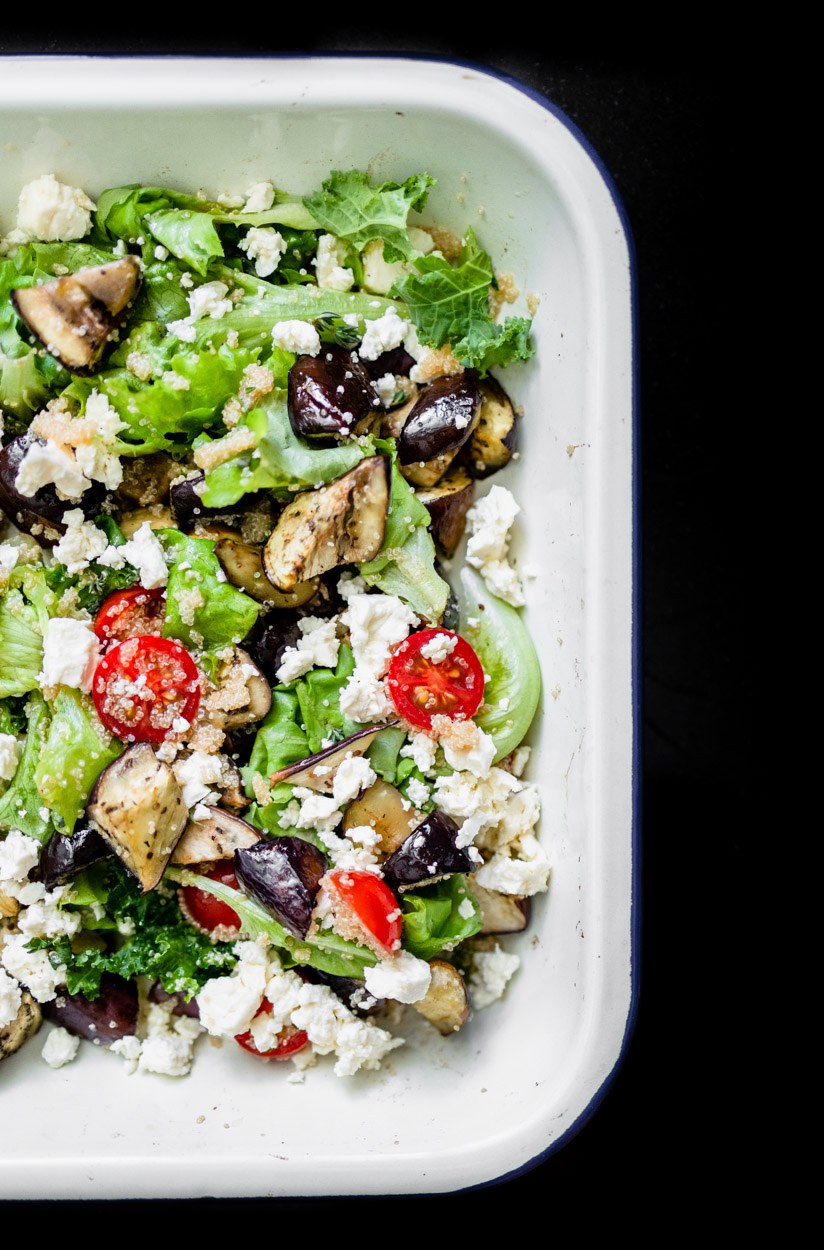 You can make the quinoa and sauces ahead, all you need to do is to roast the eggplant and combine all the elements, it could be a fast meal when you are busy or even lazy.

xoxo, Angela
Roasted Miso Eggplant Salad
Ingredients
Miso, Mustard Olive Oil

1 tablespoon white miso

1 tablespoon dijon mustard

4 tablespoon extra virgin olive oil

1 medium garlic, minced (about 3 tablespoons)

1 tablespoon fresh thyme, finely chopped

¼ teaspoon freshly cracked black pepper

Roasted Eggplant

700g eggplant / aubergine (2 medium)

2 1/2 tbsp olive oil

1/4 tsp each salt and pepper

Salad

250g cherry tomatoes, halved (large quartered)

2 handfuls lettuce, torn into 5cm/2″ pieces

60g feta, crumbled
Methods
Sauce
Combine all the ingredients in a jar and shake well.
Roasted Eggplant:
Preheat oven to 240°C / 450°F (220°C fans). Line a tray with parchment/baking paper.
Cut eggplant into large cubes – 3 cm / 1.2″. Place in a large bowl, drizzle with oil, salt and pepper.
Toss well, then immediately spread on tray and roast 20 minutes. Flip, then roast for a further 10 minutes – edges should be caramelised, soft inside, but they're not shrivelled up and dismal.
Assemble
Add tomato and lettuce into quinoa, drizzle over most of the Dressing then toss.
Pour onto serving platter. Pile over eggplant.
Drizzle eggplant with remaining Dressing, sprinkle with feta. Serve warm or at room temp! Great with a side of flatbread or this easy crusty bread.