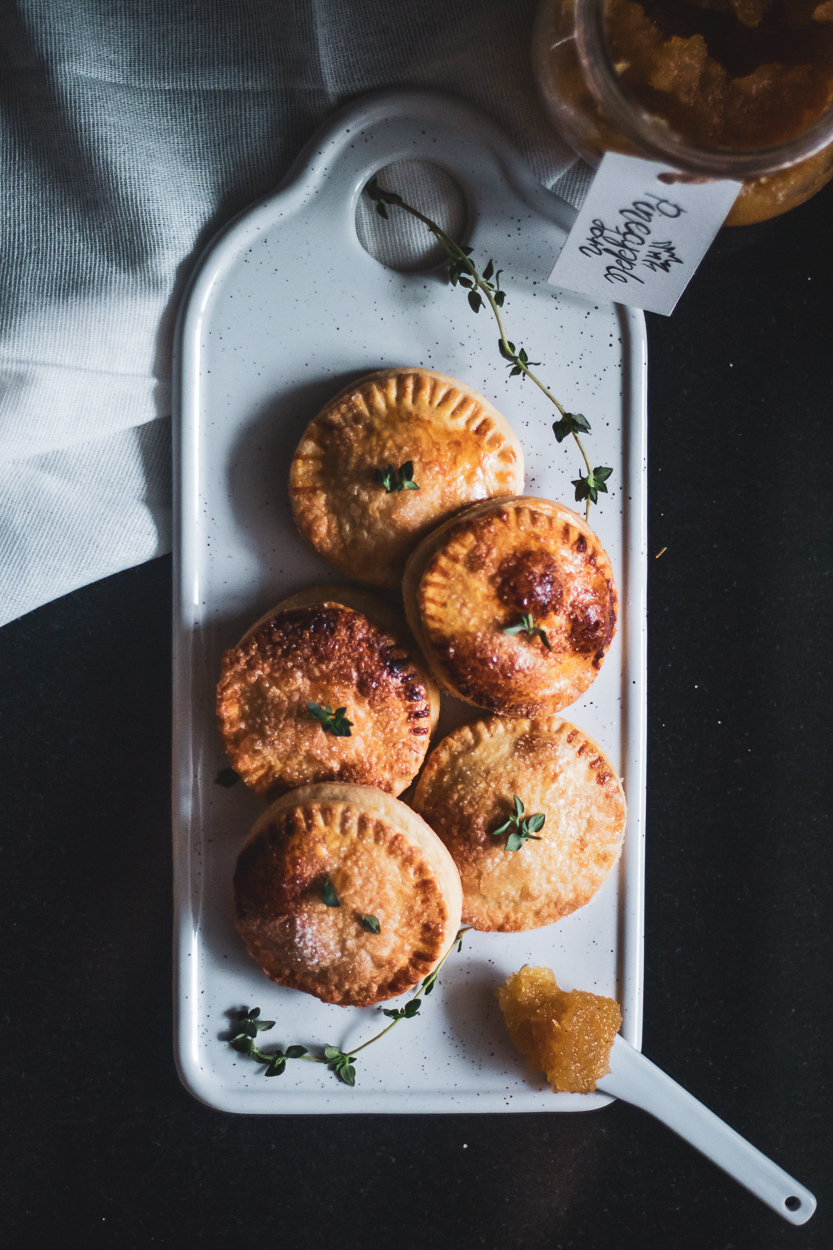 Every summer, mom would buy a batch of fresh pineapple. When we were small, instead of appreciating this fragrant homemade treat, we fought to buy jelly-like readymade jam. A bright red "mixed fruit jam" was my favourite. We don't even dare imagine what went into those jams.
We always thought that jam-making was a tedious process. But over the past few years, we've learned that there's really not much to it but the results are so delicious. Do check out my recipes for Homemade Orange Marmalade. Ever since we started our recent love affair with pineapples, I remembered the pineapple jam of our childhood and was eager to make some.
A large pineapple makes a lot of jam, so we decided to use some in a dessert. Pies came to mind. But we rarely make large pies or tarts. Something about the crust rolling and shaping gets me every time. Shortcrust pastry is actually pretty easy to make, but you can easily use refrigerated pie crust too. No shame in that. And instead of one large pie, we decided to make these cute mini pies.
We made a simple filling with my pineapple jam and some cream cheese. We decided to shape the pies like in round shape. Using pre-made pie crust is an easy way to make hand pie, either savoury or sweet. Once you cut out the shapes and make the filling, making this pineapple hands pie is super easy. Brush with an egg wash on top and sprinkle some coarse sugar on top before baking.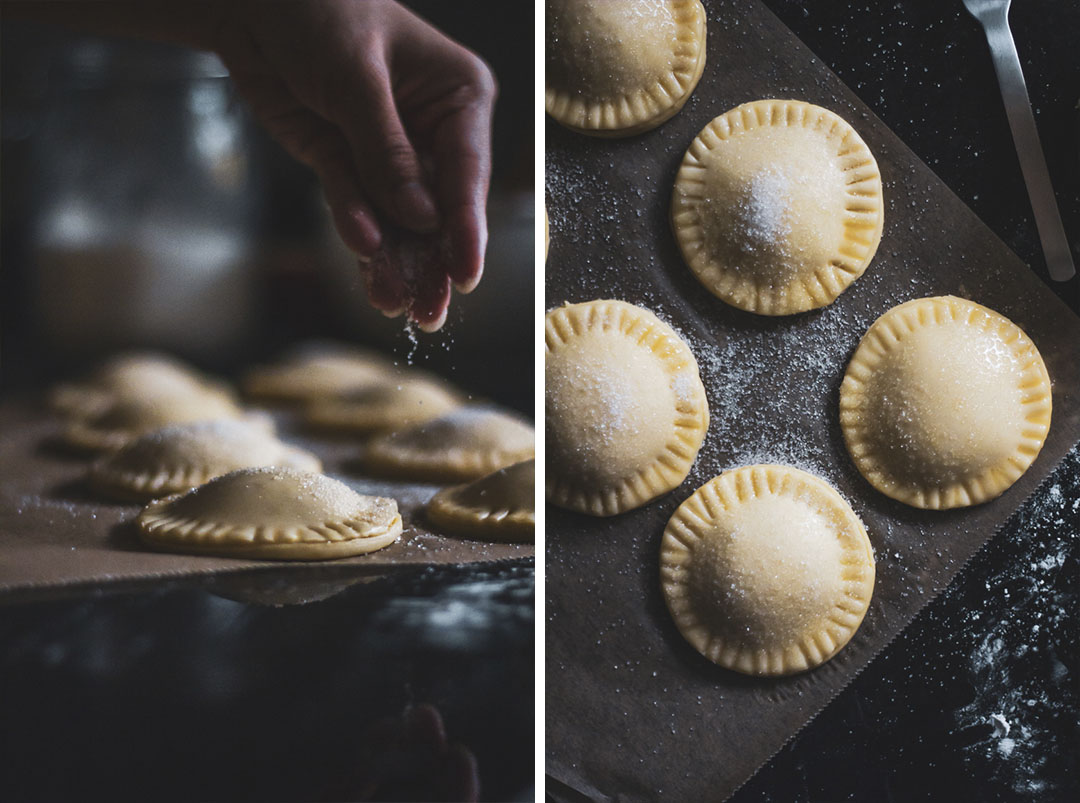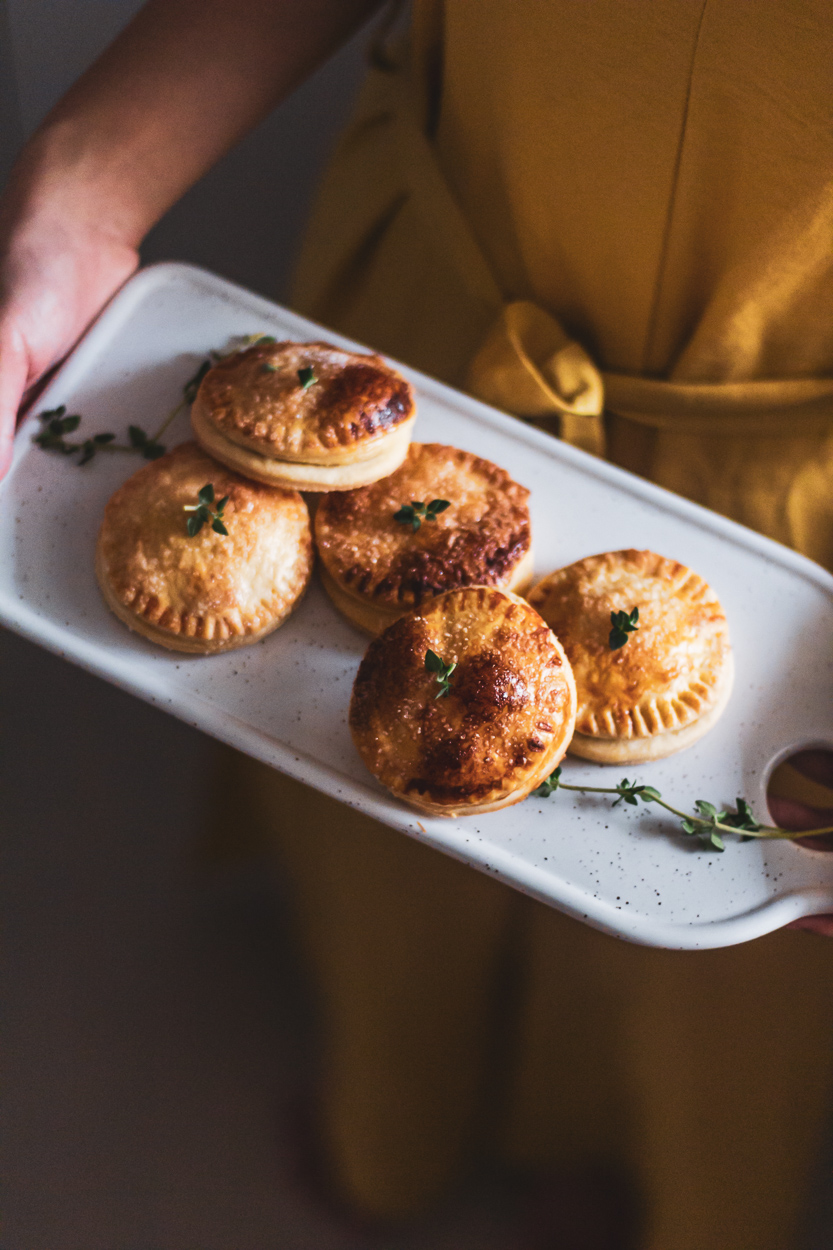 These little pastries have a soft flaky crust which is my favourite part. The only sweetener is fruit preserves, which means they're not overly sweet. With the holidays coming up, these will be your new favourite dessert!
Ingredients |
Pineapple Jam
3 cups of Pineapple, chopped
1 1/2 cups of Caster Sugar
2tbsp of Lemon Juice
pinch of Nutmeg
Pineapple Cream Cheese Empanadas (Hand Pies),
1 cup of Pineapple jam
1/2 cup of Cream cheese, softened
2 pack of Readymade pie crust
1 Egg, for egg wash
3 tbsp of Coarse sugar, to sprinkle on top
Method |
Pineapple Jam: Mix together pineapple, sugar and lemon juice in a deep, thick-bottomed pan. (Use 1½ cups of sugar if the fruit is very sweet or more sugar as needed).Bring the mixture to a boil on medium-high heat and boil for 5 minutes.
Now reduce heat and cook till jam comes together and the mixture is reduced. Stir in between and mash some (but not all) of the fruit pieces with the back of a ladle or a clean, dry potato masher. (See notes for checking the doneness of the jam.) Sprinkle nutmeg and stir well. Once done, remove from heat immediately. Spoon jam into clean, sterilized glass jars, cool completely, cover tightly with lid and refrigerate.
Pre-heat oven to 350 deg.F. Line a couple of large baking sheets with parchment paper. Set aside. In a bowl, mix together the jam and cream cheese to make a creamy filling. Lightly flour the working surface and roll out the pie crusts. Cut out circles of 3″ diameter. Re-roll scraps and use. Place 1-2 tsp filling in the centre of each circle. Lightly moisten the edges with water, lay over another piece of circle and seal. Crimp edges with a fork. Make a couple of small slits on top.
Make an egg wash by whisking the egg with 2 tsp water. Brush the tops of shaped empanadas with egg wash. Sprinkle some coarse sugar on top. Bake for 15-18 minutes or till golden in colour. Remove from oven and cool before storing in airtight containers.
Make this dish, it's definitely a show stopper! Take a photo of your version, send us an email, tag us on Instagram, tweet us, anything. We love to see you trying out our recipe!
xoxo, Joe