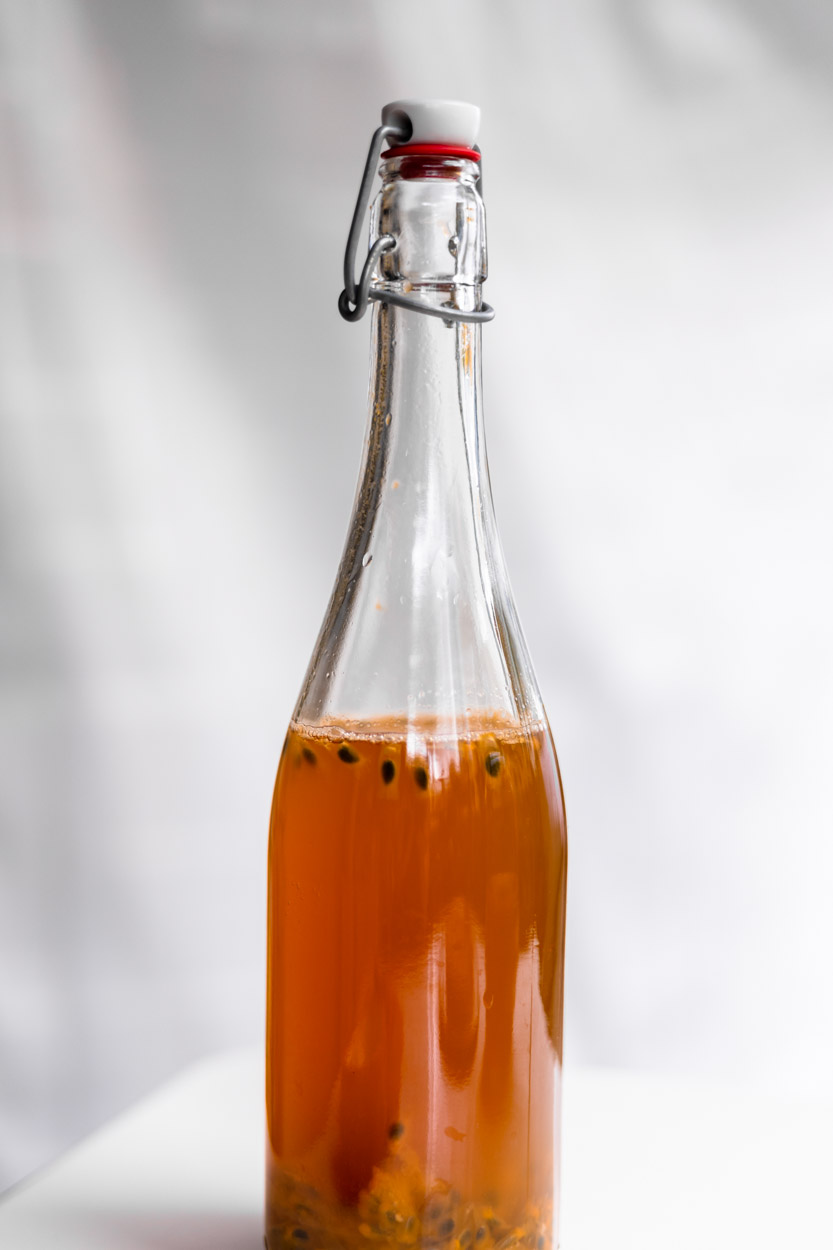 Passionfruit Kombucha is one of our favourites kombucha to date, hence we have a long discussion if we want to share this post as we have too little imagery to share. Therefore bare with us, and this post might be wordy.

This 2-ingredients drink is not only tasty but also good for you! If you or your companion are an athlete or trying to keep a balance that night then this drink will be a great part of your special meal. In that meal something that's oftentimes overlooked is the drink. This Passionfruit with Kombucha drink is a showstopper all on its own with it being so flavorful and beautiful to present. It pairs quite well though with a meal or even just dessert, too.
Flavoring homemade kombucha is such a fun yet suspenseful adventure. Because you can never be sure exactly how the flavors will transform over the fermentation process, and you have to wait a few days to find out!
You can go crazy with it or keep it simple with pureed fruit. This Passionfruit Kombucha are on the simple side and is one of out favourite kombucha flavours!
There are two main fermentation phases when making homemade kombucha:
First Fermentation: This is when you transform sweet tea into tart and delicious kombucha (see our comprehensive guide to homemade kombucha here)
Second Fermentation: This is when you carbonate the kombucha by adding sugars (like passionfruit!) and bottling it.
In order to make this Passionfruit Kombucha, you will need to have completed the first fermentation already and have some kombucha that's ready to be carbonated!
Ingredients that you need
Kombucha from a first fermentation: You've brewed your kombucha with the help of your SCOBY and it's the perfect balance of sweet and tart (step-by-step first fermentation instructions here).
Passionfruit: You can use fresh or frozen passion fruits to make kombucha!
How long can I keep it?
The acidity of the kombucha will prevent the fruit from going bad! After you've carbonated your kombucha, store it in the fridge until ready to drink (it should last a few weeks).
Looking for a fresh flavor to try out on your homemade kombucha? This Passionfruit Kombucha recipe is easy to brew and makes for a perfect balance between sweet and tart! Happy drinking!

xoxo, Joe
Passionfruit Kombucha
Ingredients
1 litre of fermented kombucha

4 passion fruit
Methods
Scoop the passionfruit: The more surface area of the fruit that is exposed to the tea, the more flavor and fizz you'll have in the end!
Mix: Stir together kombucha and mango to combine them well.
Bottle: Transfer everything to fermentation bottles.
Ferment: For 3 to 10 days, until it reaches the carbonation level you like.
Enjoy it!