We figured Valentine's Day would be the perfect opportunity to get wordy on some heart-shaped cookies, so these Conversation Heart Sugar Cookies were born! We went a little hog wild making up phrases or putting our favorite lyrics on them.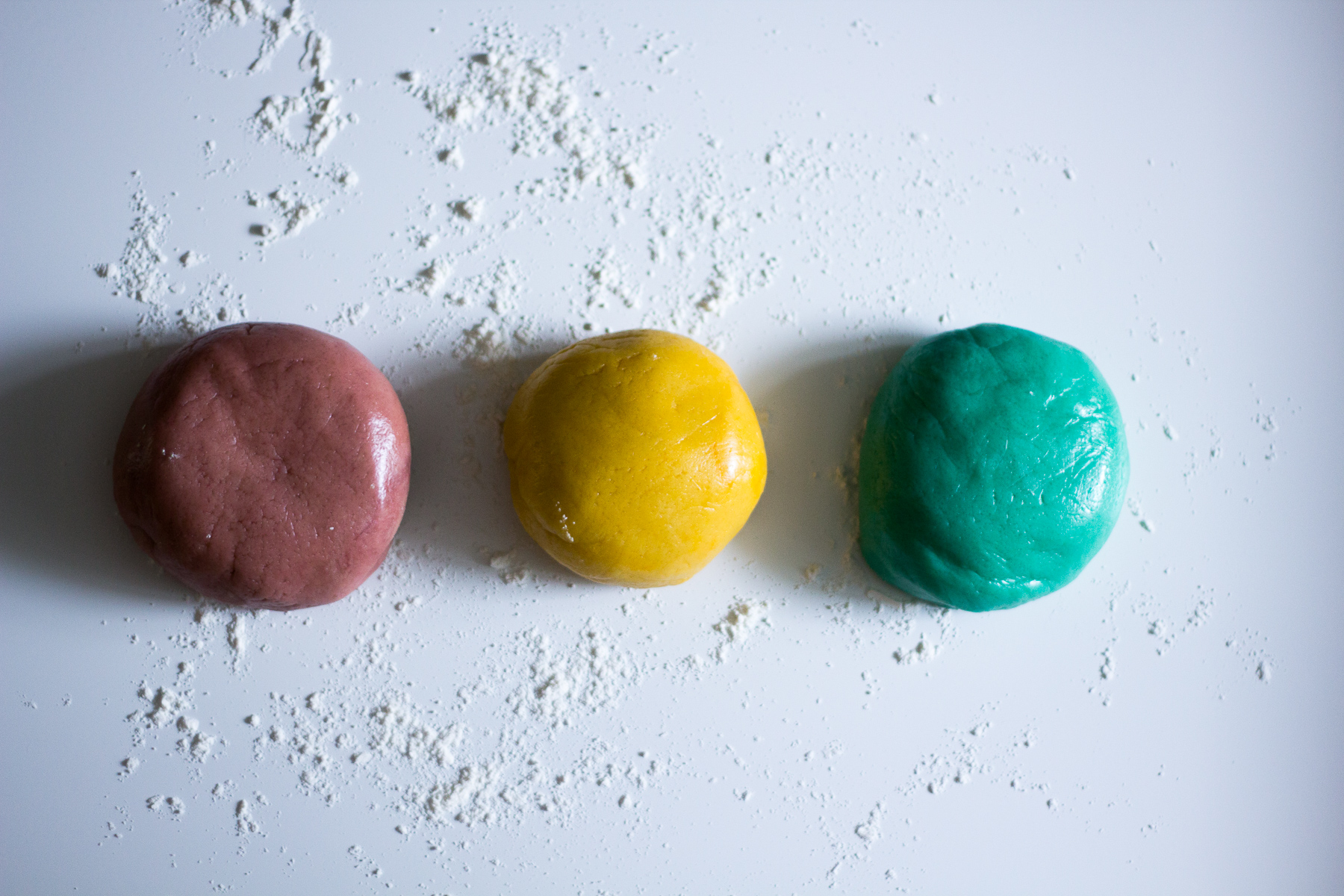 For the basic sugar cookie recipe, you'll need one that makes for a firm cookie that won't spread at all as it bakes. This recipe held up like a champ! Start with that to create your plain dough.
Once your dough is made, separate it into as many sections as you'd like different colors of cookie. We separated into three sections. Color each different section of cookie with some food coloring. We colored each part differently with these drop amounts:
bright pink = 6 drops mauve
yellow = 4 drops yellow
tael = 4 drops tael
Drop the coloring onto the ball of dough that you're working with and knead it until the coloring is evenly spread. Do this with all colors. Once the colors are mixed, lightly flatten each dough ball and wrap it in its own individual plastic wrap. Chill all dough for at least 1 hour; we let ours chill overnight.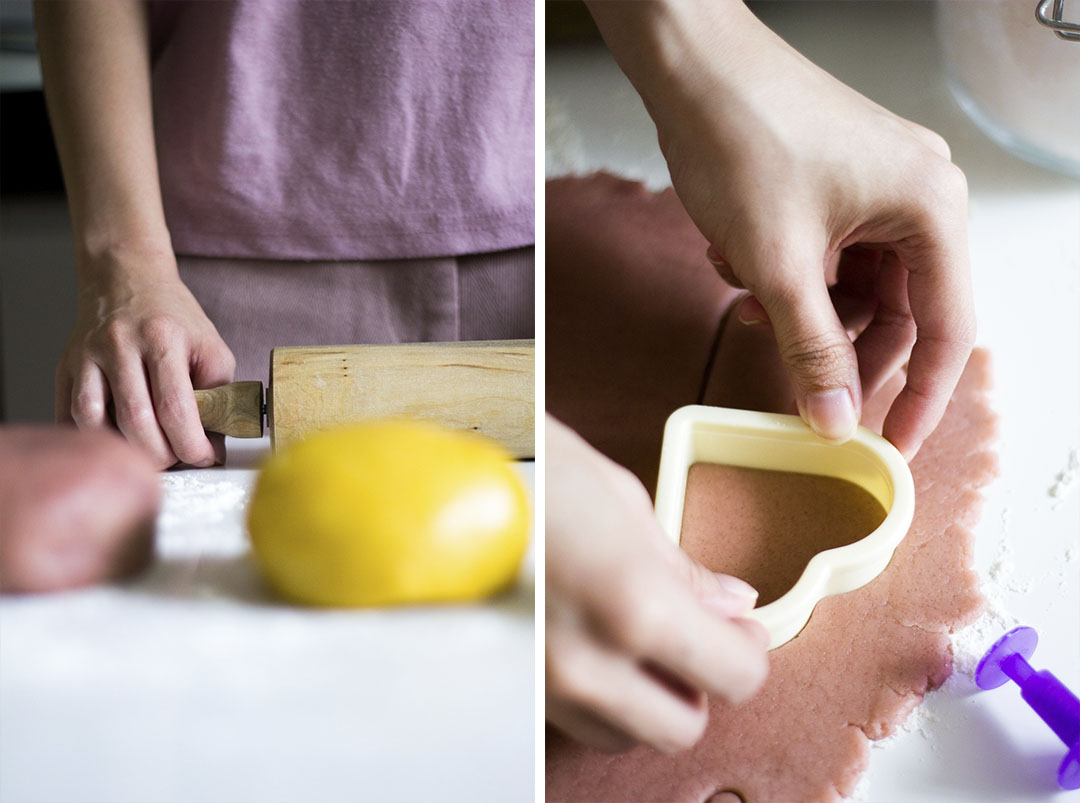 Once the dough is chilled, remove it from the refrigerator about 5 minutes before you plan on rolling it out to soften a bit. Prep your baking pans with a bit of nonstick spray and set your oven to 350. Flour your surface and rolling pin generously.
Roll one color of dough out to about 1/4″ thick. Cut out your cookie shapes and place them on the baking sheet. (We strongly recommend putting them on the baking sheet before stamping the letters into them!)
Then go to town with your cookie imprinting set and make them say whatever you want! This would actually be a super fun thing to do at a Valentine's (or Galentine's!) party. You could do it with kids, too — set up the cookies and let them stamp words to their hearts' content. Stamp out all of your messages and place the cookies in the oven to bake!
The recipe calls for 8-12 minutes in the oven but we baked ours for about 6 minutes. Just keep a close eye on them, as they're pretty delicate and will burn easily.
Ingredients|
1/2 cup butter, room temperature
Zest of 2 lemons, divided
2 tbsp of lavender buds
1 teaspoon vanilla extract
Pinch of salt
1 cup (125 grams) all-purpose flour
1/3 cup granulated sugar
2 tsp of baking powder
1 egg yolk
Method |
Preheat oven to 180 degrees C. In a large mixing bowl, mix the lavender and lemon zest in the granulated sugar. Leave it for 20 minutes for it to infuse.
Start by mixing the flour, baking powder, and salt evenly in a food processor. Then add in the soft butter, beat the mixture it until looks like a coarse sand before adding in the sugar mix. Lastly, add egg yolk and vanilla extract, mix it until the dough comes together. Wrap using a clear wrap and leave it in the fridge for at least 2 hours.
When it is done, on a lightly floured surface roll out shortbread until 1/4-inch thick. Cut out shapes and transfer to a baking sheet.Imprint the text of yours on the cookies. Bake for 8-10 minutes.
Hope you try some of these bad boys! Share with us your version! Take a photo of yours, send us an email, tag us on Instagram, tweet us, anything. We love to see yours!
xoxo, Joe