We all know that fruit and coffee matches well, actually flora and herb is perfect for making coffee as well. But did you know that people are using osmanthus sugar "honey" to sweeten their morning brew? Not only is addingosmanthus sugar "honey" to your coffee taste delicious, but it also has a variety of health benefits. So let's dig a little deeper into drinking your coffee with "honey".

Putting honey in coffee isn't a huge shock is that my mother was a big fan of adding honey in tea. Honey is known to be a healthier alternative to sugar or other artificial sweeteners. So a lot of people are using honey to sweeten their coffee, but should you?
Is osmanthus sugar good for the body?
The fact is that honey has more calories than sugar, however, there are other more benefit to it.

First of all, due to the fact that honey contains pollen, it might help you to fight symptoms of seasonal allergies like a runny nose, sore throat or headaches. Imagine a beautiful Spring morning with less congestion and a sweeter cup of coffee! Moreover as both coffee and honey have high antioxidants – where help reduces the number of "sick" cells in the body. Too many of these sick cells can lead to negative long term effects on the body.

See the pros now?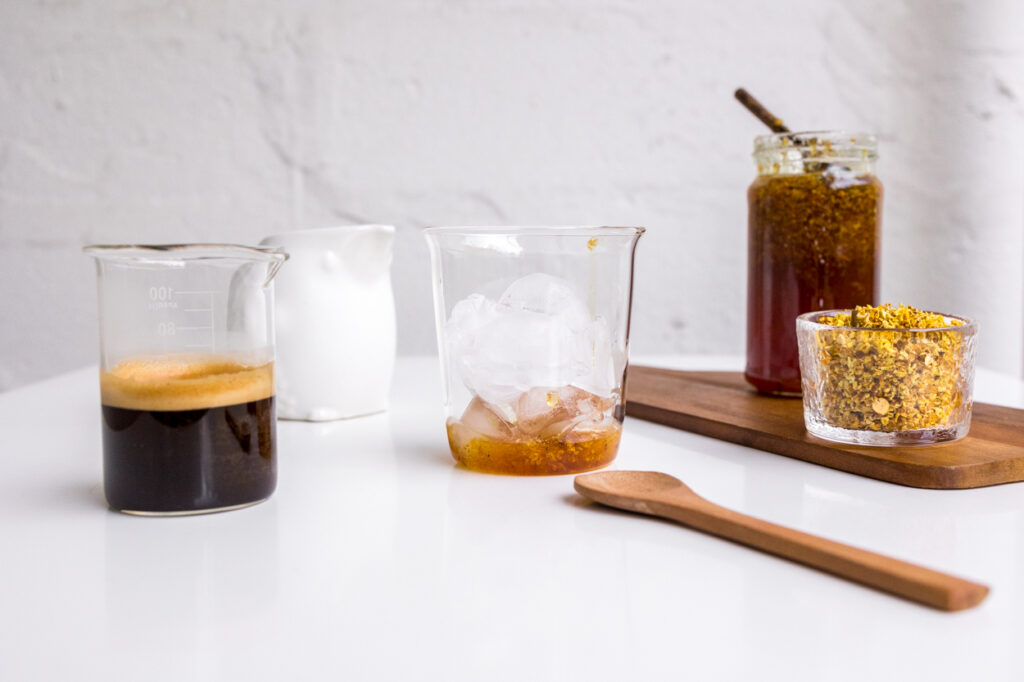 Which kind of milk can you use?
For this recipes we use lactose-free milk by meji – if you have lactose intolerance, even a glass of milk may trigger digestive distress with symptoms like diarrhoea, vomiting and abdominal pain, this is the milk for you. In term of taste, it doesn't have much difference therefore you could also go for the normal milk that you are able to grab. Oat Milk, Soy Milk is also a great alternative in term of health benefit or taste too.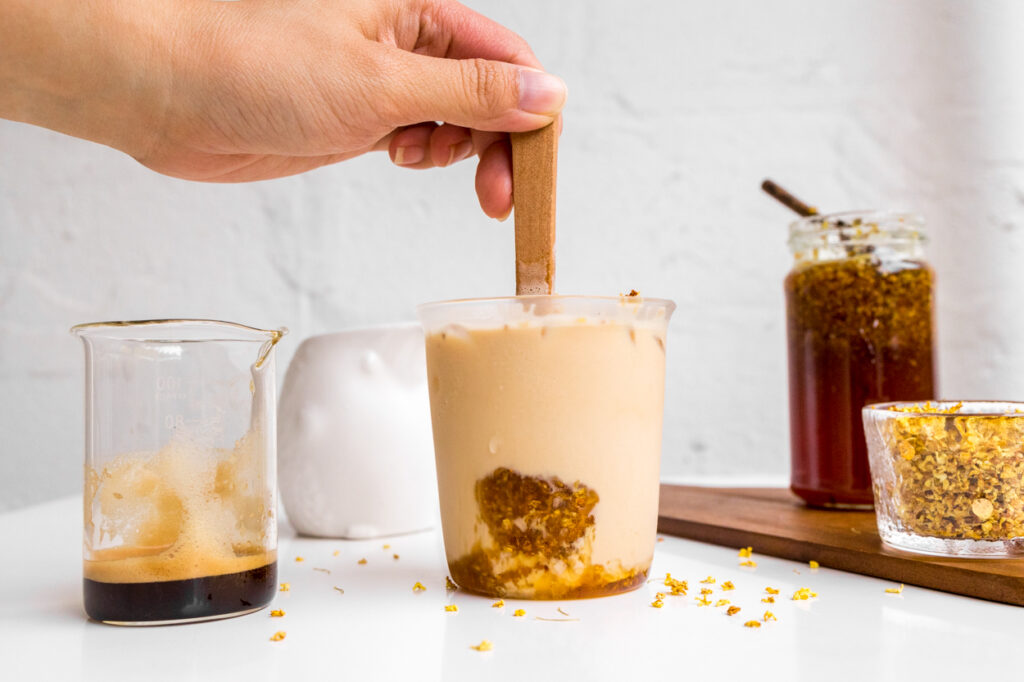 Last week did a Sweet Osmanthus Soda, it is great for cooling yourself down from the humid weather. This Iced Osmanthus Latte is a great morning boast to start your day! Give it a try now.

xoxo, Joe
Iced Osmanthus Latte
Ingredients
3 tbsp of Osmanthus Sugar

200 ml of Lactose-free Milk

50 ml of Espresso Shot

Dried Osmanthus for topping
Methods
Start will layering the Osmanthus Honey, Iced, Milk, Espresso Shot and top it with Dried Osmanthus.
Mix well before you enjoy it!