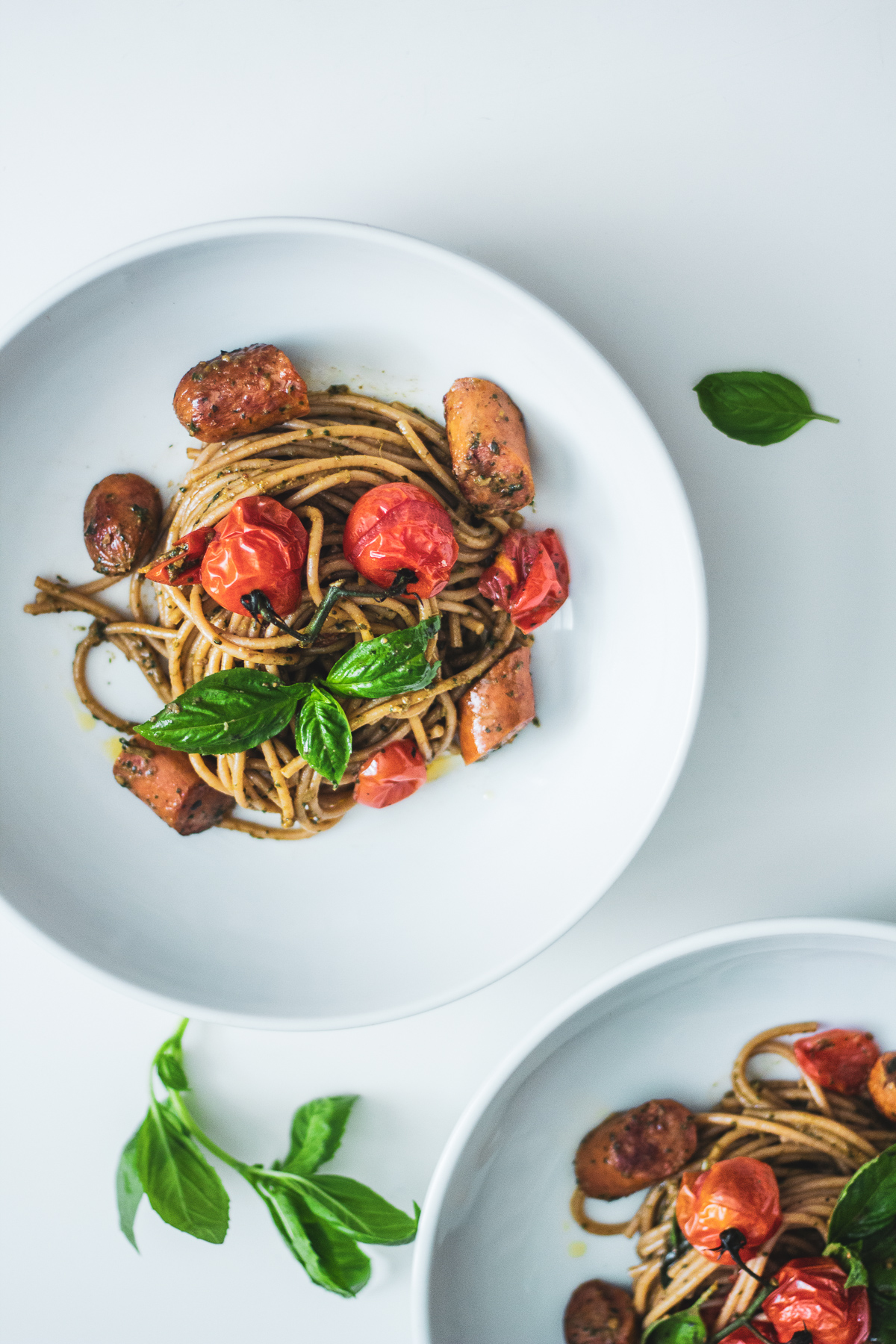 There is always leftover ingredients left in our fridge. Thus we always challenge ourselves in making use of this chance to create our very own recipes. There are some rules with this creation, first; we only can use the ingredients found at home, and second; it needs to be a simple recipe to be complete in 30 minutes.

As there are still some leftover tomatoes from our Tomato Feta Salad, we decide to make our favourite Chorizo Pasta, however this time in pesto based sauce. This Spanish pasta recipe is a delightful combination of hearty pesto sauce with Spanish chorizo, a spicy pork sausage, and smoked Spanish paprika.
As the pasta and the pesto may be a bit dry, we decide to heat up the oven and roast some tomato allowing the juice of the tomato to flow out to the pasta. We always think that chorizo and tomato is the best combination but sometimes the sour taste to the tomato sauce is always too much. Using this recipe you are able to enjoy the savoury taste of both.

If you make our pasta, don't forget to tag us on Instagram as @leplaincanvas and use the #byplaincanvas hashtag. I love seeing your takes on my recipes! 

xoxo, Joe
Roasted Tomato Pesto Chorizo Pasta
Ingredients
1 tablespoon kosher salt

 8 ounces uncooked spaghetti

 1/4 cup extra-virgin olive oil, divided

 2 pints multicolored cherry tomatoes

 4 tbsp of homemade pesto

 1/4 teaspoon freshly ground black pepper

2 ounces Parmigiano-Reggiano cheese, shaved

1/4 cup small basil leaves

1/2 cup of Chorizo, sliced into 2 inch pieces
Methods
Preheat oven to 450°.
Bring a large pot of water to a boil; add 1 tablespoon salt. Add pasta; cook 10 minutes or until al dente. Drain pasta in a colander over a bowl, reserving 6 tablespoons cooking liquid. Return pasta to pan. Combine reserved cooking liquid and 2 tablespoons oil in a small saucepan; bring to a boil. Boil 4 minutes or until mixture measures 1/3 cup. Add oil mixture to pan with pasta; toss to coat.
While pasta cooks, combine remaining 2 tablespoons oil, tomatoes, and chorizo on a jelly-roll pan, tossing to combine. Bake at 450° for 11 minutes or until tomatoes are lightly browned and begin to burst. Add tomato mixture, 1/2 teaspoon salt, pesto and pepper to pasta; toss to coat. Top with cheese and basil.