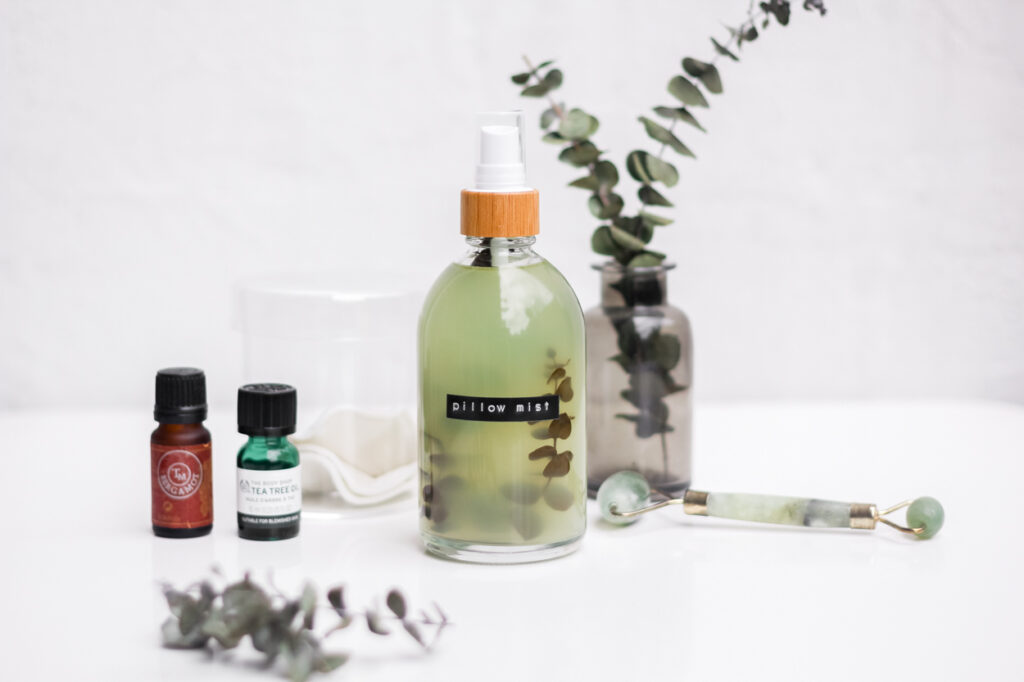 An aromatherapy sleep spray may help you relax so you can enjoy a blissfully peaceful sleep. It smells wonderful, is completely natural, and has no side effects. Making aromatherapy sleep spray is a super-easy DIY project.
Aromatherapy is the use of essential oils, which are derived from plants, to create a desired frame of mind or physical effect. It's been around for centuries, and it's very effective at promoting relaxation, inducing sleep, reducing anxiety and dulling aches and pains. There are several ways to use aromatherapy oils, but one of the easiest and most versatile is to create a spray. Here's how to mix and use your own aromatherapy sleep spray.
The amazing benefit of Eucalyptus
We love all the qualities of the Eucalyptus, it is one of our preferred green to be arranged around at home to purify the space. While Eucalyptus is an evergreen tree that's widely used for its medicinal properties. Following are some of the benefits, why we used in our pillow mist.
Can act as a natural insect repellent – Eucalyptus contains a compound called eucalyptol, which has been shown to repel mosquitoes and other biting insects.
Breathe easy – Respiratory conditions such as asthma may be helped by inhaling steam with added eucalyptus oil. The oil reacts with mucous membranes, not only reducing mucus but helping loosen it so that you can cough it up.
May relieve cold symptoms – Eucalyptus contains a compound called eucalyptol, which has been found to decrease nasal congestion, cough frequency, and cold-related headaches. It may also improve asthma symptoms, although more research is needed.
May promote relaxation – Eucalyptus oil is associated with decreased blood pressure and anxiety. It's believed to activate the parasympathetic nervous system, which promotes relaxation.
What other essential oils to use?
Bargamot
Bargamot essential oil, like other oils of the citrus family, has an uplifting scent that helps ease tensions. This oil is versatile since it can be used to both rejuvenate the mood while relaxing the mind. (Bargamot is highly phototoxic … but this is more of a concern in a lotion than in a nighttime pillow spray.)

Tea Tree
Tea tree oil is known to have a relaxing effect on the body and mind. It can help people with an anxiety issue, chronic stress, or insomnia. However, one must not inhale tea tree oil for a long duration as it can cause a headache. Thus it is always good to use it with other essential oil.

Peppermint Oil
Eucalyptus oil, which is essentially peppermint oil, also helps to aid breathing, as well as problems such as snoring, she said. Research suggests that eucalyptus can help break up the mucus in your respiratory system, including your sinuses and the back of your throat, factors that can cause snoring.
Precautions
Like any product, if you notice any irritation, stop using immediately. Though these ingredients are gentle, it may cause an allergic reaction. You can also use different essential oils that you may prefer or have a better experience with using. Seek a holistic or functional medicine doctor for advice if needed. Avoid the eye area.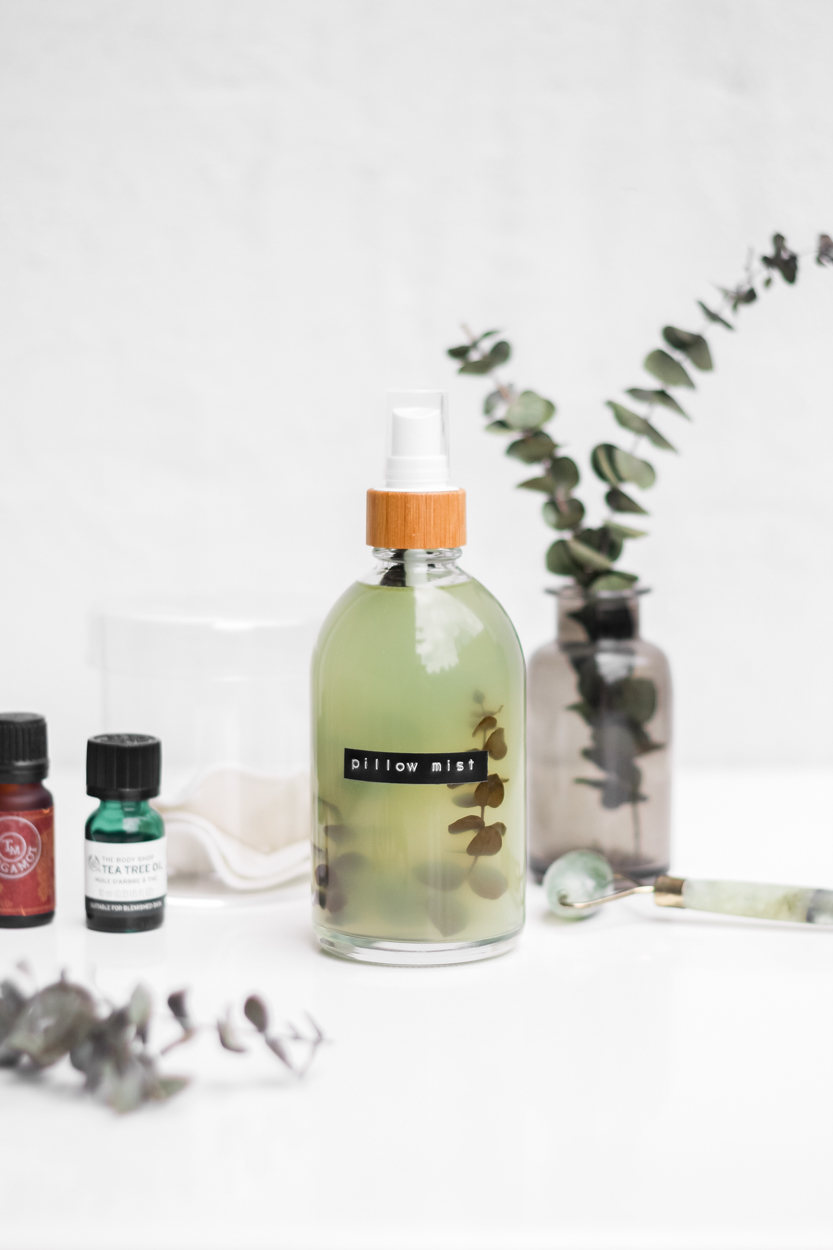 We've been using this homemade pillow spray for several weeks, and have noticed that we are sleeping more deeply and feel more rested upon waking up. We use it to spray on the fabric around our rooms, like fabric freshener making our room smell so good!

It's not a prescription medication, and it's not magic, but a blend of essential oils known for their relaxing effects is just the ticket for those nights when the pressure of the day doesn't want to let go.
Want another way to freshen linens? Try this homemade linen spray to scent bedding and towels without chemical fresheners.

xoxo, Joe
Make your own eucalyptus Pillow spray
The fragrance of lavender eases your way into dreamland!
Ingredients
4 drops peppermint essential oil

12 drops tea tree essential oil

8 drops bargamot essential oil

4 tbsp witch hazel

distilled water

2 oz glass spray bottle

1 spring Eucalyptus
Methods
Put the witch hazel, eucalyptus and essential oils into the glass spray bottle and swirl the bottle to combine.
Fill the bottle with water until almost full, leaving room for the lid. Cap the spray bottle, and shake well to combine.
To use the spray, lightly mist a pillow a few minutes before bedtime. Be sure to shake the bottle well before each use.