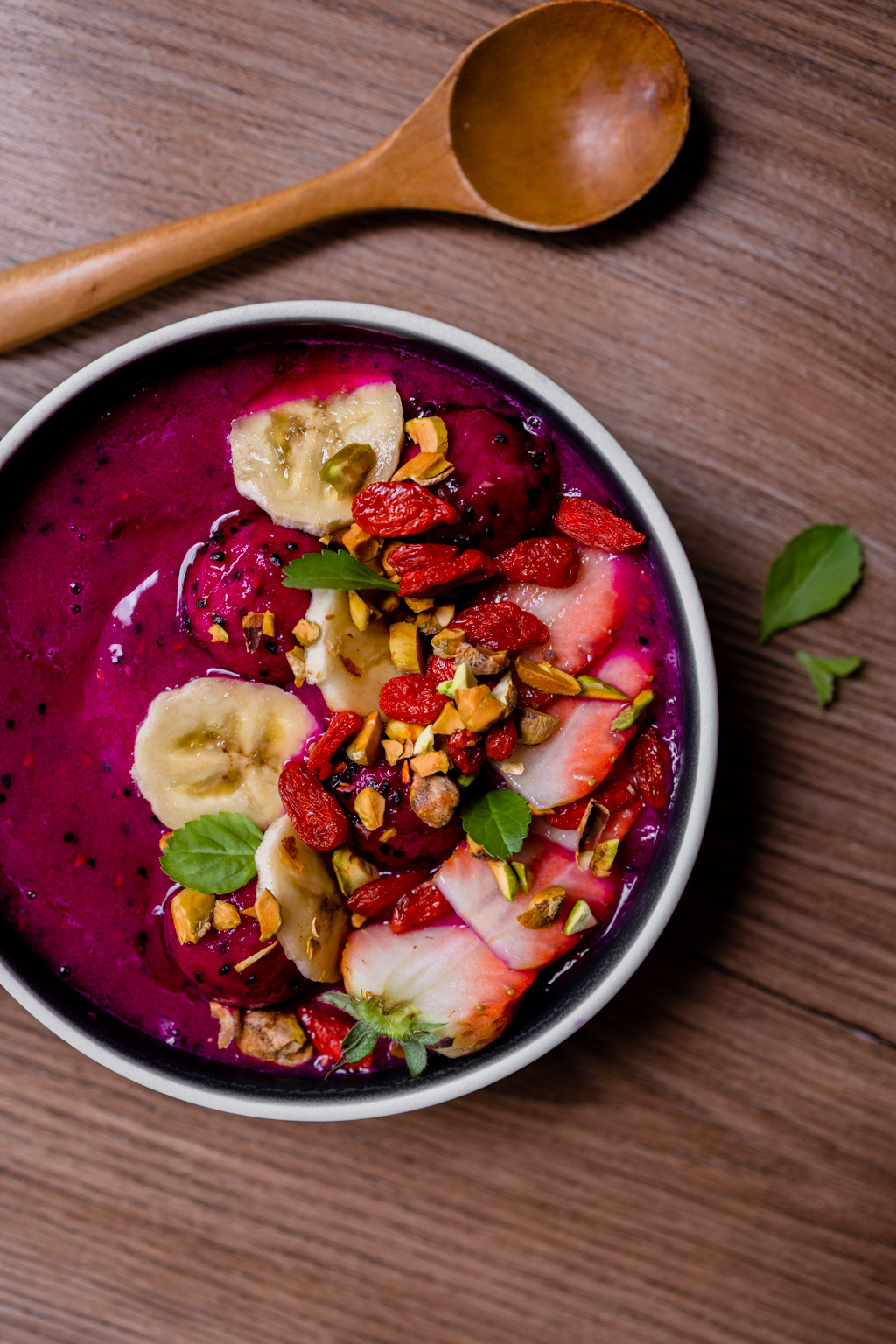 The frozen banana creates a creamy, sweet base. Frozen raspberries (or other berries of choice) add a bit of fruit flavour and antioxidants, while frozen dragon fruit creates that gorgeous hot-pink hue. To be honest, dragon fruit doesn't taste like much (but it adds tons of health-promoting vitamins and minerals), which is why adding any combination of fruit and protein powder will affect the flavour however you wish!
The smoothie bowl craze is here to stay. Frozen fruit, processed into a creamy, ice-cream-like consistency, and served with delicious toppings. They are a healthy and delicious breakfast or snack option!
If you try this recipe please tag #byplaincanvas on Instagram or Twitter. We love to see your photos of our recipes! Also, follow us on Instagram to keep up on what we're cooking up.
xoxo, Joe
Hot Pink (Dargon) Smoothie Bowl?
Ingredients
1 banana chopped and frozen

1 cup raspberry, frozen

1 cup dragon fruit (pitaya) chopped and frozen

1/4 cup coconut water

Toppings (optional)

fresh fruit

nuts or nut butter

granola
Methods
Add the frozen fruit to a food processor. Allow to sit at room temperature for about 5 minutes to gently thaw before beginning to process.
Add coconut water, and then process until very smooth and the mixture begins to fluff up.
Use a spoon to push down any chunks of fruit that aren't processed.
This works best in my food processor if I fill the bowl about half full. Any less or too full, and some of the fruit doesn't get blended well.
Top with fruit, nuts, coconut, or nut butter, or just enjoy soft-serve ice cream!