After weeks of indulging delicious food over the festival holidays, we decided to eat cleaner and give our stomach a healthier choice of food. So we decided to do some homemade granola bites. It is a great everyday snack and something good to grab on the go.
These no-bake granola bars would also make great "energy bites," too, if you'd rather roll the dough between your palms to make one-inch balls. If you appreciate and like the Monster's Krispie Rice, you'll love these!
Here, you see chopped almonds, dried cranberries, and also raisins. The possibilities are endless — all you need to know is the base. Oats, butter, honey and brown sugar. After that, add what you like.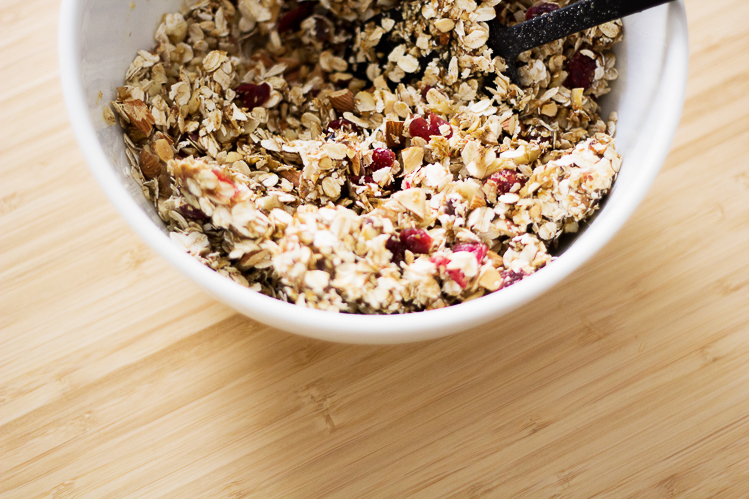 Even though all the steps sounds easy to make. However, there are points that you have take notes of too, as it does get wrong too.
After a few tries, we've found that it's really important to press the granola mixture into the pan. We've actually spent about a minute pressing before — the harder and longer you press, the less chance you'll end up with granola instead of granola bars.
The honey and brown sugar really helps with keeping the bars together. We add some to the granola mixture while it is still warm.
Finally, we like to refrigerate the granola mixture for about 2 hours. This hardens everything and makes it easy to cut the granola mixture into bars. Right out of the refrigerator the bars will be hard since they are cold. Leave them out for an hour and they will warm to room temperature and become a little softer and chewy.
The bars keep at room temperature for about 1 week (if they last that long). Just make sure they are tightly covered or sealed in a container.
Ingredients |
2 1/2 cups (230 grams) old fashioned rolled oats
1/2 cup (80 grams) whole almonds, coarsely chopped
1/3 cup (113 grams) honey
1/4 cup (56 grams) unsalted butter, cut into pieces
1/4 cup (50 grams) packed light brown sugar
1/2 teaspoon vanilla extract
1/4 teaspoon kosher salt
1/2 cup (60 grams) dried cranberries, coarsely chopped
1/4 cup plus 2 tablespoons (65 grams) raisins
Method |
Combine butter, honey, brown sugar, vanilla extract and the salt in a small saucepan over medium heat. Cook, stirring occasionally until butter melts and the sugar completely dissolves.
Pour butter mixture in to bowl with toasted oats and almonds. Mix well. Let cool about 5 minutes then add ccranberries.
Transfer oat mixture to lined pan then use a rubber spatula or damp finger tips to firmly press the mixture into the pan. (Press hard here, this way the bars will stay together once cooled and cut — We press for about one minute to be extra safe).
Cover then refrigerate at least 2 hours. Remove block of granola mixture from pan then peel away aluminum foil. Cut into 12 bars.
Store bars in an airtight container for up to one week. For the softest bars, keep at room temperature. For slightly harder bars, store in the fridge.
We hope you like them! Share with us your version! Take a photo of yours, send us an email, tag us on Instagram, tweet us, anything. We love to see yours
xoxo, Joe.