Simple and delicious, Turkish Eggs (Cilbir) is a breakfast dish of perfectly poached eggs served over garlic-infused yoghurt, drizzled with hot spiced chilli olive oil and garnished with fresh dill. Served with crusty sourdough or soft pita. Guaranteed, this will become part of your breakfast and brunch repertoire.
Why should you make it?
Çılbır or cilbir (pronounced chil-bir) is a popular Turkish breakfast recipe that features thick yoghurt with poached eggs and savoury chilli oil. It has been popularized around the world by chefs and is served at brunch spots in cities and towns across the globe. The good news for you is that it's quite simple to make at home.
It's a great recipe to make for brunch and it can be served alongside eggplant hummus or labneh balls.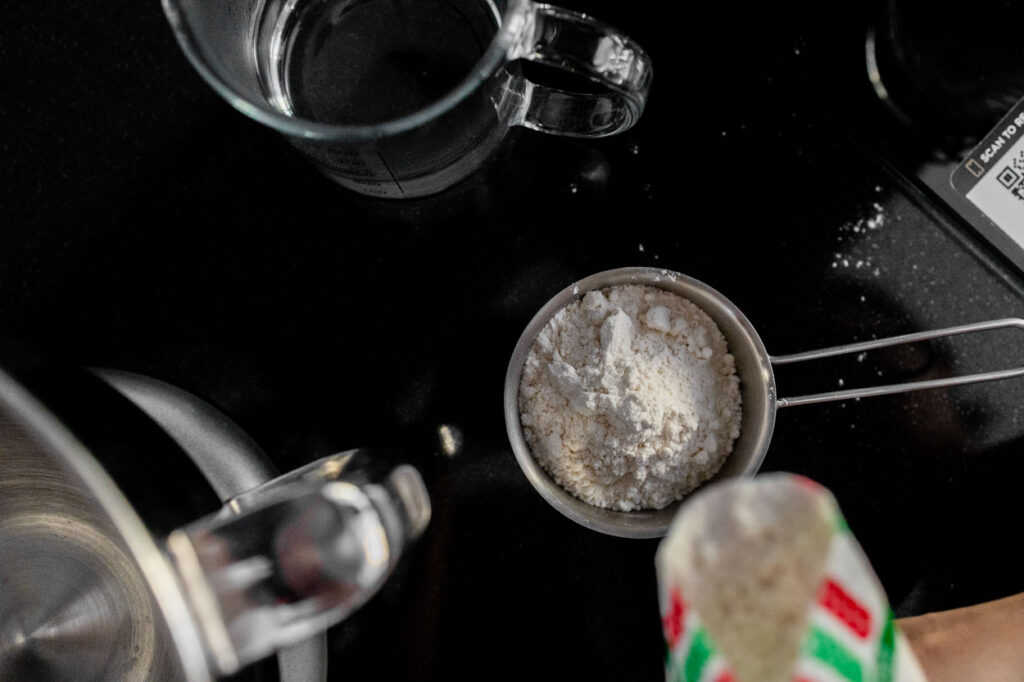 Homemade Pita at Home
Making fresh pita at home couldn't be easier, which was a shocking discovery. This easy recipe for homemade pita bread uses instant yeast and requires no kneading or complicated shaping.
This pita bread recipe is easy to make! Here's how it goes:
First, make the dough. Activate the yeast by mixing it with warm water and a teaspoon of sugar. When the yeast mixture foams, add it to the bowl of a stand mixer fitted with a paddle attachment and mix it with the flour, salt, remaining sugar, and oil. Knead the dough, either with the stand mixer or by hand, until it's soft and slightly sticky, 7 to 10 minutes.
Once you've kneaded the dough, let it rise. Transfer it to an oiled bowl and cover it with a kitchen towel or plastic wrap. Set it aside for about 2 hours, or until the dough has doubled in size.
Then, divide the dough into balls. This recipe makes 12 small flatbreads, so you'll split it up into 12 equal parts. Cover the balls, and let them rise for 20 more minutes.
Next, roll out the pita bread! Use a rolling pin to roll the dough balls into 1/4 to 1/2-inch thick circles. Keep any dough you're not working with covered as you roll out the pita.
Once you've rolled out all the dough, cook it! Many bake it in the oven but we like to use our trusty cast iron.
Ingredients you will need
Greek or Turkish Yogurt. Obviously, the preference is to use thick Turkish yoghurt, however, it is not easy to find Turkish yoghurt in most parts of the world. Greek-style yoghurt is a good substitute as it offers the same thickness needed for this recipe. Do not use plain or Balkan-style yoghurt. This is important. Plain yoghurt is too runny and you'll end up with a soupy mess if you used it.
Garlic. Feel free to omit the garlic altogether.
Poached eggs. For a quick meal, replace the poached eggs with sunny side, over-easy or soft-boiled eggs. The flavour will be just as great. I do recommend poaching for a more authentic dish.
White distilled vinegar. The vinegar is a must for poaching, but if you don't have regular distilled white vinegar, you can use white wine or rice vinegar. Choose a clear or light-coloured vinegar.
Aleppo chilli flakes. This recipe calls for Aleppo pepper flakes, which can be difficult to find. You can also use sweet paprika.
Dill. Not a fan of Dill? Though dill is traditional and authentic, you can also use other herbs like mint, parsley, chives, scallions or even basil.
How do you prepare it?
Prepare the yoghurt. Combine Greek yoghurt with minced garlic and a big pinch of salt. Stir well and set aside
Scented Oil. In a small pan on medium heat, warm olive oil and Aleppo pepper flakes. Stir constantly until bubbles begin to form and the aroma is released. Take off the heat right away. This whole process should only take 30-45 seconds. If the chilli flakes burn, start over.
Poach the Egg
Boil water. Bring a medium-sized pot of water to a boil and add the vinegar. Prepare egg. Crack an egg over a fine mesh strainer set over a bowl. Shake the strainer gently to separate the runny whites from the firm whites. This will result in a cleaner-looking poached egg without the messy whites clouding the water. Place the drained egg in a small ramequin or measuring cup and set aside.

Poach. When the water is ready (it should be boiling, but not quite a rolling boil), take a large slotted spoon and swirl it in the pot to create a vortex in the middle of the pot. Gently drop the strained egg into the vortex. Set a time for 2'30" (2 minutes and 30 seconds). Transfer. Remove with a slotted spoon and test doneness. If the egg feels too soft, continue poaching for another 15-30 seconds. Transfer to a plate lined with a paper towel to drain excess water. Repeat steps 4-6 for the second egg. Season. Sprinkle the poached eggs lightly with salt.
Plate. Spread the garlic yoghurt on a plate, place the poached eggs on the yoghurt, drizzle with Aleppo-infused oil and garnish with dill. Serve right away with the pita bread.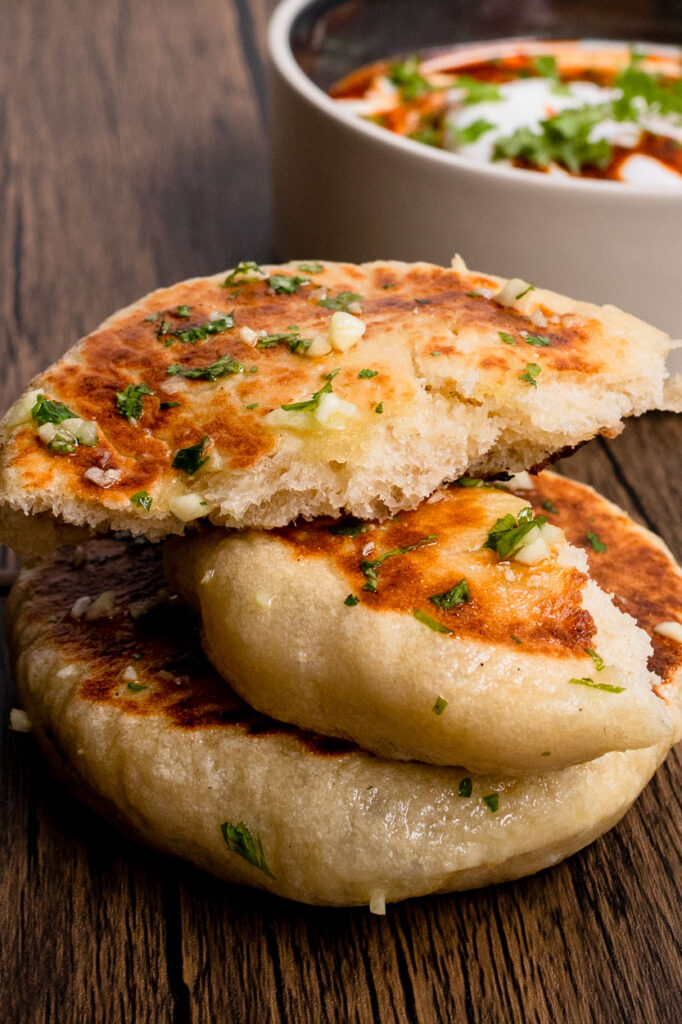 If you try this recipe please tag #byplaincanvas on Instagram or Twitter. We love to see your photos of our recipes! Also, follow us on Instagram to keep up on what we're cooking up.
xoxo, Joe
Herb Pita with Turkish Eggs
Ingredients
For the pita (12 small size pita):

500 g bread flour

11 g active dry yeast

20 g salt

10 g granulated sugar

290 ml lukewarm water

¼ cup chopped rosemary (optional)

Herb & garlic topping:

¼ cup olive oil

1 garlic clove (minced)

2 tbsp. fresh parsley- chopped

For the dip:

2 tbsp. Turkish/Greek yogurt

1 garlic clove – minced

1 teaspoon lime zest

1 tbsp. lemon juice

Salt & pepper

30g butter

1/2 tbsp. paprika

2 eggs, poached

¼ tbsp. Aleppo pepper

Dill
Methods
Make the pita:
In a large bowl combine flour, yeast, sugar and salt and mix well.
Add the water and knead lightly for approximately 5 minutes.
Add rosemary and knead for another 5 minutes or until you get a smooth dough.
Place the dough in a clean big bowl and cover it with plastic wrap and a kitchen towel. Proof for 1-2 hours or until the dough doubles its size.
Divide the dough into balls. Each ball should weigh approximately 100 g.
Then, using a floured rolling pin, roll the pieces into a circle that's about 0.2 inches thick.
Place the pitas on a kitchen towel and then cover it with another kitchen towel. Space out the pitas so they have room to grow.
Let proof for 40-50 minutes.
While proofing, mix together the herbs, garlic and olive oil and set aside.
Preheat a non-stick pan over high-medium heat.
Once the pitas are proofed and the pan is warm enough, place one pita on the pan (without oil or butter) and flip it over every 20-30 seconds, until your pita is ready. Just before taking it out of the pan, brush it lightly with the olive oil-herb mixture.
Make the yoghurt:
In a medium nonstick skillet, heat butter over medium-high, add paprika, aleppo pepper, salt and pepper, mix and set aside.
In a small bowl mix garlic, greek yoghurt, lime zest and lime juice. Add salt and pepper and mix.
At this time start making the poached eggs.
Place the yoghurt on a plate, then place the eggs and season with black pepper.
Drizzle over the spicy butter and finish with dill.
Dip the pita in the yoghurt and enjoy!