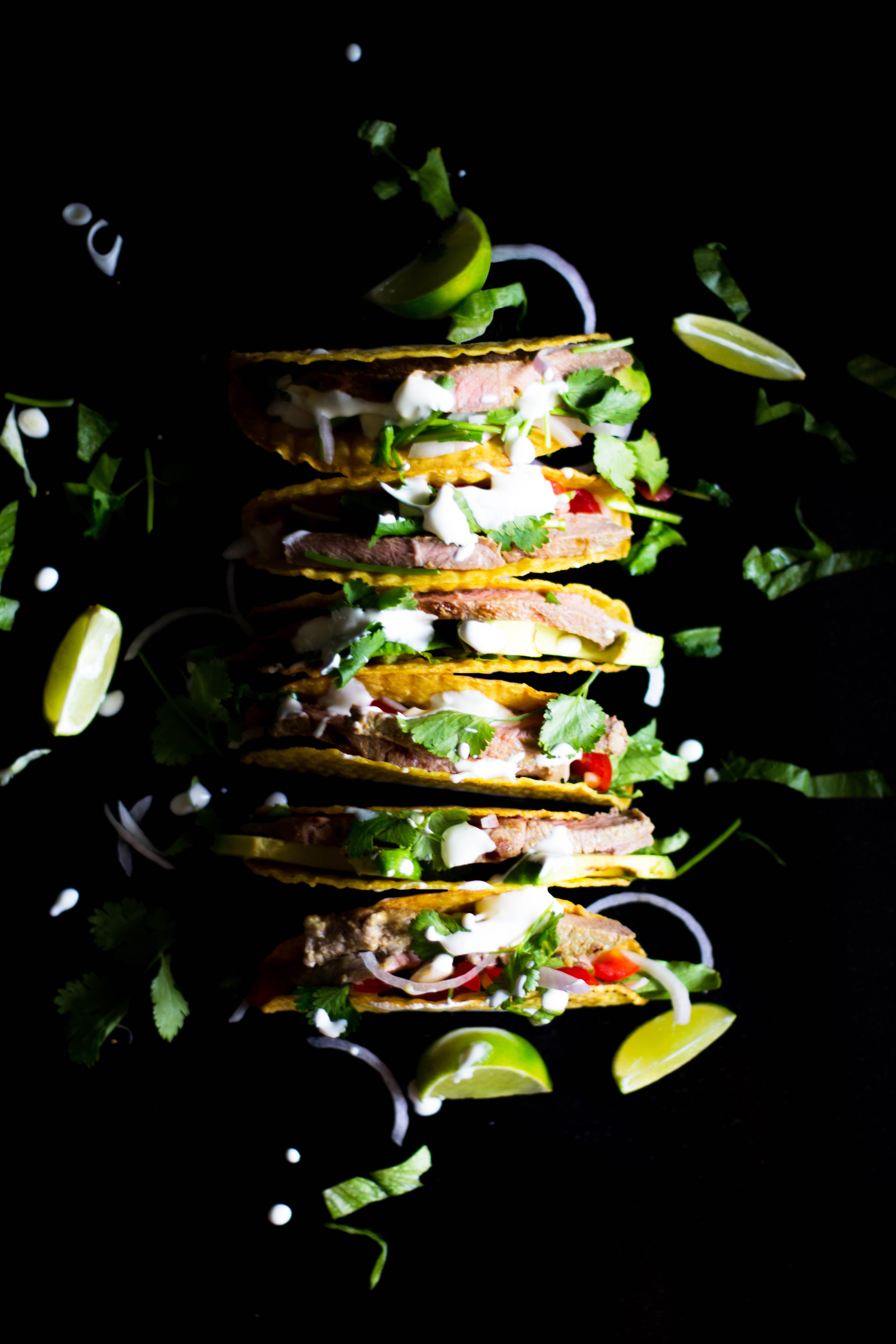 On the 4th of October we celebrate Happy National Taco Day, as it is one of our family food. Among all the tacos our favorite is using beef. A meat lover like us, the chicken could never satisfy us. Moreover, how can you complain about a simple weeknight meal, like these perfect beef tacos (can totally use chicken, too!) that are made from scratch and still on the table in less than 30 minutes.
You can even feel good about ditching the prepackaged taco seasoning, because a) you can always come back to it later, and b) these tacos are just as fast and easy (and dare I say, more delicious).
These homemade tacos really are the best-ever. Rather than having it using ground beef we uses steak for this recipes. We decided to use back the Summer Steak with Coriander Chutney recipes to marinate the beef. As we misses these sweet and juicy beef. These succulent steak recipes are perfect for summer grilling but it's taste awesome in autumn taco.
Moreover, you does need much ingredient in here. You will only need 4 simple ingredient for the steak which are plain yogurt, coconut cream, hot curry powder and mango chutney.
The mango chutney is sweet, spicy flavor and generous chunks of juicy fresh mango, this traditional chutney is as good as any you'll get in your local Indian restaurant. Serve it alongside all kinds of curries or with cold ham, chicken or game. It's fantastic in cheese sandwiches, too.
After the preparation of steak and leaving it marinate in the fridge for 20 minutes we started preparing the taco and the salsa. We have once made a Mixed Salsa and Mango Salsa before, but this time we op-ed for a simple version. We used tomato, onion and coriander, just simply chop them into cubes and put them in a jar. End with squeezing some lime juice in it.
Ingredients |
200g of baby tomatoes
1 red onion
coriander (as much as you need, for us it's never too much)
2 lime
Method |
Chop the tomatoes and onion into cubes and coriander in smaller pieces. Put them in a jar and add in the lime juice. Leave it in the fridge for at least an hour.
As Angela and I have different preference with with our tacos. Therefore, we decided to have 2 version of beef tacos, one with avocado as base and one with the salsa. I am not a fan with the avocado like my sister, as the taste too creamy for me. Who loves the avocado like my sister?
A little tips for you.
After grilling the beef please do not slice them right away. Leaving the beef aside for 15 minutes allow the juice to be contain it the beef when it's been slicing up.
Now it time to assemble them together. As even we love vegetable and avocado but we will never stop at this proceed.
Any way one of our favorite rebellious taco moves is to make taco quesadillas instead of the so-last-summer tacos we love. It's as simple as it sounds – slap a tortilla on a griddle or in a hot skillet, cover it with taco meat, cheese, and another tortilla, and cook until golden and that cheese is all melts. Once the taco quesadilla is cut into slices, we pile all adornments (lettuce, tomatoes, sour cream, avocados…you know) right on top and dig in with a fork.
So let's get back to the tacos. We end with our favorite coriander and lime. Isn't the tacos beautiful?
Super yummy.
So clearly, the options are endless with this beef taco recipe! It's a favorite, favorite. Hope you love it, too!
Ingredients |
6 hard shell Tacos
2 medium beefsteak
150g of plain yogurt
75ml of coconut cream
1 tbsp of hot curry powder
4 tbsp of mango chutney
1/2 iceberg lettuce, trimmed and shredded
1 avocado
handful of coriander
lime
Method |
Start by marinating the beef in the fridge for 20 minutes. Bakes the tacos using the temperature and time state on the box.
Place a griddle pan over a high heat and let it get smoking hot. Grilled the beef steak for 3 minutes on each side using garlic, rosemary and butter. For a juicy steak, let it rest for 15 minutes before chopping it into thick slices.
Time to assemble the tacos, start with the lettuce then the sliced avocado or salsa, and then the beef. Granish it with coriander and lime.
Make them take a photo, send us an email, tag us on Instagram, tweet us, anything. More stories on our #stellerstories, we want to see yours! It would make the day!
Happy Friday!
xoxo, Joe.