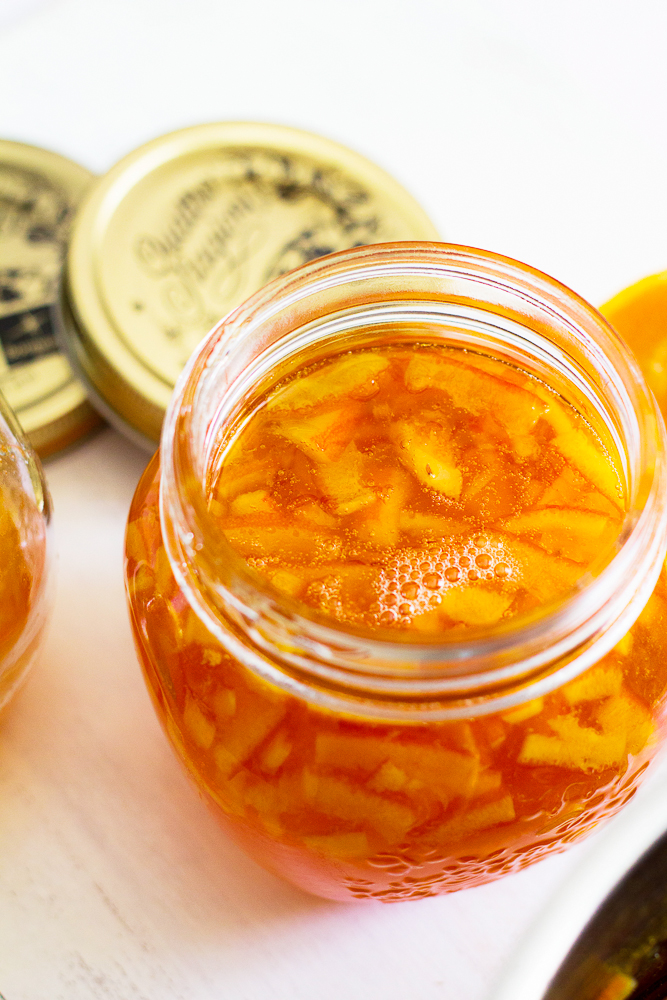 It has been a traditional every since when we were young that our mom always would prepare marmalade with toast for our breakfast. It always will come along with a cup of English tea. When we were young we weren't sure why she love to have marmalade but now we do. She defiantly has a sweet-tooth. Like her, as a kid we enjoyed the sweetness of the jelly with the peels in it, however, it got too sweet for me when I got older, therefore we decided to make our marmalade ourselves.
We started making marmalade and jam back in my late 18. We have been researching and tried numerous times during all those years and finally we mastered it. When come to making a good homemade marmalade is very challenging. As mentioned we prefer something lighter in flavor, therefore it mustn't be overly sweet, with artificially flavored you find in the grocery store. And most importantly, the peels has to be hard and chewy.
The texture of our marmalade resembled the candied orange, and the taste was just out of this world. Simply heavenly. In order to achieve the texture like us simply, you will need some patience.
Some tips for you when making this Marmalade, always stir the Marmalade frequently to prevent it to burnt. Store it in some beautiful air-tight sterilized glass jar. As we are making different jam now and then, we also prefer to tag a label on them so that we will never forget when do we make it. Never you know that Marmalade can be refrigerated up to 1 month or freeze, up to 6 months. Thus, making these jars of marmalade make excellent gifts!
So let's get started, it can be fun making with your family or friends!
Ingredients |
4 to 5 medium navel oranges
1 lemon, zest finely grated and juiced
6 cups water
5 cups of caster sugar
Directions |
Wash the oranges and lemon thoroughly. Cut the oranges into 1/8-inch slices using a mandoline, removing the seeds as you go. Stack the orange slices and cut them into quarters.
Place the oranges into a stainless steel pot. Add the lemon zest and juice and the water to the pot, set over high heat and bring to a boil, approximately 10 minutes. Once boiling, reduce the heat to maintain a rapid simmer and cook, stirring frequently, for 40 minutes or until the fruit is very soft.
Test the readiness of the marmalade by placing a teaspoon of the mixture onto the chilled plate and allowing it to sit for 30 seconds. Tilt the plate. The mixture should be a soft gel that moves slightly. If the mixture is thin and runs easily, it is not ready
When the desired texture is reached, transfer the marmalade to sterilized* glass container, then seal.
*To sterilize your glass containers and lids, place them in a large pot filled with water (covering about 2 cm above the top level), then bring to a boil. After 5 minutes, remove from the heat, then transfer to a drying rack using tongs. Dry upside down, then fill with warm jam/marmalade  and replace lids immediately.
We hope that you like it! Whatever you do, just make them.
Make them take a photo, send us an email, tag us on Instagram, tweet us, anything. We want to see yours! It would make the day! We love when we get to see the dishes you guys make. Lastly, don't forget to check out more "Behind Plain Canvas" at our Steller!
Happy making!
xoxo, Angela