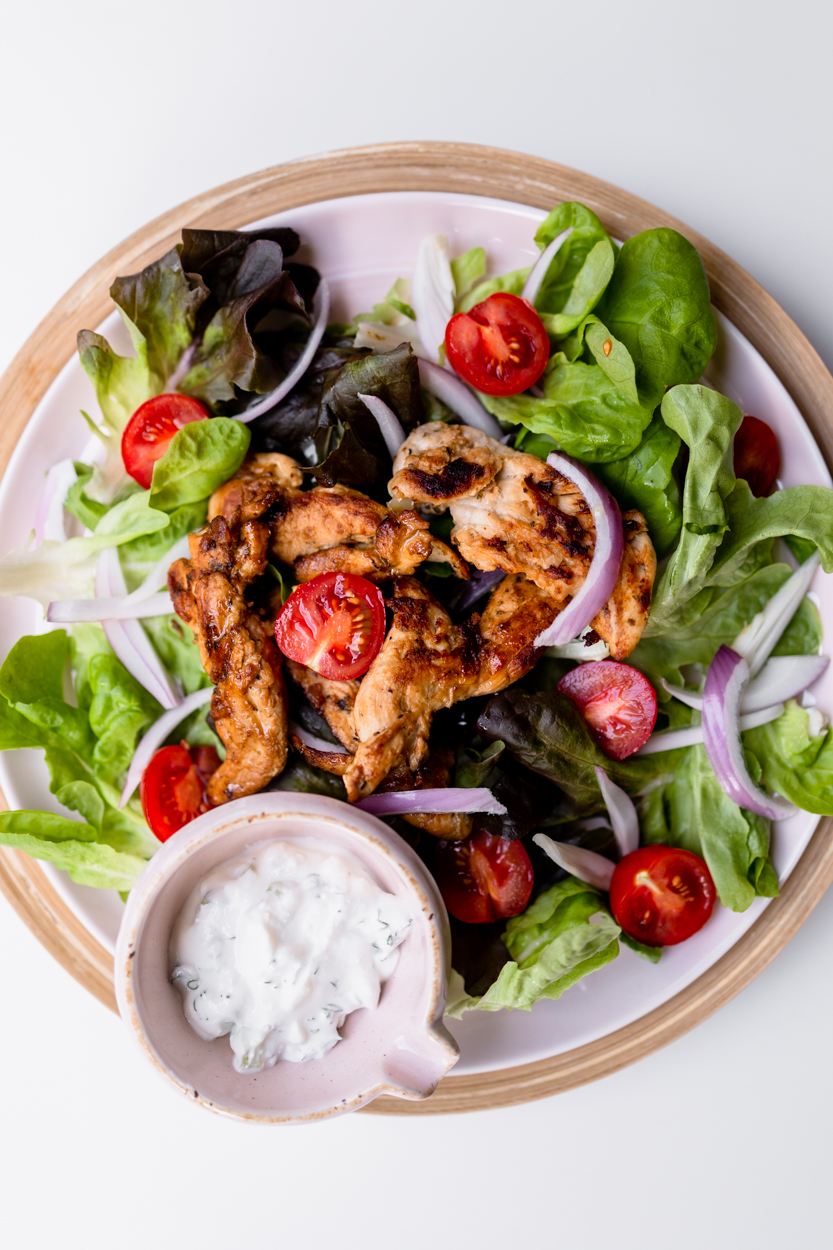 Super easy salad to make for breakfast or dinner.
This Grilled Greek Yogurt Chicken Salad recipe is as close to perfect as you can get! Full of greek flavours: tomatoes, cucumber, red onion, and chicken for a complete meal in a salad bowl! The greek yoghurt chicken and tzatziki sauce could be easier to prep ahead. Are you ready to prepare this with us?
Easy Chicken!
I'd have to say I'm just like 97.99% of the rest of the home cooks out there. We're busy. Our days are full. And that makes our nights even fuller. It's the reason why one of my most often heard of requests is for more meals that are easy to make, don't take a whole lot of time or a laundry list of ingredients, but still have that from-scratch, seasonal-eats quality.
Well here is one recipe 97.99% of you and more are going to love. It's simple and fast. It's practical with just a few simple ingredients. And it's totally flavorful thanks to its Mediterranean roots.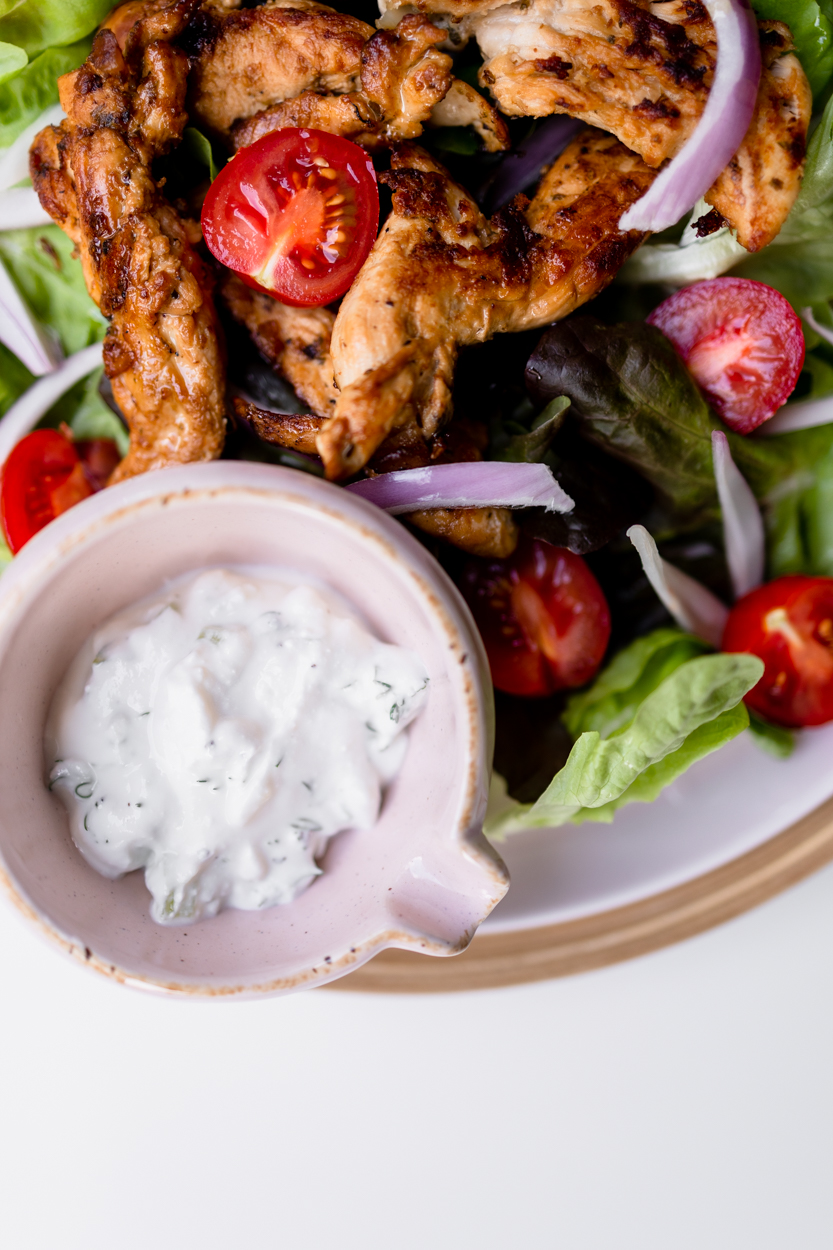 Tzatziki Dip
Angela used to purchase boxes of dips or sauces a couple of years ago but the habit is nowhere to be found. She made her own dips and sauces – to us, it is so much easier cheaper, fresher than those we purchase outside.

While it does take us out of the 5-ingredient category, the tzatziki sauce is another simple recipe to prepare. It's a simple cucumber sauce made with fresh dill, red wine vinegar, Greek yoghurt, and garlic. The amount of garlic in this recipe is our family's favourite, but vary the amount of garlic to your liking.
Doesn't it look simple? Now, are you excited to recreate it at home with the easy-find ingredients! If you make our Grilled Chicken Salad, don't forget to tag us on Instagram as @leplaincanvas and use the #byplaincanvas hashtag. We love seeing your takes on our recipes!
xoxo, Joe
Grilled Chicken Salad
Ingredients
Chicken Marinade:

2 stripe Chicken Breast cut into pieces

1/4 cup Greek Yogurt

3 tbsp Fresh Lemon Juice

2 tbsp Extra Virgin Olive Oil

1 1/2 tsp Salt

1 tsp Pepper

2 tsp Oregano

Tzatziki Sauce:

1 1/2 cups Greek Yogurt

2 tbsp Extra Virgin Olive Oil

1 tbsp Lemon Juice

1-2 tsp Salt

1 tbsp Fresh Dill diced

3 Garlic Cloves finely diced

1 cucumber, diced

Greek Salad:

3 Tomatoes diced

1/4 Red Onion, sliced

4 cups of Greens
Methods
Marinate the chicken: Place chicken, yogurt, lemon juice, olive oil, vinegar, salt, pepper, and oregano in bag and let marinate for at least 30 minutes, preferably 2-4 hours. The ideal time is 24 hours.
To make tzatziki sauce, stir together yoghurt, olive oil, lemon juice, vinegar, salt, dill, and garlic. Stir in grated cucumber and taste for seasonings. Squeeze the cucumber to remove excess water before adding it to the rest of the ingredients.
Chicken can be cooked on the grill or in a skillet. To cook chicken on the skillet. Heat skillet to medium-high heat. Sprinkle with oil. Add chicken and cook for 8-10 minutes, or until chicken is fully cooked and golden brown.
Place your greens in the bowl with the chicken on top. Top with tzatziki sauce, tomatoes and red onion. Serve!