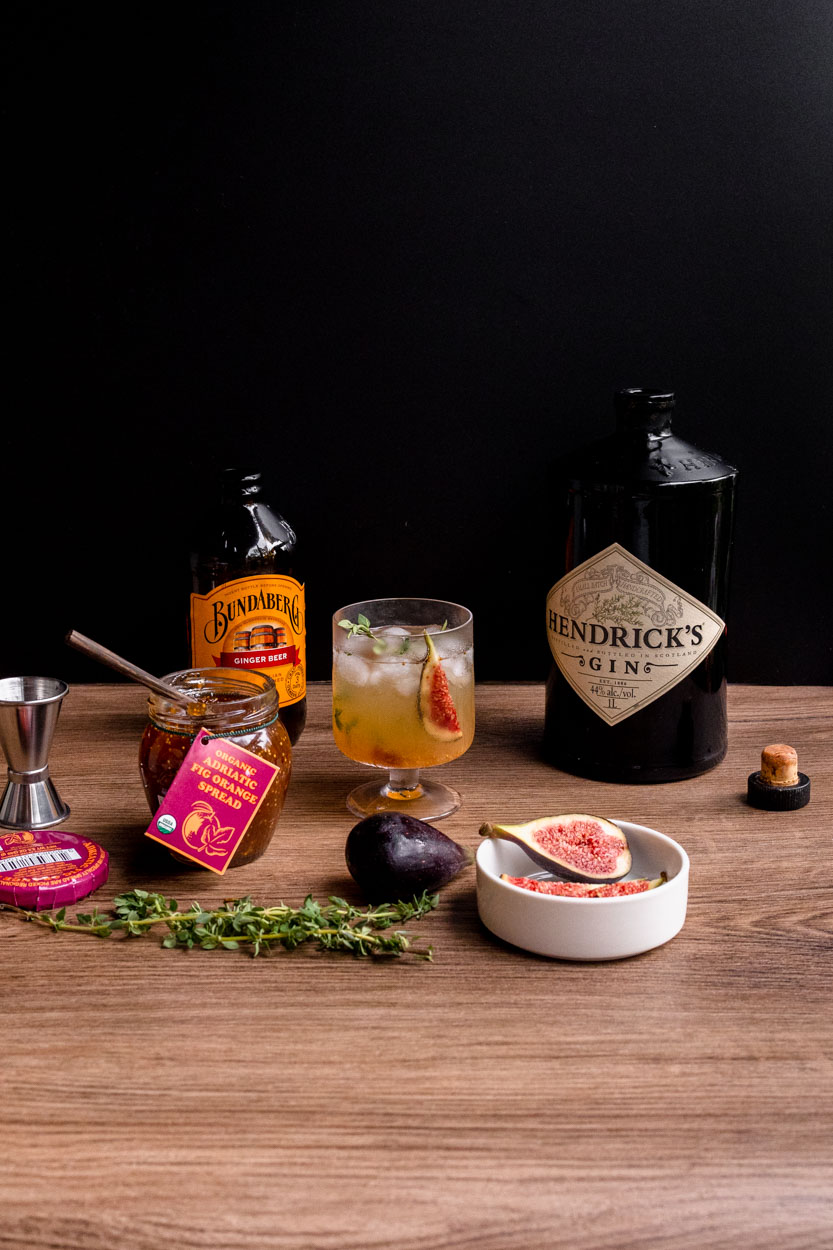 Previously we shared with you one of the mocktails – the Raspberry Mojito Mocktail we like to enjoy during the holiday afternoon, we were then thinking about how about the night. There's always something special about the night and thus we think we need to do something to spice up the drink too.

A cozy spirit-forward fall cocktail with fresh figs muddled in gin and ginger beer and topped with thyme. This will soon become your favorite cocktail to sip by the fire on those crisp chilly fall evenings.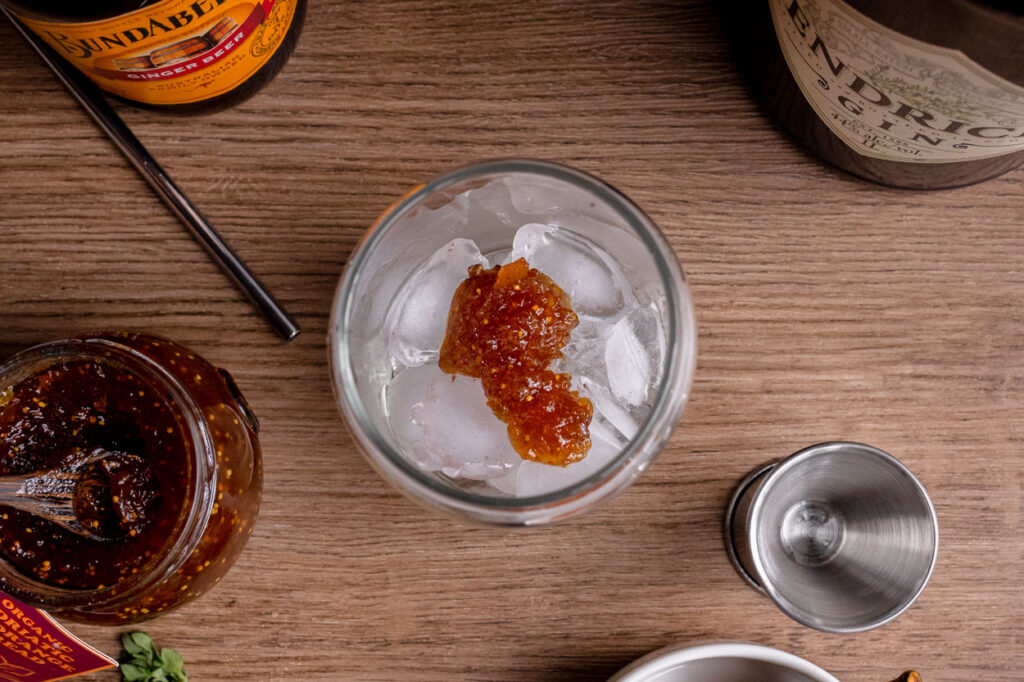 Ingredients you need for the drink
Fresh figs – this is one of the heroes of this cocktail. If fresh figs are not available, you can use a good quality fig preserve instead.
Figs Jam – the key to this simple drink is this fig jam, where it's hard to get them you could also make your own fig jam.
Homemade ginger syrup – homemade syrups make all the difference in the world when you want to make really good cocktails. But I understand that this may not always be possible, especially when most of these syrups have to be made in quantities significantly more than what you need for one or two cocktails. A good quality ginger beer like Fever Tree is a good substitute for homemade ginger syrup. You can add the ginger beer towards the end instead of the seltzer.
Gin – any favorite gin works in this recipe. I use either Hendricks or Bombay Sapphire.
Seltzer – any club soda will work for this fig and gin cocktail. If you are using ginger beer in place of homemade ginger syrup, skip the seltzer.
Thyme – this is a garnish as well as works to entice the nose while sipping your cocktail. It brings out the botanical aromatics in the gin.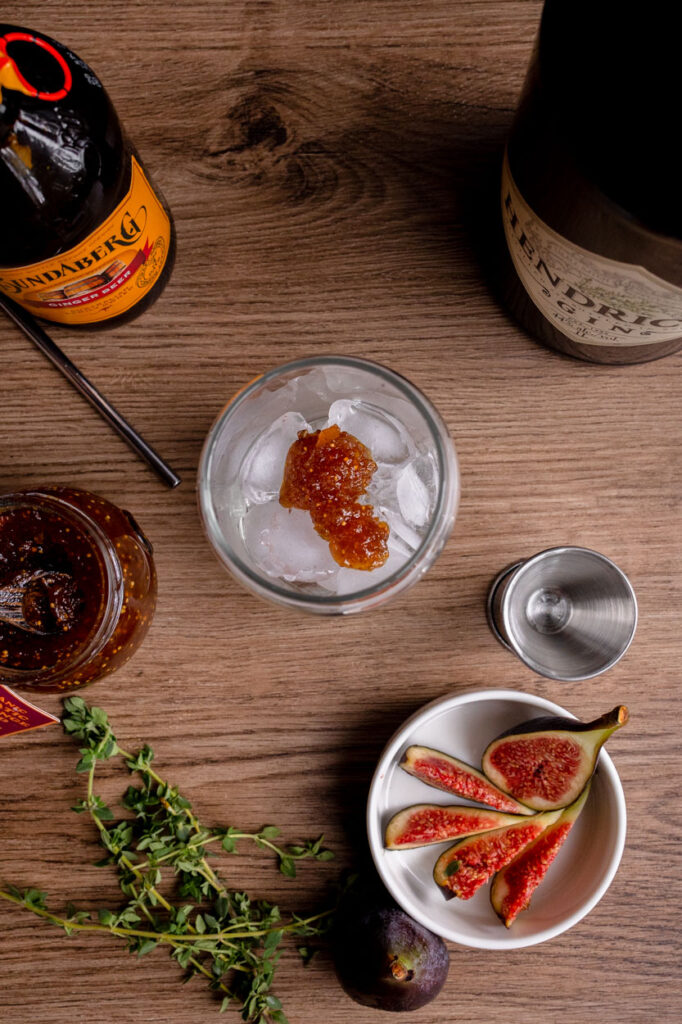 Making it ahead
I always thought that we make cocktails fresh after it discovering it will be sold in bottles by many bars thus I thought why not make batches of them and store them in the fridge so that I can enjoy them whenever I like? However, to keep it fresh remember to clean your bottles well and not to keep them for more than a month. Also do shake your bottle well but not to hard before enjoying your glass of cocktail.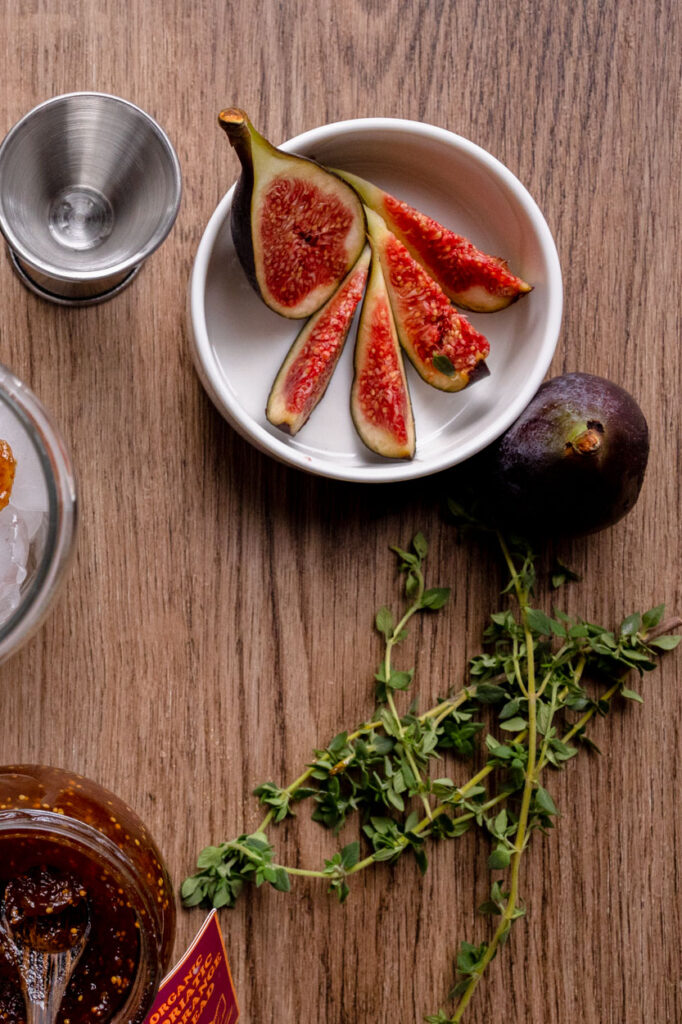 If you try this recipe please tag #byplaincanvas on Instagram. We love to see your photos of our recipes! Also, follow us on Instagram to keep up on what we're cooking up.
xoxo, Joe
Ginger Fig Gin Cocktail
Ingredients
4 oz gin

1.5 oz homemade ginger syrup * recipe in notes

0.5 oz fresh lime juice about 3 tsp, juice from one small lime

3-4 fresh figs

4 oz seltzer to top with

more figs and thyme for garnish
Methods
Muddle the figs in a cocktail shaker with a muddler.
Add the ice cubes to the cocktail shaker along with other ingredients except for the seltzer and thyme.
Shake well for 5-8 seconds.
Pour over a tea strainer (basically a double strainer – the strainer in the cocktail shaker and the tea strainer) into cocktail glasses filled with crushed ice.
Top with seltzer and give it a quick swizzle to mix well.
Garnish with skewered fig and thyme sprig.