One of our favourite activity we like to do when visiting a country is to make a trip down too their local market. We are somewhat impressed by our trip to Korea's biggest fish market. Thus how could we miss the Japan biggest fish market – Tsukiji Fish Market?

To avoid disappointment, we tried to reach as early as we could. As we thought we are early there are already lots of people at the market.
First thing that we did is to enjoy the food as fully as we could, since we couldn't bring them back home. Here are the top 3 food that we enjoyed;
Tsukiji Itadori Uogashi Senryo
Our Japanese friend highly recommends me to try this. It is ranked as the best restaurant in Tsukiji Fish Market, the well-known seafood market in Tokyo is where you can enjoy the original Kaisen Hitsumabushi (don).

For a tourist like us, an English explanation is available, teaching you how to enjoy the delicious rice bowl. The first step is to take a small bowl with soy sauce and wasabi. For the second step, you can mix the sashimi and rice with sweet mushrooms, lotus roots and dried gourd shavings. For the last step, pour dashi sauce in the third bowl and eat it while it's hot!

The original Kaisen Hitsumabushi only served during the lunchtime, so it is the best to come early!

Yamachō
The tamagoyaki is made carefully by skilled chefs using fresh eggs delivered every morning and strong dashi. They sell easy-to-eat sized tamagoyaki omelettes on a stick. Not only can you eat them on the spot, but this old-time favourite is reasonably priced at 100 yen a piece.

The time in the queue passes pretty quickly while you watch the skilful moves of the chef. But now it's time to have a taste of the freshly made tamagoyaki. When you take a bite, the dashi from the bonito flows out. The harmony of the delicate texture and slight sweetness creates a lovely, gentle taste.

Ps: Don't be frightened by the boss there too, he may look fierce but actually, he is very kind.

Price – 100 JPY ($0.91)
Kaisen-don Ooedo
Surrounding the market are many shops and vendors, and small sushi restaurants. We spotted Kaisen-don Ooedo as we got hungry after all the walking. This time there is quite a wait for this store, but it is indeed worth it. They came in half and the full portion so if you want to grab a little bit of the kaisen-don you could give it a try.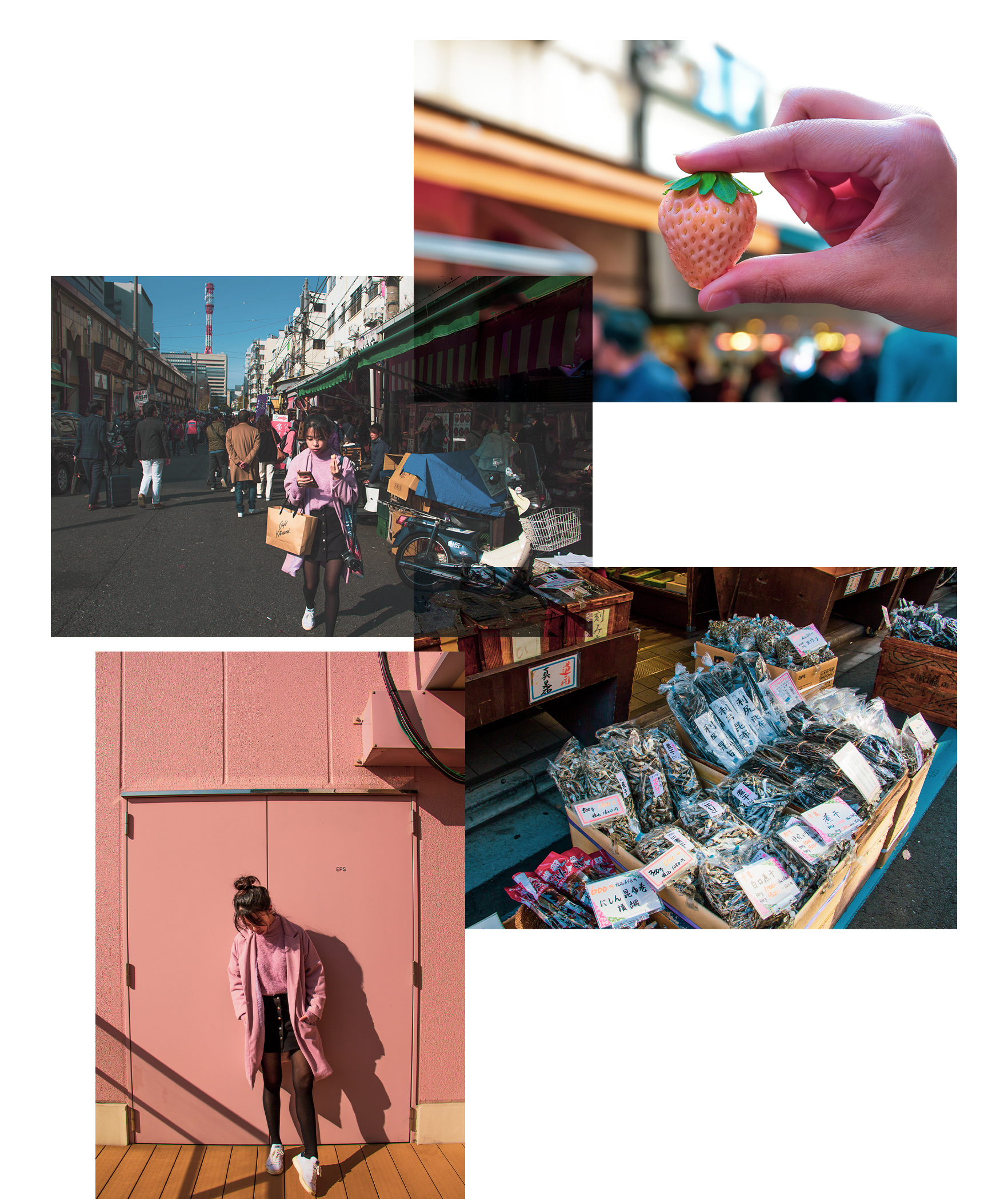 Next, we when walking around the market and get some dried goods for our mom. The best ingredients to get is kombu kelp, small dried fish and bonito fish flakes. They are so fresh and cheap, we regret not getting more.

The last thing we suggest you do is to grab a bite of their fruits. Although there are better fruits in Japan for those we have a busy schedule like us the fruit in Tsukiji Fish Market is already the very best for us. This is our very first time to try the white strawberry. It tastes so sweet and juicy not to say it cost us only $12. I may cost us 5 times more is Singapore.
We really recommend you have a trip down to the Tsukiji Fish Market. It will be one of the very best experience you could ever have. Ohh yes, wear some cover shoe to here, as the floor is wet in some area.

xoxo, Angela