Slurp in the New Year with this traditional noodle dish. Made from buckwheat soba noodles in hot dashi, mirin and soy sauce soup, New Year Soba symbolises wishes for good luck in the year ahead and is eaten for dinner by the Japanese on 31st December every year.

For those who lived in a tropical country like us, we are surrounded by hot weather. Instead of eating the hot soba, we definitely prefer the cold ones. making soba at home is actually pretty easy, it's incomparable to those we ate in Japan. But I promised that it definitely taste so much better than those you eat at some commercial restaurants out there.

When you cook at home, we always choose all the quality ingredients and make it with love.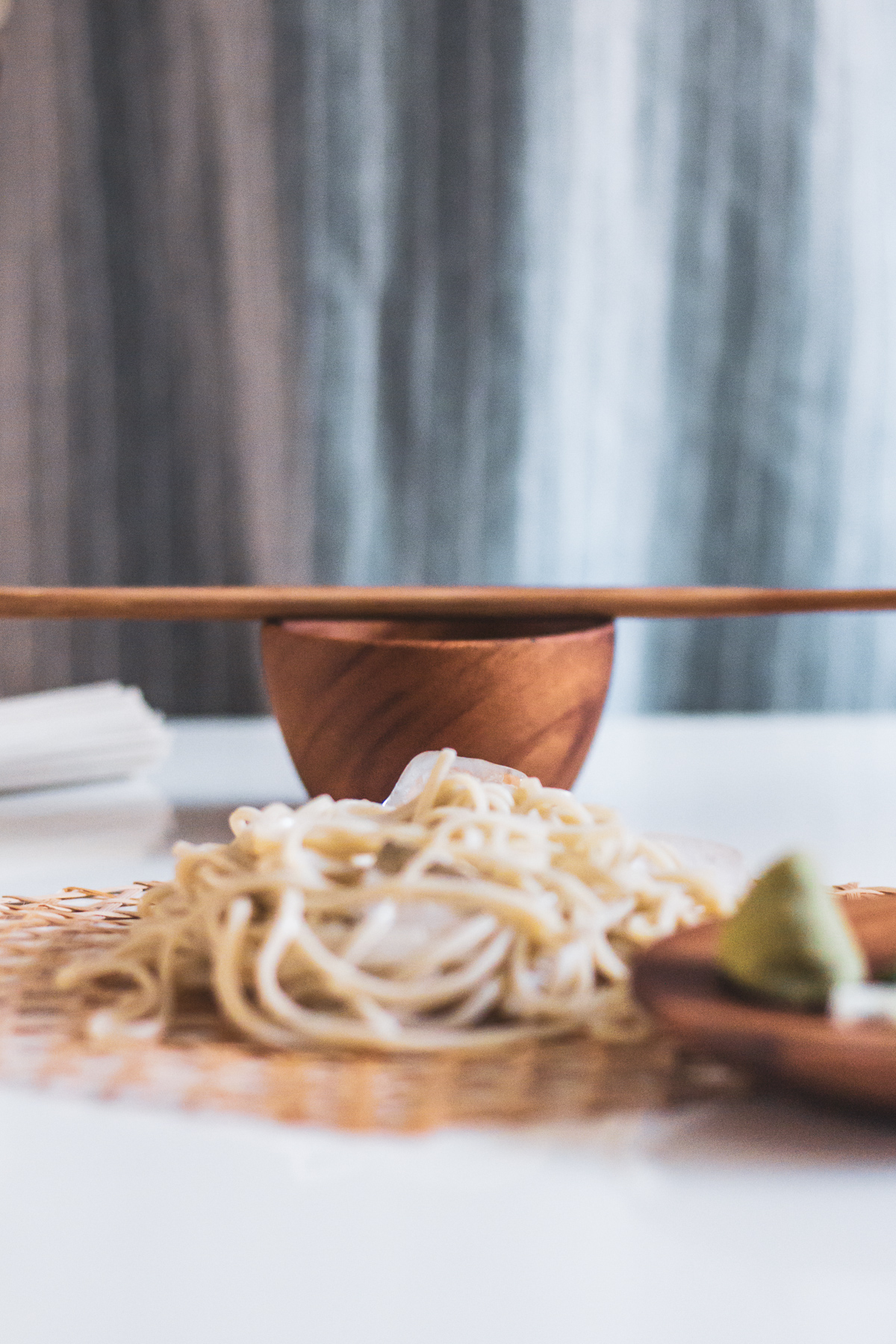 Ingredients |
14 oz dried soba noodle
¼ cup sake 
½ cup mirin 
½ cup soy sauce 
1 kombu (dried kelp)
1 cup katsuobushi (dried bonito flakes) 
shredded nori seaweed (kizami nori), 2 green onions/scallions and Wasabi for granish
Method |

For the dipping sauce, in a medium saucepan, add ¼ cup sake and bring it to a boil over medium-high heat. Let the alcohol evaporate for a few seconds. Add ½ cup soy sauce and ½ cup + 1 Tbsp. mirin. Add 1 x 1 inch (2.5 x 2.5 cm) kombu and 1 cup dried bonito flakes (katsuobushi). Bring it to boil and cook on low heat for 5 minutes. Turn off the heat and set aside until it cools down. Strain the sauce and set aside. You can keep the sauce in an airtight container and store in the refrigerator for up to a month.

For the noodle, boil a lot of water in a large pot. Unlike pasta, you DO NOT add salt to the water. Add dried soba noodles in the boiling water in circulating motion, separating the noodles from each other. Once in a while stir the noodles so they don't stick to each other. Check the tenderness and do not overcook.

Drain the soba noodles into the sieve and rinse the noodles to get rid of starch under running cold water. This is a very important step. Shake off the sieve to drain completely and transfer the noodles to the iced water in a large bowl. Set aside till the noodles are cool.

To serve the noodles, place a bamboo sieve or mat over a plate (to catch water from noodles). Put soba noodles and garnish shredded nori sheet on top.

Put one part of cooled dipping sauce and 2-3 parts of iced water in a serving pitcher or small individual bowls. Put chopped green onions and wasabi on a small plate and serve with the soba noodles.

Take a photo of your version, send us an email, tag us on Instagram, tweet us, anything. We love to see you trying out our recipe!

xoxo, Angela