Angela: What should we get for dad this year?
Joe: Maybe cook for him?

Since that the case, we are planning how to give our dad a little surprise!
Every family has it own table stories, so for us. A little fact about our family – we might be the "dinner" kind of household as we hardly have breakfast together at all. Our mornings has been rushing all the time. When we were younger it all about schooling, then when it come to adulthood it all about working. For our parent, they have been so hard working all their life, we barely see them on our dining table for breakfast. That's the story for our family, but this year we were thinking to give him a different morning and make him a breakfast that he deserves it. Who doesn't it deserve it, everyone does and especially the dads.
A practical man like him, it's very challenging to crack his smile on his face. It is hard to think what kind of breakfast is filling and give will him energy at work! Therefore, homemade Beignets with a cup of black coffee will surely make him smile! Don't you think so?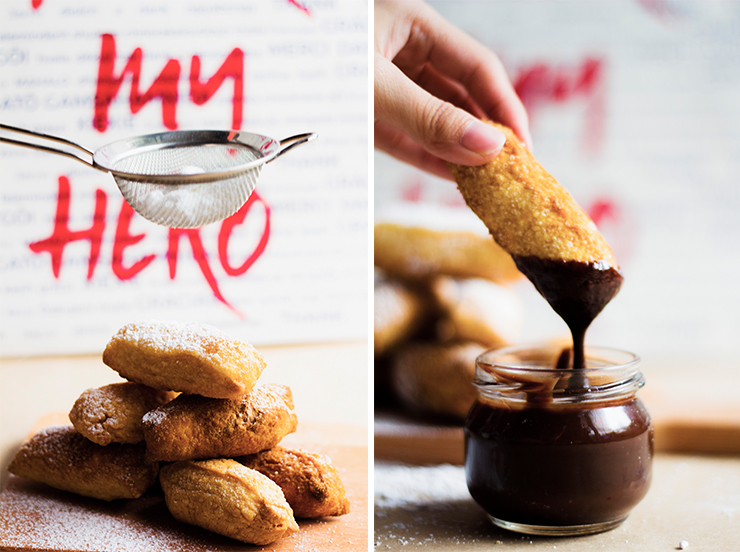 Coffee and Beignets? Yeah, we are pretty sure there could not be a better combo than that. It's kind of perfect and sort of meant to be. Thus, it is just an excuse for us to want to make this cute little Beignet!
Apart from giving our dad little surprises, this is a simple homemade delight for all ages! Like my sister, she has been stealing it when I'm making. FAs for those who doesn't like to dip it in coffee like my older sister, we suggest you could always dip them in chocolate sauce as well. I have created this Coconut Chocolate Dips. Simply melt your chocolate using a water bath till smooth, remove from heat. At a cup of coconut cream in bits by bits to the chocolate, and you are good to go!
So let's get started!
Ingredient |
1 1/4 tsp active dry yeast
1/4 cup sugar
3/4 cups lukewarm water
1 egg
1/2 tsp salt
1/2 cup heavy cream
2 tbsp unsalted butter, melted
3-4 cups bread flour
canola oil, for deep-frying
powdered sugar, for sprinkling
Direction |
To make the Beignets, mix the yeast, sugar, and water in the bowl. Let the mixture sit for 10 minutes. Once the yeast is proof and foam up add the eggs, salt, heavy cream and melted butter.
Add 2 1/2 cups of flour and mix on medium until combined. Continue adding the remaining 1/2 cup of flour slowly until it's all incorporated and at a time until the dough pulls away from the sides and forms a smooth ball (about 4-6 minutes). Place the dough on a floured surface and knead until smooth, adding a little more flour as needed (about 8-10 minutes). The dough may still be a bit sticky, but shouldn't be overly so.
 Place the dough in the bowl, cover with some plastic wrap on top. Let rise for 2 hours in a warm spot.
When the dough is ready, place the dough on a lightly floured surface and roll out into a square or rectangle. Roll to 1/4 inch thick. Use a pastry cutter to cut into 3×3 inch squares (about 25 squares).
Place a deep, heavy bottom pot on the stove and add enough oil to fill the pot about 1 to 1 1/2 inches deep. Turn the burner to medium and preheat the oil to 350 degrees. I would recommend using an instant read thermometer so you know the exact temperature at all times.
Once the oil is ready, fry 4-6 at the time depending on the size of your pot. Use the slotted spoon to flip them over every 30 seconds. Fry for 2-3 minutes or until golden brown on both sides. If they are taking longer than 3 minutes to brown you need to turn your burner up and make sure your oil is at the correct temperature. Remove with slotted spoon and place on paper towels to drain. Repeat with remaining squares. Dust the warm beignets with powdered sugar on both sides.
Whatever you do, just make them.
Like, we're begging you. Make them take a photo, send us an email, tag us on Instagram, tweet us, anything. We want to see yours! It would make the day! We love when we get to see the dishes you guys make. Lastly, don't forget to check out more "Behind Plain Canvas" at our Steller!
Le Plain Canvas wishing, Happy Father' Day to all dads!
xoxo, Joe.