Have you spotted flowers like sakura blooming around your area? We do and this means we are entering our favourite season of the year – spring. During the spring we like to have salad especially involving fruits.

Burrata with Peach and Cherry Tomatoes Salad is bursting at the seams with fresh peach, creamy burrata, and juicy tomatoes. Although it looks like it can be served as the fanciest restaurant, it actually takes only 15 minutes to prepare. Whip it up for your next gathering and watch your guests' eyes widen!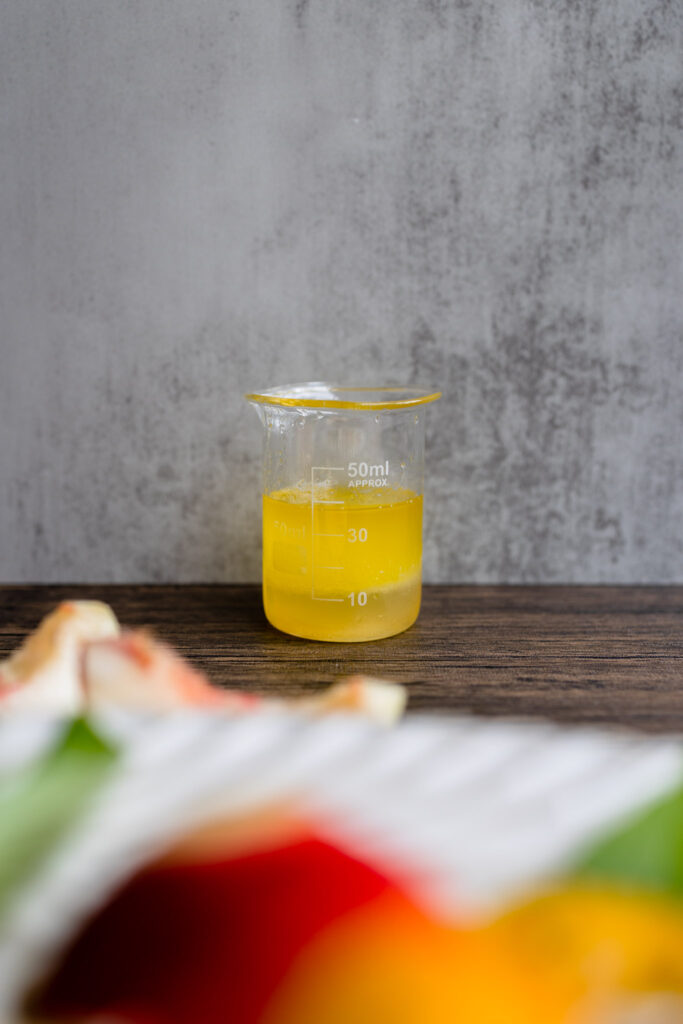 What is burrata?
If you've never used burrata cheese before, get ready to become addicted. It's a form of mozzarella cheese that comes in a semi-soft ball. Upon slicing into a piece of burrata, rich cream and curds ooze out. It's ridiculously flavorful and such a refreshing alternative to classic mozzarella!
How to Make the Salad?
Making this tomato peach burrata salad is so simple, you can hardly even call it a recipe. Below, find a quick hitter overview of the process before you dive in.
Slice the Peaches and Tomatoes: Using a sharp knife, slice the peaches into wedge or thin slices and place them on a flat serving plate. Next, slice the cherry tomatoes in half and sprinkle them on top of the peaches.
Cut the Burrata (optional): Slice the burrata and sprinkle it on top. For us, we place the whole burrata in the middle.
Season and Serve: Season the salad with salt, oil, and lemon juice and sprinkle whole basil leaves on top. Serve immediately and enjoy!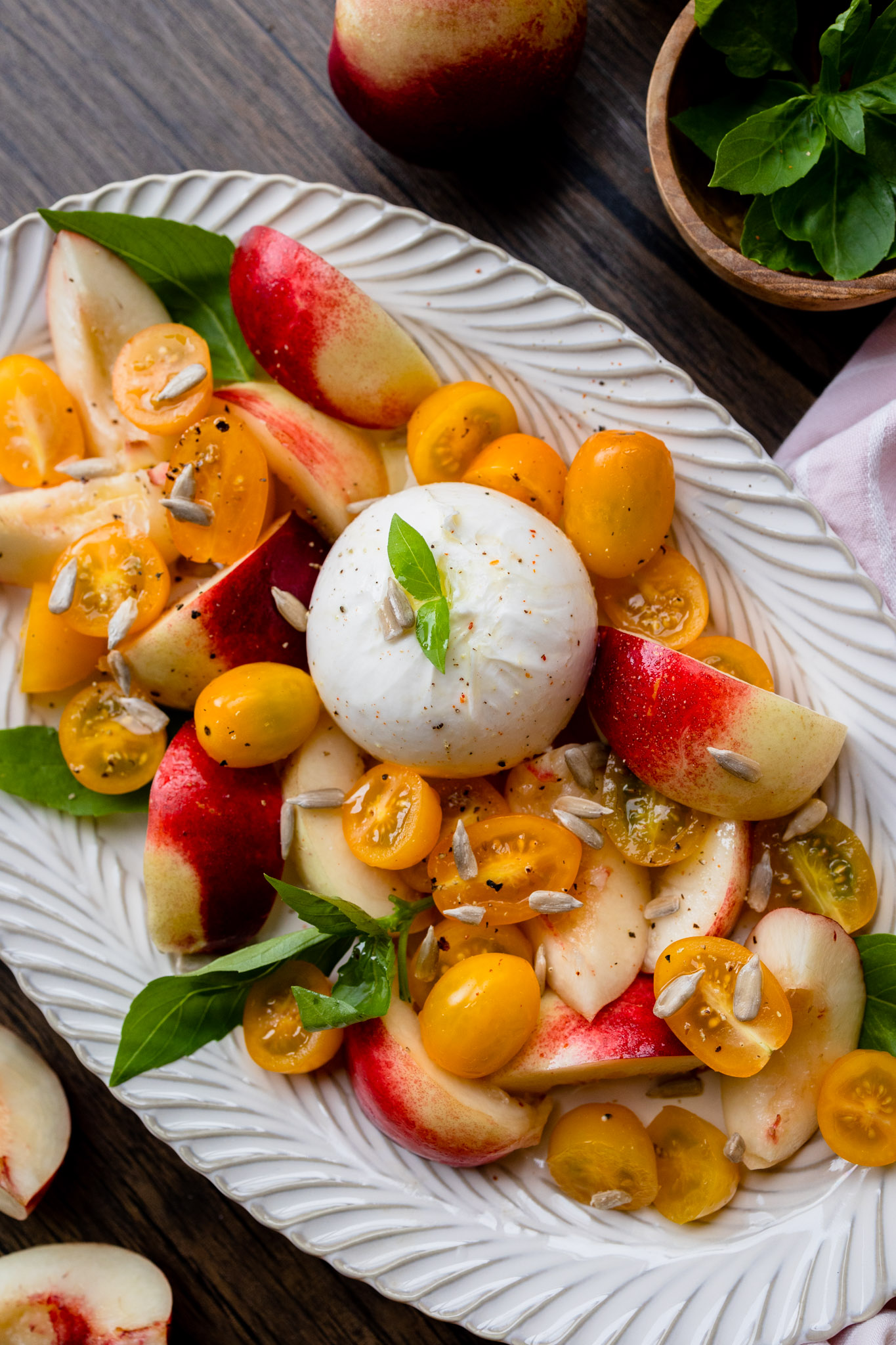 Tips for making the salad
Below, find a handful of pro tips to help you make the best peach burrata salad.
Don't toss the salad. Burrata salad is best served on a flat plate with a drizzling of balsamic and oil. Refrain from tossing it so you don't break apart the delicate cheese and fruit.
Serve it right away. Only make this salad right before you plan to serve it. If it sits too long, it will wilt and turn soggy.
Swap in your favourite stone fruit. This salad is super versatile and can be made with virtually any stone fruit. Select your favourite and you can't go wrong! Apricots, nectarines, and plums all work great.
Use high-quality olive oil and balsamic. The flavour of this salad really depends on each ingredient being the freshest and most high-quality. Avoid olive oil and balsamic blends and opt for pure stuff. It will make all the difference!
Season with freshly cracked pepper. If you like a bit of heat, finish the salad with a few cracks of pepper.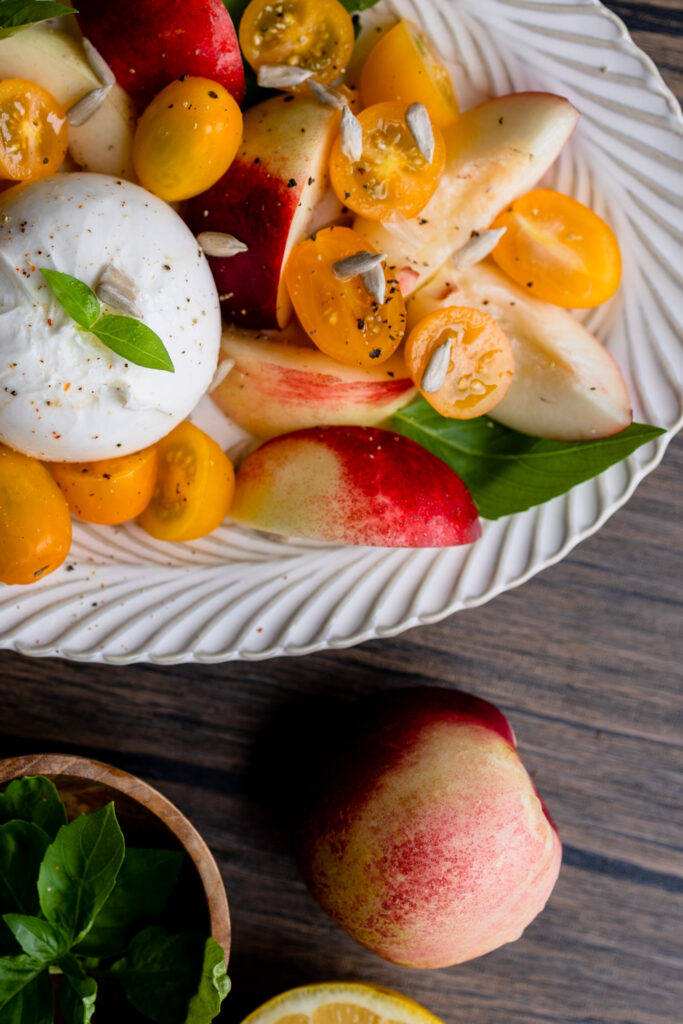 We've always made this salad several times over the course of this spring/summer and plan on doing so a few more times before the peach and tomato season is over. We beg you to do the same. It's just too good and too easy!

xoxo, Joe
Burrata with Peach and Cherry Tomatoes
Ingredients
10 to 15 grape and cherry tomatoes, sliced in half

2 peaches, pitted

8 ouches of fresh burrata cheese

6 leaves of fresh basil

Lemon juice

Olive oil, for drizzling

Salt and pepper, to taste
Methods
Slice peaches and tomatoes. Arrange on plate. Drizzle with olive oil then with balsamic glaze. Place burrata in the centre. Season with salt and pepper. Chop fresh basil and garnish.