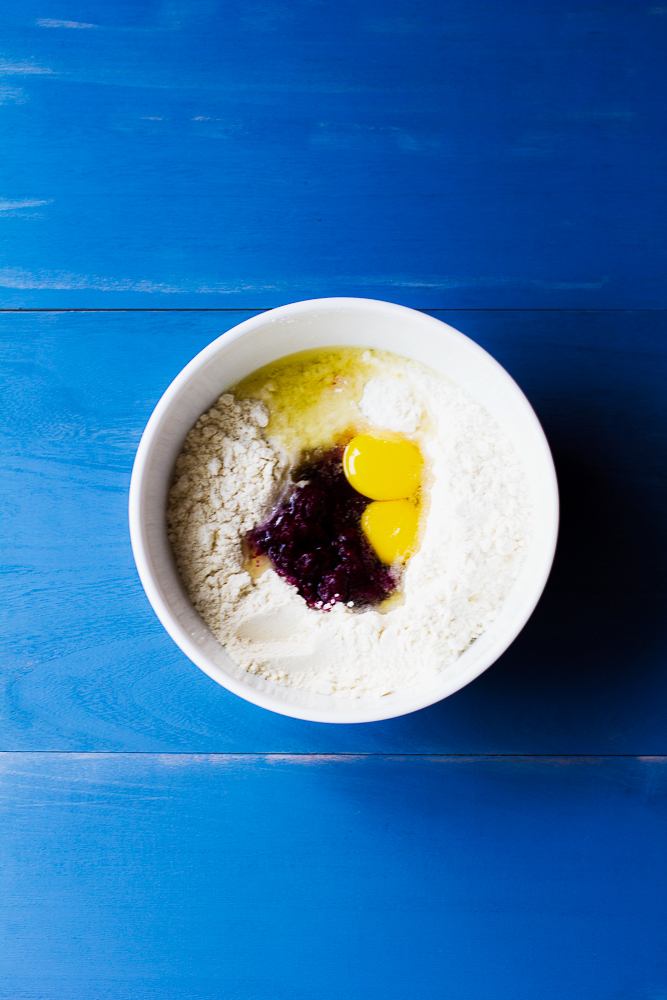 From watching the TV show to reading books, we always want to try making our own pasta from scratch. However, due to the lack of equipment, we didn't dare trying it as we worried the outcome. We've been wanting to make this recipe for a while. We've been pining away and found a few recipes that looked easy enough to take a go at. After looking at several recipes, we have been dreaming of making homemade pasta.
We always thought pasta making would be hard, but the posts were so pretty and made it look so simple and easy. Several of those bloggers even said it was. Well, wrong. This recipe was not that easy. Maybe it is because it took me a while to get my beet puree and flour ratios correct. But pasta making is hard but fun, but really time-consuming. So pick your battles and only tackle it if you've got a couple of hours to devote to the process. Hopefully, this batch of dough will last me a few meals. There was nothing super difficult about it, just takes a little elbow grease and time.
We have always said that the magic of this dish is that it gets people who love beets excited about them all over again. For those who think they don't like beets, the color is enough for them to give it a try, and chances are they will like it — we know because my sister is a loud and proud beet hater and she will even eat this pasta!
INGREDIENTS |
2 large beets
6 cups of flour + more for rolling out dough
3 eggs
1 tablespoon of olive oil
1 teaspoon of kosher salt
METHOD|
In a blender or food processor, puree beets, eggs, olive oil and salt until smooth. About 1 minute.
Combine beet puree and flour. Start with three cups of flours and mix on slow with the dough hook until well combined. Add a cup of flour at a time until all remaining flour is combined. The dough should be a little tacky, and forming a ball in the mixer and not sticking to the sides of the bowl. If dough is too wet, add more flour. If a dough is dry, add water, one teaspoon at a time.
Next, knead the dough by hand for 5-7 minutes on a floured surface.
Then roll out the dough. Be sure to get it nice and thin. As thin as you can get it without ripping. Use a knife or stamp to cut to your desired shape and size.
Simply add mussel and homemade pesto sauce to the pasta for the best combination. Remember the Mushroom Pasta with Homemade Pesto Sauce, this time using the same recipe by replacing Pistachio with pine nut. This pine nut pesto sauce will enhance the taste and texture of the pasta.
INGREDIENTS|
3 tbsp of olive oil
455g fresh live mussels (washed cleaned and debearded)
1 clove of garlic finely sliced
150ml of dry white wine
1 small knob of butter
2 good handfuls of flat leaf parsley roughly chopped
455g beetroot tagliatelle
salt and freshly ground black pepper pesto ( pesto sauce)
METHOD |
Put the olive oil into a very hot thick bottomed high sided pan and straight away add the mussels and garlic.
Place a lid on and shake for around 20 seconds it will sizzle furiously. Then add the white wine. Replace the lid and leave on the fast heat for about 12 minutes. This will steam open the mussels (discard any unopened ones). Add the knob of butter and the parsley and remove from the heat.
Meanwhile, cook the beetroot tagliatelle in boiling salted water until al dente. Gently toss the tagliatelle and mussels together until the juices just coat the pasta then check for seasoning and serve with a generous spoonful of pesto on top.
The colours are quite interesting and the mussels and pesto work surprisingly well together so it is definitely worth trying and it is very quick to make.
Pease makes them and take a photo, send us an email, tag us on Instagram, tweet us, anything. We love to yours! There will be more exclusive stories on our #stellerstories profile, check it out whenever you can! 
It would make our day! Happy Friday!
xoxo, Joe.