We have been thinking of different ways to enjoy homemade peach jam, and we decide to make some homemade doughnut with peach jam filling rather than just bread and jam. These jam-filled doughnuts are what coffee break dreams are made of. They are soft pillows with a super-easy cream filling. The yeast doughnuts are deep-fried to perfection and then the filling is piped inside for a delightful treat.
Type of doughnut
There are many kinds of a doughnut, from cake to twisted. This time we are going to make yeast doughnuts -they are made from a lightly sweetened yeasted dough that is deep-fried. These doughnuts possess a tender exterior and a fluffy interior. There was a much-heated debate about how doughnuts got the hole in the centre. Some say it was a nod to the steering wheel of a ship, others say it was to avoid undercooking the centre. For us, we are going to make a whole round doughnut and filled them up with jam.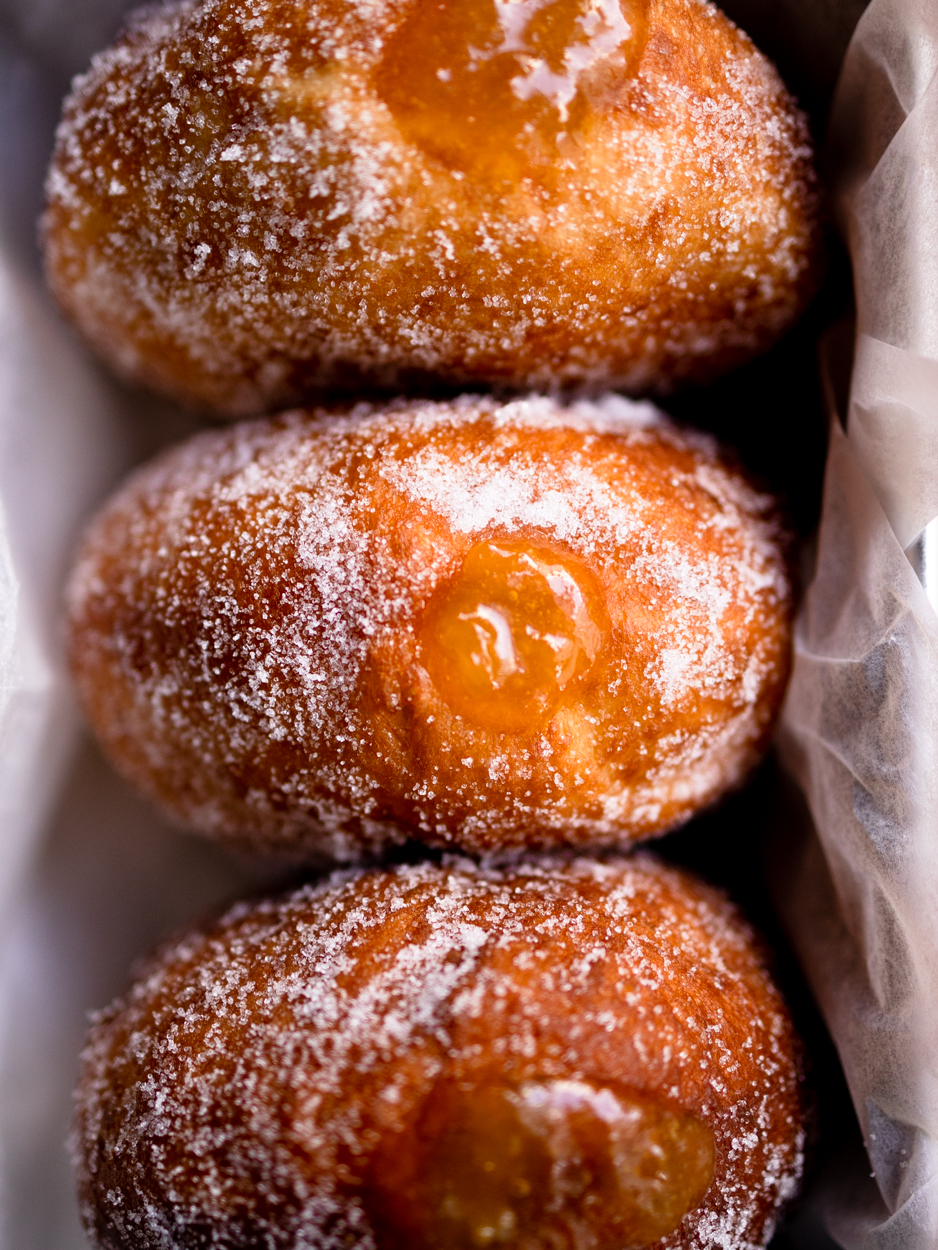 How to make Yeast Doughnut?
Mix the dough
The yeasted dough needs more intense mixing to build the structure. Generally, yeasted doughnut dough should be mixed on low speed until the dough comes together, then mixed on medium speed to strengthen gluten strands. The dough is not mixed as intensely as brioche—the whole process will take only a few minutes—but much like brioche dough, yeasted doughnut doughs can be quite sticky and can require oiled hands or a sprinkling of flour before handling.
Let it Rise
This tidbit doesn't apply to cake doughnut batters, but when yeast is involved, it's really important to allow for enough rise time. Generally, this means 1 to 2 hours of bulk fermentation (letting the entire dough rise) and about 30 minutes after shaping.

For us instead of using warm water to mix the dough, use room temperature water and refrigerate the dough immediately after mixing. Under refrigeration, the dough continues to rise, just much more slowly. This means you can mix the dough up to 12 hours ahead, let it rise slowly overnight, and wake up ready to fry in the morning.
Shape the doughnut
You could flatten the dough and cut it out with a doughnut cutter. For us, we divide the dough into equal parts and round them into balls. When you transfer the dough to the oil, do so carefully: It's easy to accidentally squish the hole shut or stretch the doughnut into an oblong shape.
Time to fry them
Remember that if the oil is too hot, the doughnuts will brown too quickly and the centre may remain raw. If the oil is too cold, the dough will absorb a large quantity of oil and be greasy upon cooling. The perfect doughnut will be evenly golden brown on both sides and pale in the centre. Use a deep-fry thermometer to test the oil and help regulate the temperature —around 180°C is best. Blot the oil out with several layers of absorbent paper towels on a baking sheet.
Fill and Roll them up
This is where it gets fun: finishing.

For powdered sugar, cinnamon sugar, or other sugared doughnuts, remove the doughnuts from the oil and drain as desired. After 30 seconds to 1 minute of cooling, toss the doughnuts in the sugar. If you wait for the doughnuts to cool for too long, the sugar won't stick to the doughnuts.

Poke a hole with a straw and pipe your jam in!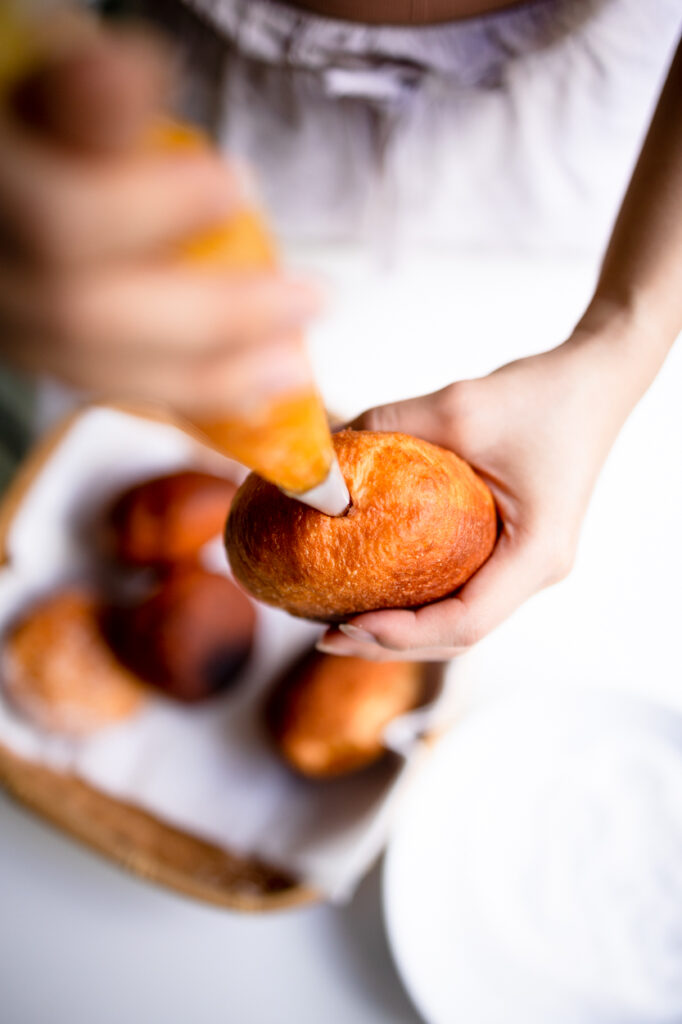 The best doughnuts are fresh doughnuts. If you've ever lived anywhere near a Krispy Kreme, you understand. When that magical light went on, it was absolutely worth it to pull over with a total screech to get at those piping hot doughnuts. But even at room temperature, doughnuts are best the same day. If you must, keep them in airtight containers overnight, and enjoy round two. 
xoxo, Joe
Homemade Doughnut with Peach Jam Filling
Ingredients
370g flour

50g Sugar

8g Salt

7g Dry yeast

160g Milk

100g Eggs

70g Unsalted butter
Methods
Milk cold milk, egg, yeast and sugar well in a bowl. Then add in salt and flour and combine them well. Rest it for 15 minutes with a cloth over the bowl.
Slowly incorporate the butter cubes and knead well with your hands or in a stand mixer. The dough has to be glossy and smooth.
Cover the bowl with cling film and leave to proof at room temperature for about 2 hours, or until doubled in size. Punch down the dough, then re-cover the bowl. Put in the fridge to chill for 12 – 16 hours or overnight.
The next day, take the dough out of the fridge and cut it into 70g pieces. Shape each piece into smooth, tight bun and place on a baking tray lined with parchment paper and dusted with flour. Leave plenty of room between the doughnuts to proof. Cover lightly with cling film and leave for about 2 hours, or until about doubled in size.
Fill it up to the halfway point with vegetable oil. Heat the oil to 165 – 175°C . Carefully remove the doughnuts from the baking tray, take care not to deflate them, and put them into the oil. Fry for 3 minutes on each side until golden brown. Don't cover with a lid when you turn the doughnuts around. Remove from the oil and place on a tray lined with paper towels. Set aside to cool before filling.
Fill a piping bag with jam. Roll the doughnuts in sugar and pipe a generous amount of jam into each doughnut. Eat them right away or store in an airtight tin. Enjoy.