There is nothing better than a juicy peach on a cold autumn day! Our family loves buying a big box of fresh peaches this time of year. While we love snacking them during the Summer to quench our thirst. It's our favorite is using them in all of our Autumn desserts.

One of our favorite ways to make them is to bake them with cinnamon sugar. It creates a deliciously caramelized top that is out of this world. If you love peaches and cream, you are going to love this dessert. These baked peaches are so simple to make and taste so delicious!
These baked peaches are so easy to make (5-minute prep) and taste amazing! They also taste amazing when grilled. So good! I love to top my baked peaches with feta cheese and bacon bits for a little crunch!

Slice peaches in half and remove the pit. Place in an oven safe pan. Place a small piece(about 3/4 teaspoon) of butter in the middle of each peach.
Combine brown sugar and cinnamon in a small bowl. Then sprinkle over the peach. Add in the bacon oil and rosemary.
Bake for 8 to 12 minutes, or until golden. Top with bacon bits. 
When peaches are at their seasonal peak, they can speak for themselves with only a few added flavorings. In this recipe, we used bacon and seriously these must be made immediately.

As we can't possibly think of anything else in the world except for these peaches covered in sugar then baked with bacon grease. Then real-roasted with rosemary and more sugar and bacon grease drizzles and then topped with the crunchy bacon crumbles and we can't go on until this is done.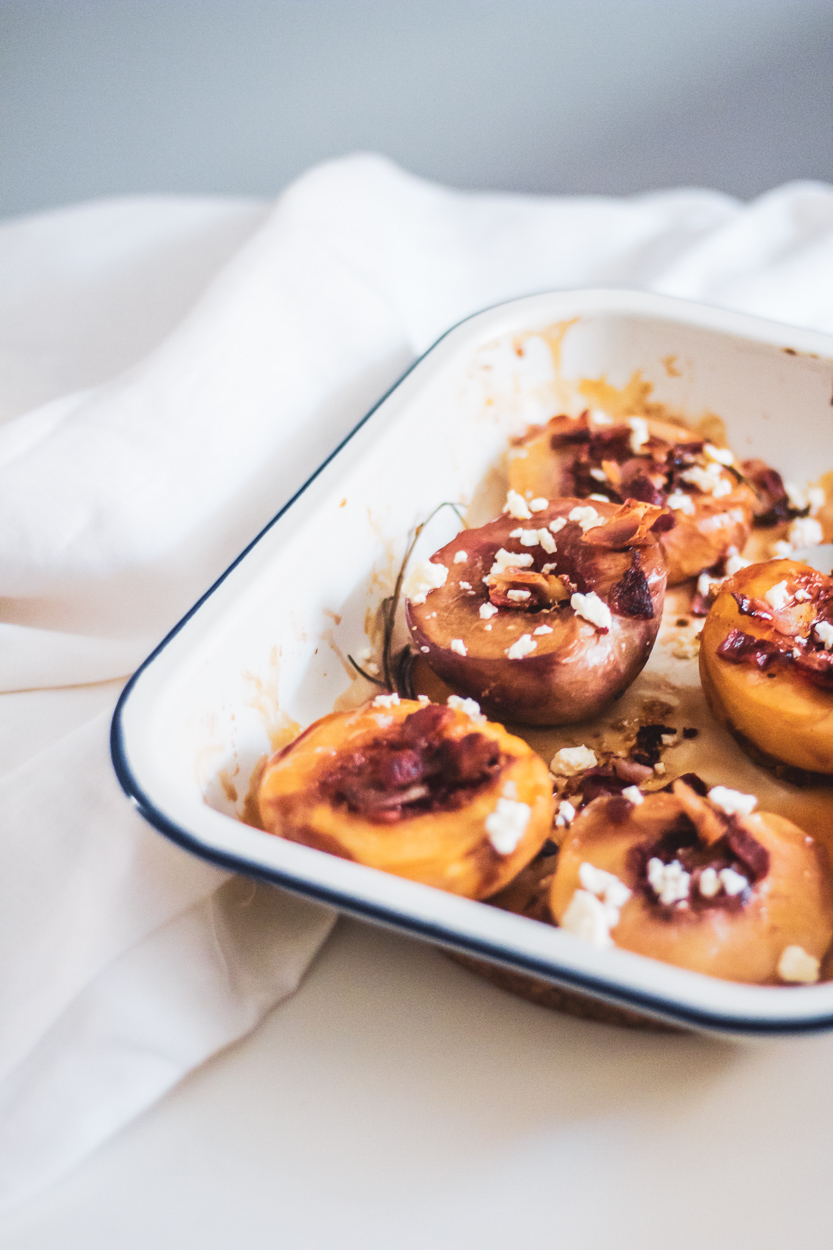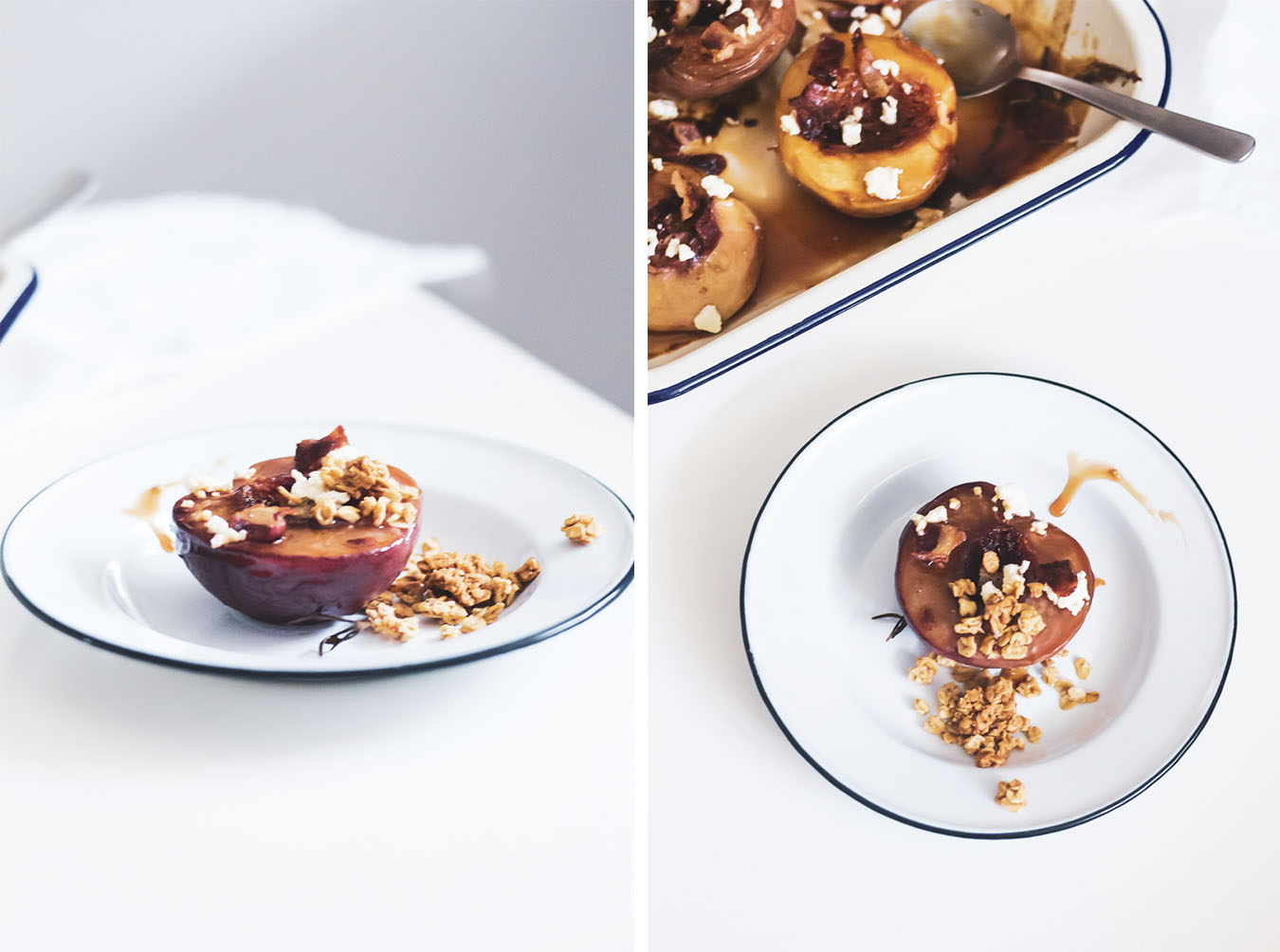 Ingredients |
4 slices thick-cut bacon
4 large semi-ripe peaches, cut in half with pit removed
1 tablespoon granulated sugar
1 tablespoon brown sugar
1/4 teaspoon coarse sea salt
1/8 teaspoon pepper
4 large sprigs fresh rosemary
2 ounces feta cheese, crumbled
Method |

Preheat oven to 450 degrees F. In a bowl, mix together the sugars.

Heat a large oven-safe skillet over medium-high heat and add bacon, frying until crisp and fat is rendered. Once crispy, remove with kitchen tongs and place on a paper towel to drain. Pour most of the bacon grease out of the skillet and into an heat-safe jar, leaving just a thin layer in the skillet. Reduce heat to medium-low.

Sprinkle the cut-side up of peaches with half of the sugar mixture, the salt and the pepper. Place them cut-side done in the skillet, tucking the rosemary in between. Cook for 5 minutes, or until cut sides are caramel and golden. Sprinkle the remaining sugar on the un-cut side of the peaches. Drizzle a bit of bacon grease (1-2 teaspoons) over the peaches, then place in the oven and roast for 10 minutes.

Remove from the oven and flip the peaches so they are cut-side up. Roast for another 5-10 minutes, until soft and fragrant. Remove from the oven and serve immediately, discarding rosemary, and sprinkle on the crumbled bacon and blue cheese. Serve alone or with ice cream, yogurt or salads.

So yes: peaches, sugar, rosemary, bacon, bacon grease, and smoked blue cheese. I'll die for this. Take a photo of your version, send us an email, tag us on Instagram, tweet us, anything. We love to see you trying out our recipe!

xoxo, Joe