Galettes are the alternative to pie when, you know, you don't feel like making an actual pie. The easiest addition to pie goals. Have you ever made one before?

They're friendly, approachable, and my favorite: low maintenance. Basically a free-form pie where any possible mistakes are comforted in the fact that you can't mess this up. If you know how to fold dough over filling, you know how to make a galette. The best part is that you'll receive heart-eyed reactions anytime you serve an elaborate-looking galette, as if you slaved away for hours on end to make something so beautiful and delicious.
A flaky dough made from simple ingredients like flour, butter, and ice cold water is where it all begins. Make sure you chill the galette crust before rolling it out and filling it. When you roll out galette dough, don't be a perfectionist. Oh how I love that thought! Whatever shape the dough rolls out to be, leave it. If it's not a perfect circle, who cares. The galette will still work its tasty magic.
You can make the galette crust ahead of time. If you completely have your life together, you could even make this galette crust TODAY, freeze it, then have salted caramel apple galette for dessert *in a snap* on Christmas day.
One thing to keep in mind– and We've mentioned this about galettes before– is that unlike pies where you can pile the fillings super high, galette's don't really like it when there's too much filling. The crust will become mushy and no amount of oven time could save it. Plus, you won't have enough dough to fill over an over-filled galette! So here's a tip: keep the filling flat and compact, while leaving a 2-3 inch border so you can fold the edges over. Just like this: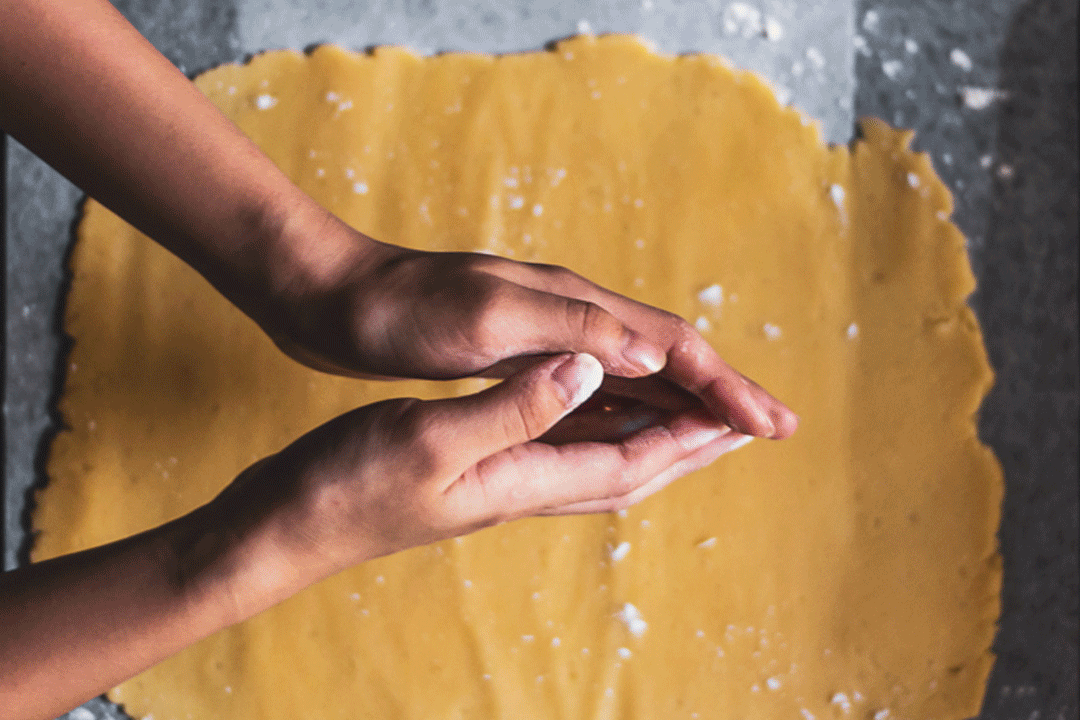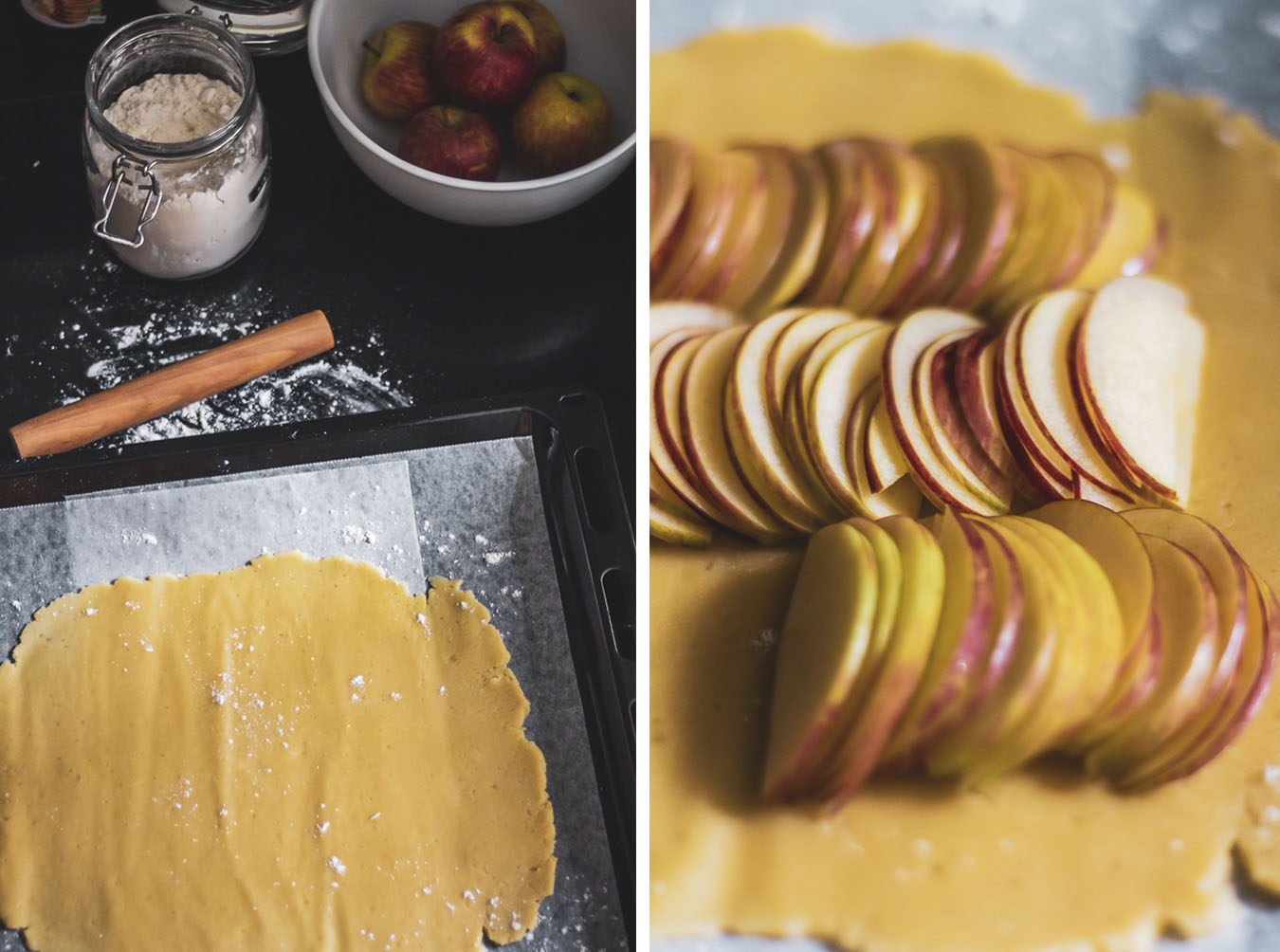 Brush the top of the crust with a little egg-wash to achieve that shiny golden brown crust, then top the whole thing casted sugar. And now it is time to bake them!
Ingredients |
1 1/2 cups of all-purpose flour, plus more for work surface

1/4 cup of granulated sugar

1/4 tsp of salt

1/2 cup of cold unsalted butter, cubed

1/4 cup of ice cold water
2 – 3 large apples, peeled and sliced into 1/4 inch slices

1/4 cup (50g) packed light or dark brown sugar

1 and 1/2 Tablespoons (12g) all-purpose flour
egg wash: 1 large egg beaten
optional: 1/3 cup of casted sugar
Method |

Make the crust: Whisk the flour, sugar, and salt together in a medium bowl. Using a couple of forks, cut in the butter until the mixture resembles coarse, pea-sized crumbs. (However, sometime I would love to use the tip of my finger.) Add the water and stir until the flour is moistened. Add 1 more Tablespoon of water if the dough seems dry. Gently knead the dough a few times on a lightly floured work surface until it all comes together. Shape the dough into a ball and flatten it into a thick disk. Wrap it in plastic wrap and refrigerate it for at least 1 hour and up to 3 days (or freeze up to 3 months).
As the dough chills, prepare the filling: Mix the apples, brown sugar, and flour, together in a large bowl. Cover tightly and let sit until the dough is ready. I usually cover it and keep in the refrigerator during this time.
Preheat oven to 425°F (190°C). Line a large baking sheet with parchment paper or a silicone baking mat. Set aside.
On a lightly floured work surface, roll the dough into a 12-inch by 9-inch rectangle (or any shape, really!). Trim the rim of the circle to make a clean cut if desired. Transfer dough to the prepared baking sheet.
Arrange the apples (not the juices) into the center of the dough, leaving a 2-3 inch border all around. Gently fold the edges of the dough over the apples, overlapping the dough as necessary. Press gently to seal the edges. Brush the crust edges with egg wash and sprinkle the whole thing sugar.
Bake until the filling is bubbly and the crust is golden brown, about 35-38 minutes. Allow to cool on the baking sheet for 10 minutes before slicing and serving.
The galette crust, both flaky and buttery, is the quintessential home to the warm and tender apple slices. Which are, by the way, swimming in brown-sugared, cinnamon-spiced, salted caramel enrobed goodness. Is this easy Fall dessert enjoyment or what?!
It's also really good the next morning for breakfast… the ice cream too.
Take a photo of your version, send us an email, tag us on Instagram, tweet us, anything. We love to see you trying out our recipe!

xoxo, Joe