When we are working outside, we tend to grab a cup of fruit juice after a meal during lunch. However as we now have to #stayathome, we decided to make our own rather than travelling out to get one. In fact, it is so much cheaper by making yourself at home. So we have combined a series of Yakult smoothie to share, this week we would like to share with you this amazingly simple recipe we simply adored.

Blend up this easy Peach Yakult Smoothie in no time to enjoy as a delightful breakfast or snack. Give it a whirl! They're certainly a delicious treat in the spring. Juicy and sweet, peaches add so much flavour to homemade desserts and snacks, like this easy Baked Caramelized Peaches with Feta Cheese recipe. We enjoy smoothies all year in our home. A great blender makes it easy to whip up a variety of smoothie combinations. This PeachYakult Smoothie recipe is a new favourite of ours. It's simple too.
Use fresh or frozen peaches to quickly make this refreshing smoothie that is great for an on-the-go breakfast or snack by the pool. Made with milk, original Yakult thus this smoothie is much lighter than a milkshake but just as cool and satisfying.

We love how much nutrition we can pack into them. This peach smoothie tastes just like my favourite dessert as a child, but I love that it's super healthy and filling and give us the energy to keep playing all day long. This is peach smoothie recipe is definitely a new favourite with our family!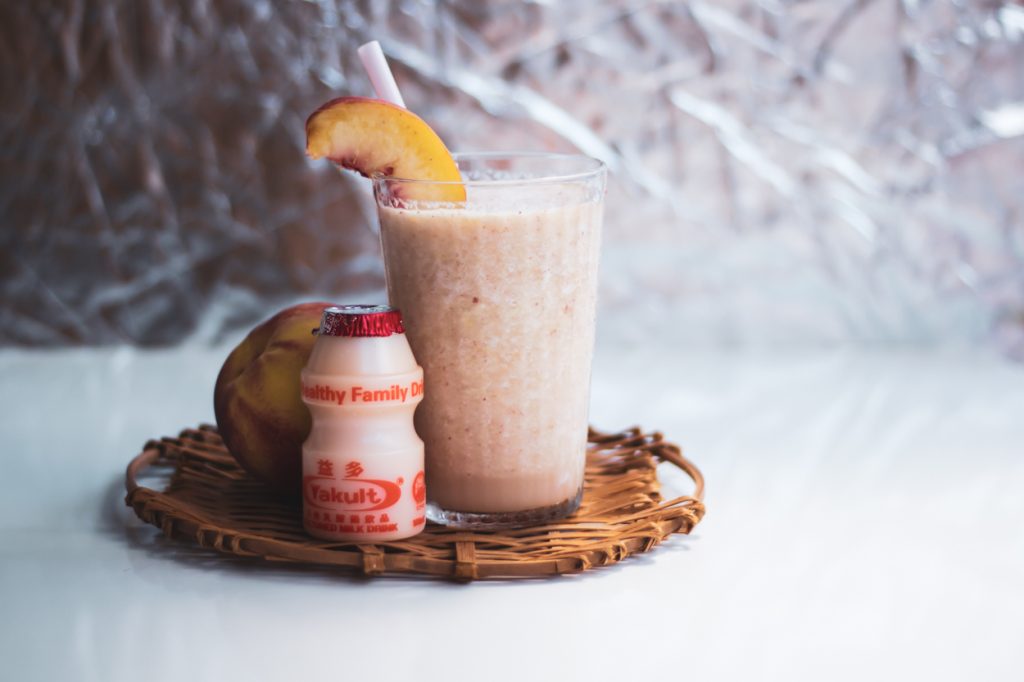 Benefits of Peaches
So just the other day we found that the fruit store has this amazing peaches and we look up for their benefits. Surprising they have lots of benefits that include preventing constipation and supporting good digestive health. They contain prebiotics, which feeds beneficial bacteria in the gut tied to anti-inflammation, immunity, and mood.

– Peaches are good for digestion
– Peaches protect your eyes
– They may lower cancer risk
– They can boost your immune system
– And perk up your skin too
– They're helpful for blood pressure control and de-bloating
We hope that you will enjoy this drink as we do. It is a simple recipe, we hope that it will kick start your morning with lots of energy! Take a photo of your version, send us an email, tag us on Instagram, tweet us, anything. We love to see you trying out our recipe!

xoxo, Joe
Peach Yakult Smoothie
This easy peach yakult smoothie recipe is full of fresh peaches and other other fresh ingredients. Throw these in a blender for about 30 seconds and you'll have a creamy and refreshing treat that your taste buds will crave!
Ingredients
1 1/2 cup fresh or frozen peaches

1/2 cup crushed ice

3/4 cup milk

1 original Yakult
Methods
Combine peach, ice and milk in a blender until smooth. Combine the Yakult in and mix it well before serving.