Certain dishes are eaten during the Lunar New Year for their symbolic meaning. Lucky food is served during the 16-day festival season, especially on Lunar New Year dinner on New Year's Eve, which is believed to bring good luck for the coming year. Therefore, last year we came out with 10 Auspicious Must-Eat Dishes during the Lunar New Year, as every food represents something, and symbolism is associated with every traditional dish eaten for the Lunar Year. However, this year we came out with a list of the top 10 dishes that we like to eat during the Lunar New Year instead.
How can we miss having the hot pot together during the Lunar New Year? While we have lots of auspicious dishes, hotpot (aka steamboat) is the most popular gatherings ways of eating at all times. We believed that it is also the easier way to serve a huge group of people and families.

Hot pot is a Chinese cooking process. A big pot is set in the centre of the table containing boiling hot broth with a heating element underneath. Various raw ingredients are served around the pot, such as thinly sliced meat, seafood, vegetables, tofu, dumplings, and noodles. The guests cook the ingredients in the broth and eat them with a dipping sauce.
This is a popular vegetable dish we enjoy during our family meals, and you would often see it on the menu during your CNY reunion dinner or at a wedding celebration. The flavourful aroma that wafted out from the kitchen while the mushrooms were being braised reminded me of the happy memories of the past Lunar New Year. Now that we cook for our family dinner, we continue to uphold this family tradition by making this dish without fail.

While it's fancy to have your mushroom with broccoli and scallop, someday we like to have something simple, we add in black moss aka 发菜 to the braised mushroom. Not to mention black moss Fat Choy (髮菜), i.e. Chinese black moss, share similar sounds to "get rich" (發財). Therefore it's a popular item to include on the Lunar New Year menu.
Nian gao 年糕 symbolizes progress, advancement, and growth. Nián (年) means "year," and "gāo" (糕) is a homonym for "gāo" (高), which means, "tall," "high," or "expensive." Every family inevitably buys or makes this treat for their Lunar New Year celebration, in the hopes of having a better year ahead. However, we never had it on its own before, as it taste so much better when you pan-fired it with sweet potato and taro. As the Nian Gao soften after it is hot, the sticky and chewy Niao Gao tastes so good!
Have you felt guilty about having too much delicious indulgence during the festive season? Honestly, many of us must have resumed a healthier diet by now but there are times we can't avoid having amazing food. While Osmanthus Tea, a sweet-smelling flower, osmanthus is warming and nourishes the lungs hence it is tasteless without sugar. But we do not like to add sugar in our drinks so we have replaced it with Goji Berries, Dried Longans and Chinese Red Dates (also called jujubes). These 3 herbs go very well together, naturally, they are as sweet as the honey so it is great for any time of the day to warm your stomach.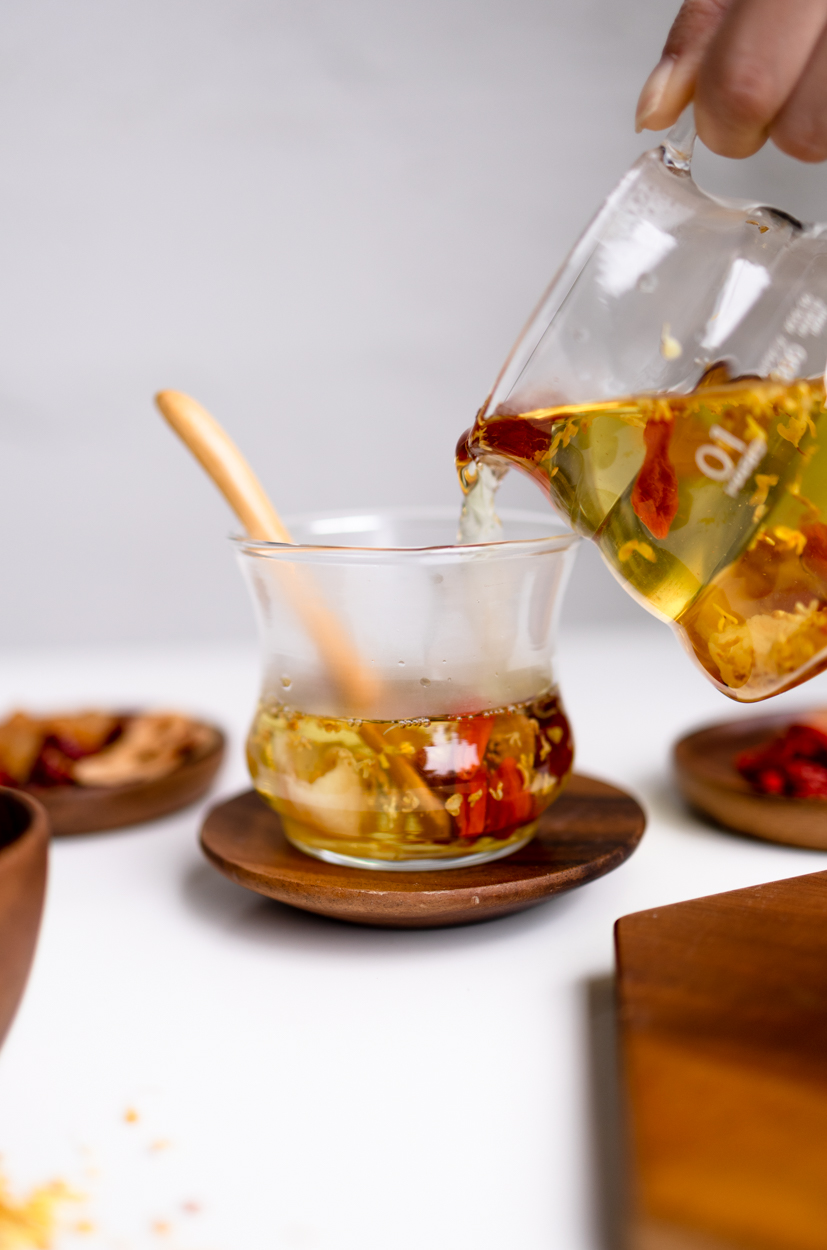 Pen Cai (盆菜) is a traditional Cantonese meal that dates as far back as the Song Dynasty. The dish is made up of many layers of different ingredients in a stewed chicken gravy. It is usually served in a large bowl or metal basins for communal sharing. This is because its Chinese name (also spelt as Poon Choi), has been variously translated as "big bowl feast" or "basin cuisine".

We like having this dish during the mid of Lunar New Year, as we can add in all our "left-over" from the dishes and hotpot. Not to mention we can clear our fridge at the same time it tastes delicious.
Do not underestimate, this little plate of mini golden mantou (bun) served with condensed milk in the middle. It is not the healthier choice but this little golden devil with condensed milk are very addictive. The soft fried buns exude a milky fragrance, which is very sweet and delicious. We like to have it with our hot pot and dishes that have thick sauces allowing us to have them as a replacement for rice.
Whenever we look at a fridge from a Korean and it is always full of pre-made side dishes where you can enjoy them whenever you like. Unlike them we Chinese has fewer cold side dishes as we like enjoying them fresh and hot. However, during the period where we are preparing for Lunar New Year, we like to prepare some food ahead for our busy schedule. It is a good dish to have along with rest of the other dishes.
It is one of the dishes we like to have when ordering at a 'Zi Char' store. Due to the complicated steps, we rarely cook them during a normal day. Thus if we want something fancy during Lunar New Year, this is our go-to dish. Moreover, prawn is a common ingredient you will see on Lunar New Year's table, the bigger the better. This is because prawn in Cantonese (har) is similar to the sound of laughter 'har har'. Therefore, we believe that eating prawns will bring happiness to the family for the whole year.
Sticky Rice Cake with Red Bean Paste or pan-fried mochi is a classic Cantonese snack or street food in Hong Kong. Also, it's one of our favourite childhood snacks. If you like mochi, you should try out this simple and delicious sweet red bean glutinous sticky rice cake recipe too!

While it doesn't have a special meaning to have it during the Lunar New Year, it is a great snack for everyone to enjoy after the meal. Sticky rice cake is crispy on the outside with a gooey texture inside. You will smell the toasted sesame seeds from afar. The first bite of the slightly spongy and pleasantly fragrant rice cake has such a delightful mouthfeel. The sweet and moist red bean paste will melt in your mouth so quickly that won't be able to resist devouring the whole cake!
During the Chinese New Year, even we are having a feast we still try to be healthier and avoid eating too much meat. We're no health nuts by any stretch of the imagination, we'd eat anything and everything if we didn't have to worry about the threat of muffin tops. The vibrant red colour is festive, and the flavour of pork belly when it's seasoned and caramelized with sugar, soy sauce, ginger and Shaoxing wine is amazing!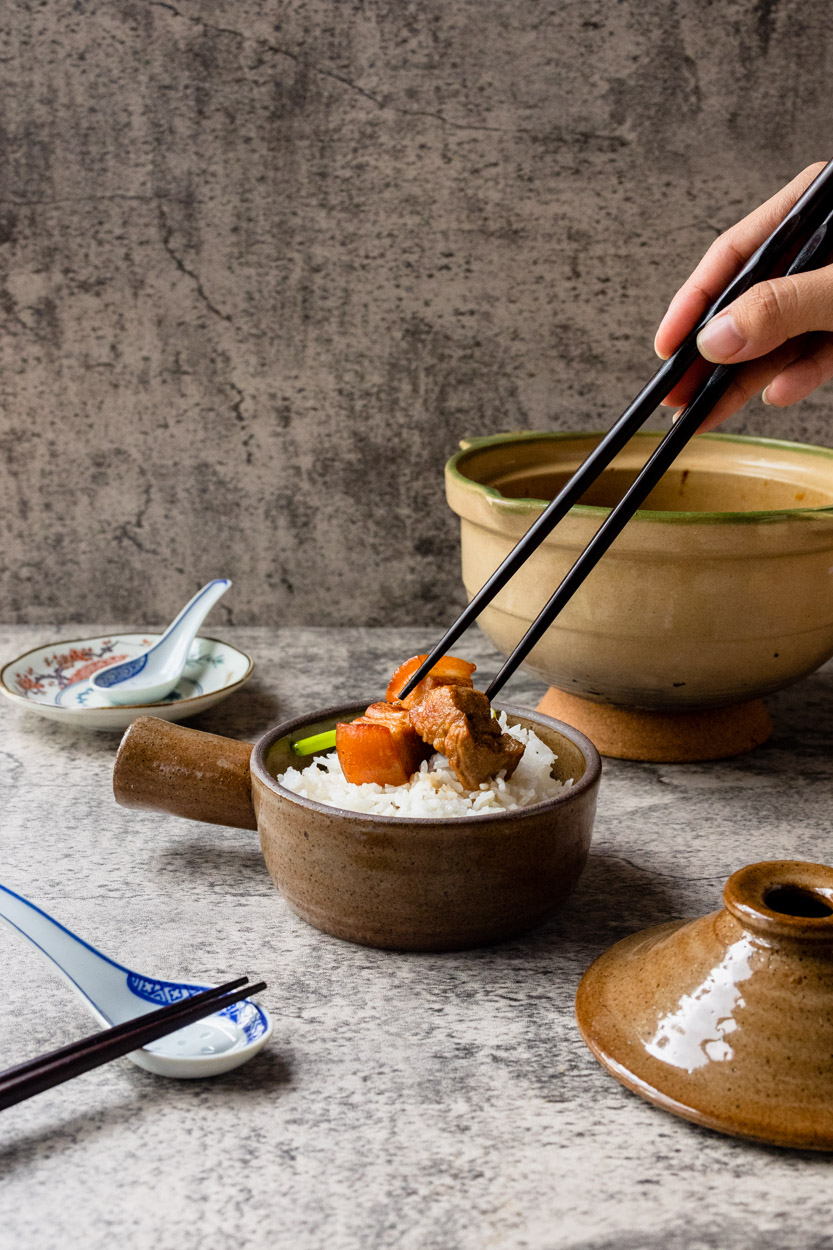 Despite the current situation of Covid-19, let's celebrate this Lunar New Year, by creating new memories and preserving traditions in safe manners by all means. Let's bring love, joy and laughter to people who treasure it the most. Have a wonderful festive season! Happy Lunar New Year!
xoxo, Joe