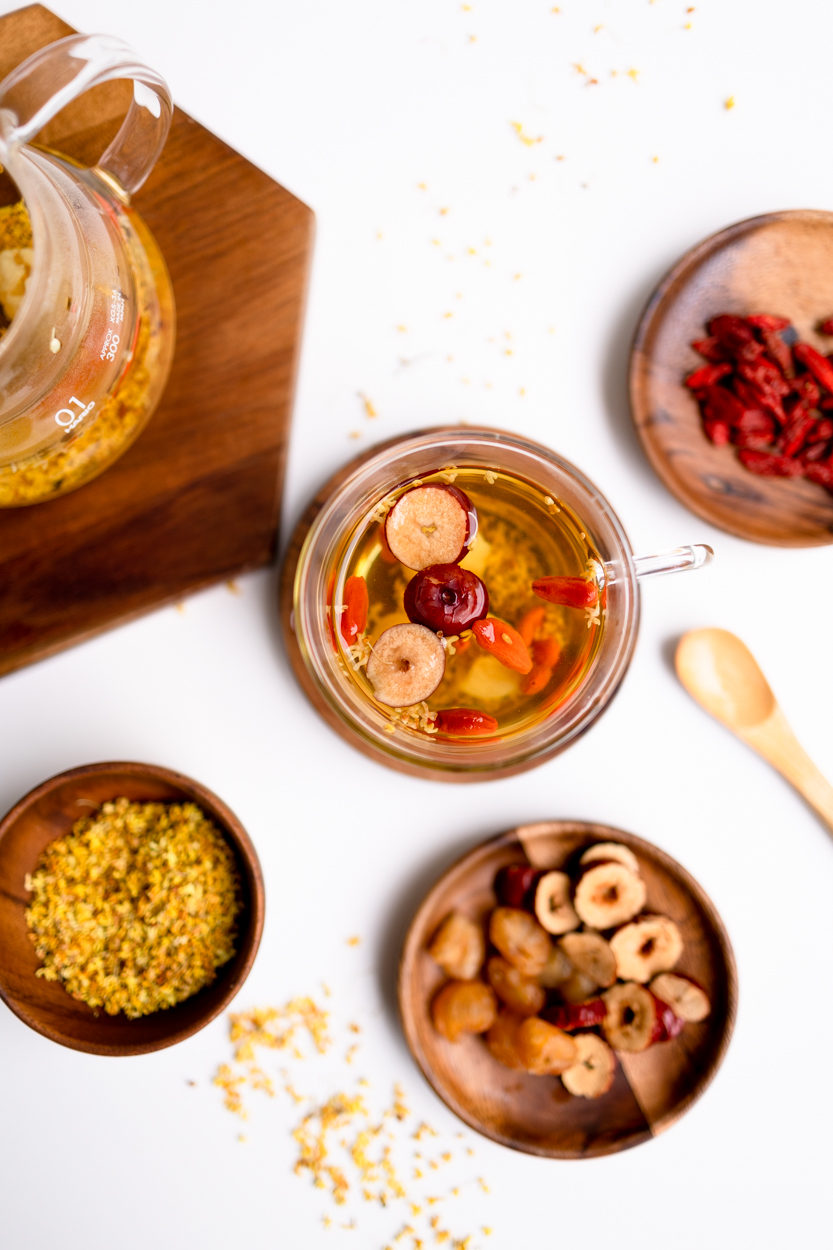 Have you felt guilty of having too much delicious indulgent during the festive season? Honestly, many of us must have resumed a healthier diet by now but there times we can't avoid having amazing food. Although fruit juice and smoothie are great hence we like to share with you more alternative after having your meal. Green tea, white tea they are great for after meal to wash away the grease but they might not be suitable for all type of body.

We have compiled a series of our favourite flora and herbal drinks to assist you in your daily health routine. You can decide which is best for your body and having them during and after meals (Speciality for those who have a weak stomach, we do not recommend you to have Coffee or Tea with an empty stomach, always good to have something light before drinking it). Many of our recipes are inspired by our mom and her collection of Chinese Medicine books on her shelves. Thanks to her interests, since young we learned and understand the benefit of the food we contact. We studied from Compendium of Materia Medica, each of the flora and herbs has a different benefit and will help us to cleanses and regain a healthier, stronger body.

This drink is great remdey for Winter. It has been pretty cold in Singapore lately, so we decided to share with you a drink that could warm your body for a

While Osmanthus Tea, a sweet-smelling flower, osmanthus is warming and nourishes the lungs hence it is tasteless without sugar. BUT we do not like to add sugar in our drinks so we have replace it with Goji Berries, Dried Longans and Chinese Red Dates (also called jujubes). There 3 herbs go very well togther, natually they are as sweet as the honey so it great for any time of the day to warm your stomach.
Understand their Benefits
Osmanthus
Osmanthus is a well-known herb that can improve skin, detoxify the body, reduce thick saliva in the throat and boost lung health. In practice, osmanthus tea is often consumed when one suffers from dry skin or hoarseness. During the cold weather, we tend to have dry skin and throat and this will be your favourite remedy from now on!

Chinese Red Date (Jujubes)
According to TCM, red dates help replenish and nourish your blood, thus improving blood circulation. This can lead to better liver and digestive function, the balance of inner body energy (qi) and improved immunity. This is our favourite herb to use in both tea and herbal soup. For instance, if you are making Winter Melon soup (it consider very cooling, for those with cold feet and hands usually are not recommended), you will want to add in a few Chinese Red Date (hence adding other herbs it can change the effect of the soup) as it helps to balance the effect the soup provide for our body.

Goji Berries
Goji Berries are great for the eye and improving immune system support. For those who work long hours in front of a desktop or look at smart gadget, you can always add a few into your tea or soup. However, we do not recommend adding too many, usually 3-5 pieces in a small cup of tea. As to your surprise, Goji Berries is slightly bitter-sweet.

Dried White Longan
There are two kinds of dried longan; black and white. While black longan is suitable for boiling herbal soup, white is great for making tea and eat on its own. In Chinese medicine, dried Longan is great for blood circulation and therefore it's great for ladies and anyone who works late night.
Importance of brew tea
To brew tea, you steep it in the right temperature of the water. Steeping is the process of extracting the flavour and health-promoting compounds from the solids used to make tea. Brewing tea with water that is too hot will damage the tea. Too cold, and the leaves won't open to their fullest potential.

After bringing the longan and dates to boil, cool the water for a while till 85ºC before adding the goji berries and osmanthus flower.
As dried longans are pretty sweet, there is no need for additional sugar. However, you can add in some brown sugar if you like. Red dates and dried longans are the only must-haves for this recipe, we only added the goji berries because we happened to have them on hand, you could even add ginger if you like!

Besides being a delicious tea, Osmanthus Longan Tea is also good for skin complexion – so ladies (and gentlemen alike), drink up!

xoxo, Angela
Osmanthus Longan Tea
Ingredients
2 tbsp of Osmanthus

5 Chinese red dates, unseeded and sliced

3 dried white longan

1 tbsp of Goji Berries
Methods
Slightly rinse the dates, longan and goji berries under the hot water to remove the dirts.
In a pot add red dates and longans in a pot of water. Cover the pot, bring to a boil and simmer for 25 minutes. Add in the goji berries, and osmanthus leaves and simmer for another 5 minutes.
Strain the tea. Add sugar (preferably dark brown sugar) if needed. Serve hot, warm, at room temperature or cold.