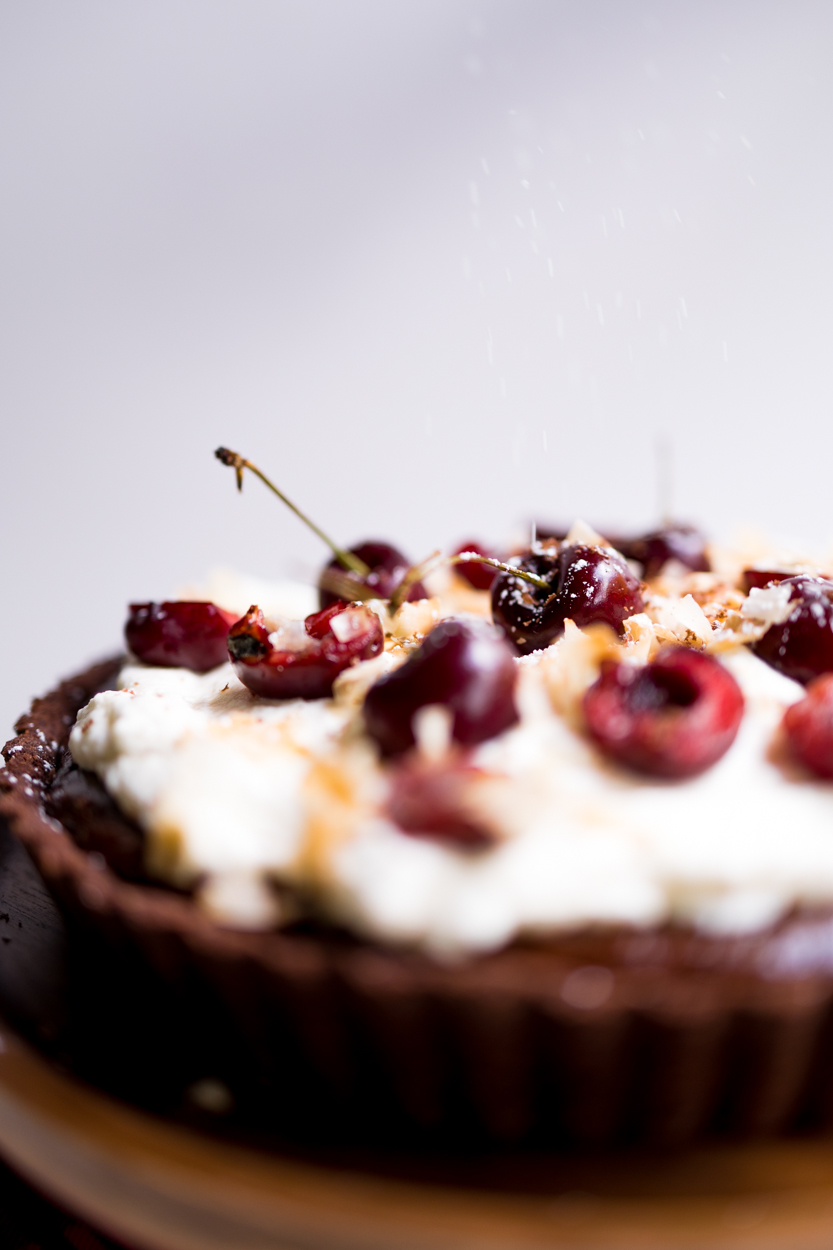 "Oh-this's-so-chic", we want your guest to scream it out loud when you serve this on the table. This's a marriage between the Black Forest Cake and Chocolate Tart. When we were young, Black Forest Cake was served during special occasion like Christmas. It wasn't something we would get it every day. It is beautiful and coated with lots of dark chocolate and with charming cherries.
So this year we decide to fulfil our family's favourites; we want to combine our favourite tart base and black forest cake together. We promised that this is so much easier than Black Forest Cake.
How to make a chocolate cherry tart
As long as you have a legit tart pan, you can easily make this Black Forest Tart. Here are the basics for making this chocolate cherry tart:
Make and blind bake the coconut crust — To make the crust, simply pulse all the ingredients in a food processor until a dough forms. Take the dough out and knead it slightly to ensure everything's incorporated, then press it into the tart pan and blind bake it.
Make the chocolate cherry filling — While the crust bakes, prep the filling. You'll need to melt the chocolate and butter in a double boiler, then beat the rest of the ingredients in a separate bowl until they become light and fluffy. Fold in the melted chocolate and mix until combined.
Assemble and bake the tart — Pour the chocolate filling into the tart shell, then top with the pitted cherries. Push the cherries down into the filling until they're mostly covered. Bake the chocolate cherry tart until the middle is set.
Chill and top the tart — Once the chocolate cherry tart has cooled most of the way on your countertop, pop it into the fridge to set. Once fully set, make the whipped cream and top the tart as you see fit (I topped mine with whipped cream, cherries, coconut flakes, and chocolate shavings).
Tips for making chocolate cherry tart
Use fresh cherries — For the best flavor, use fresh, in-season cherries and not frozen cherries. You can use any variety of cherry you like here!
Use bittersweet chocolate — To prevent this chocolate cherry tart from being too sweet, it's important that you use bittersweet chocolate in the filling. Bittersweet chocolate adds richness to this tart without all the sugar.
Poke holes in the crust — To prevent the crust from puffing up while it blind bakes, prick it with a fork a few times before putting it in the oven.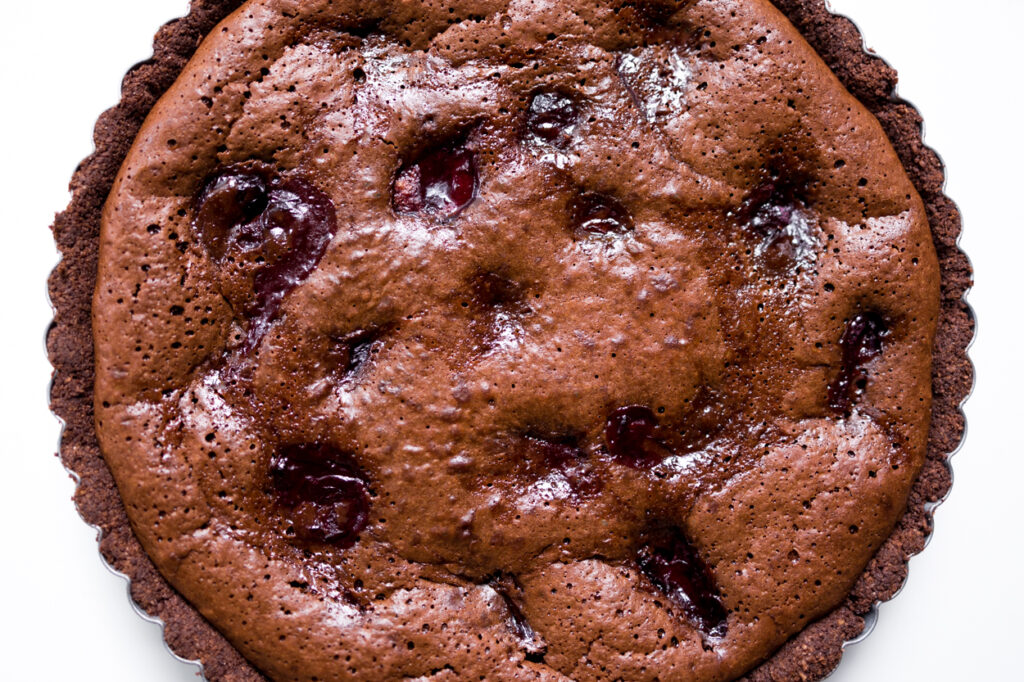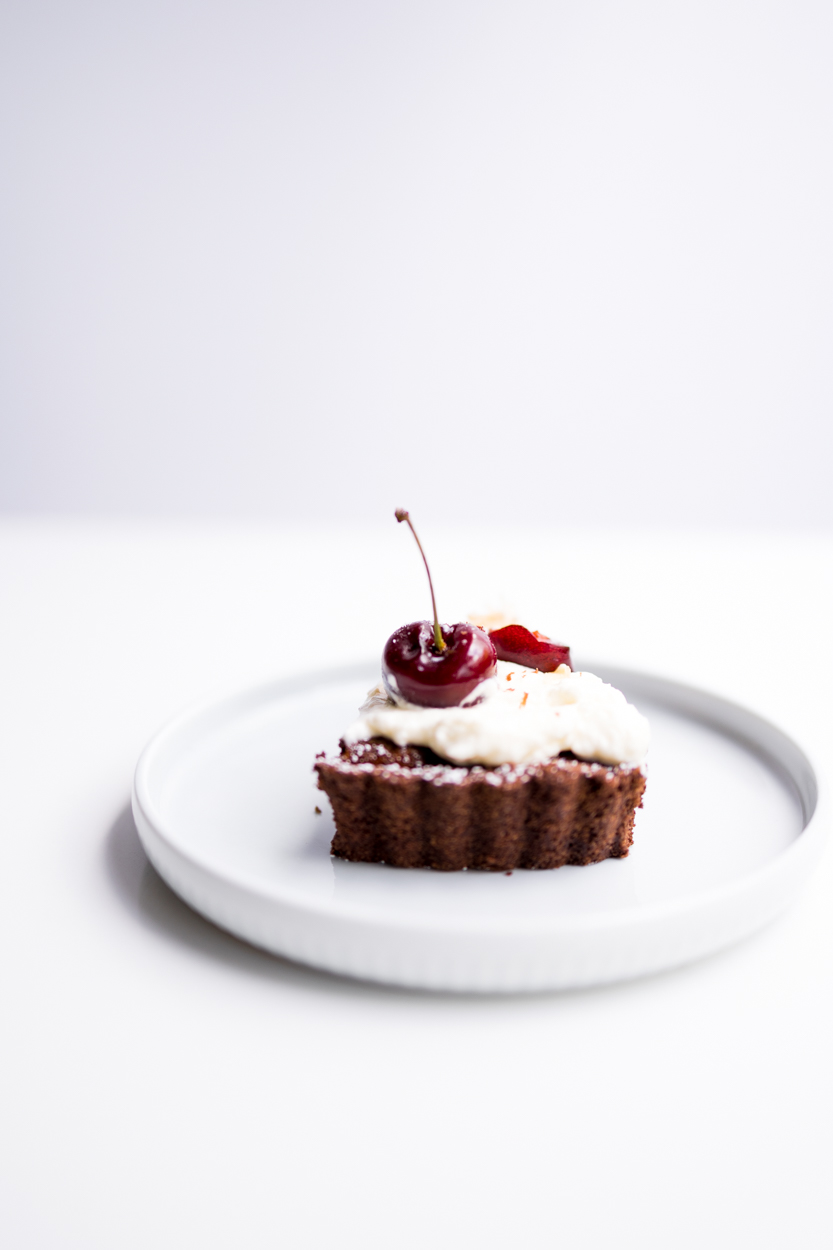 We hope that this simple recipe will be a quick fix for you for your holiday meal! We'll be taking a break for a couple or two to celebrate this favourite holiday with our family. We wished that you all will be enjoying this special holiday with your love ones! Merry Christmas and sending you our season greetings!

xoxo,
Angela and Joe
Black Forest Tart
Ingredients
For The Crust

1 cup all-purpose flour

1/3 cup cocoa powder

1 cup unsweetened, shredded coconut

2 tablespoons granulated sugar

½ teaspoon salt

½ cup unsalted butter, melted

1 teaspoon vanilla extract

For The Filling

6 ounces semisweet or bittersweet chocolate, chopped

6 tablespoons butter, cut into pieces

¾ cup medium or dark brown sugar

3 large eggs

½ teaspoon salt

1 teaspoon vanilla extract

1 cup pitted cherries

For The Topping

1 cup heavy whipping cream

2 tablespoons powdered sugar, plus more for sprinkling

bittersweet chocolate, shaved

toasted coconut flakes

1 cup cherries
Methods
Preheat oven to 375°F. Grease a circular tart pan with butter and set aside.
In a food processor, pulse the flour, cocoa powder shredded coconut, and granulated sugar until they reach a powdered consistency. Pulse in salt, melted butter, and vanilla extract until everything comes together.
Remove from food processor and knead into a ball of dough. Press dough firmly onto the bottom and sides of the prepared tart pan, spreading evenly to the edges.
Prepare the crust to be blind baked. Using a fork, poke 8-10 holes into the dough, then carefully line the dough with parchment paper and fill with dried beans or rice. Bake for 10 minutes, remove from oven, and turn heat down to 350°F.
While the crust is blind baking, make your filling. In a small saucepan over low heat, melt the chocolate and butter.
Using an electric mixer, beat the brown sugar, eggs, salt, and vanilla extract on high speed until light and airy, about 2 minutes. Slowly pour the melted chocolate it into the egg mixture, beating as you pour. Beat until homogenous.
Pour batter into prepared crust and top with pitted cherries, pushing the cherries down into the batter. Bake for 25 minutes, then remove from oven and allow to cool at room temperature for 30 minutes before transferring to the fridge to set for 2 hours.
To make the topping, beat the heavy cream and powdered sugar until soft peaks form. Spread over the pie and sprinkle with chocolate shavings, coconut flakes, cherries, and powdered sugar.