During the spring we love to make something easy and refreshing for the calming day. The Smashed Cucumber Salad (拍黄瓜, pai huang gua) is a light and refreshing appetizer that we always have in our fridge.

The crisp cucumber is mixed with plenty of garlic, drizzled with an appetizing blend of soy sauce, vinegar and sugar, then finished with a few drops of sesame oil. Moreover, the sauce is light, yet it has a distinct sour flavor with a hint of sweetness, enhanced by the strong aroma of garlic.
This cucumber salad only takes 5 minutes to prepare. It's low in calories, not to mention refreshing and tasty. The salad goes very well with pretty much any Chinese dish, stir-fry, braised meats, noodles, deep fried goodies, you name it. It even goes very well with some western style food, such as bread and cheese. Therefore, we consider it  one of the most convenient appetizers / salads to make for a weekday dinner.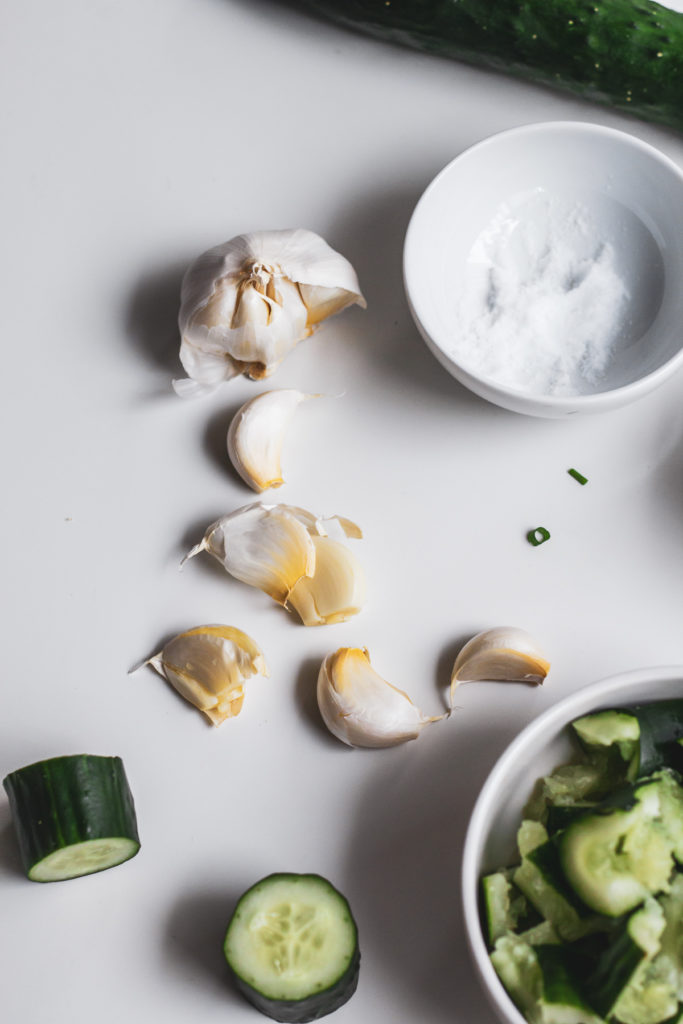 We used Japanese cucumber in this recipe and didn't peel it completely, in order to give the dish a nice color. The skin also adds more fiber to the meal. If the cucumber is fresh, the skin shouldn't be too chewy or dry. You could choose to only remove the tough skin at the lower end of the cucumber. However, if you don't like the skin, feel free to peel and discard it.
The secret to making delicious cucumber salad is to give it a nice texture. Instead of chopping the cucumber immediately, you should smash it with a cleaver first, then tilt the cleaver to cut the cucumber into diamond-shaped pieces.

This method will increase the surface area of the cucumber and create a coarse texture, allowing it to absorb more sauce. The amount of sauce created by this recipe should be just right, but feel free to adjust the seasoning by increasing or reducing the amount.
Ingredients |
2 English cucumbers, tough skin removed
3 cloves garlic, crushed and minced
1 tbsp of Chinkiang vinegar (or rice vinegar)
1 tbsp of light soy sauce
1/2 tsp of salt
1 tbsp of sugar
1/2 tsp of sesame oil
Method |

Dry cucumber with a paper towel. Place cucumber on a large cutting board and carefully use a cleaver to crush it. Then cut it into bite size pieces and place them into a bowl. Top with garlic.

Combine vinegar, soy sauce, sugar, salt and sesame oil in a small bowl and mix well.

Right before serving, pour the sauce mixture over the cucumber and mix well. (Do not add the sauce beforehand. It will cause the cucumber to lose water, and the sauce will be diluted.

Take a photo of your version, send us an email, tag us on Instagram, tweet us, anything. We love to see you trying out our recipe!

xoxo, Joe