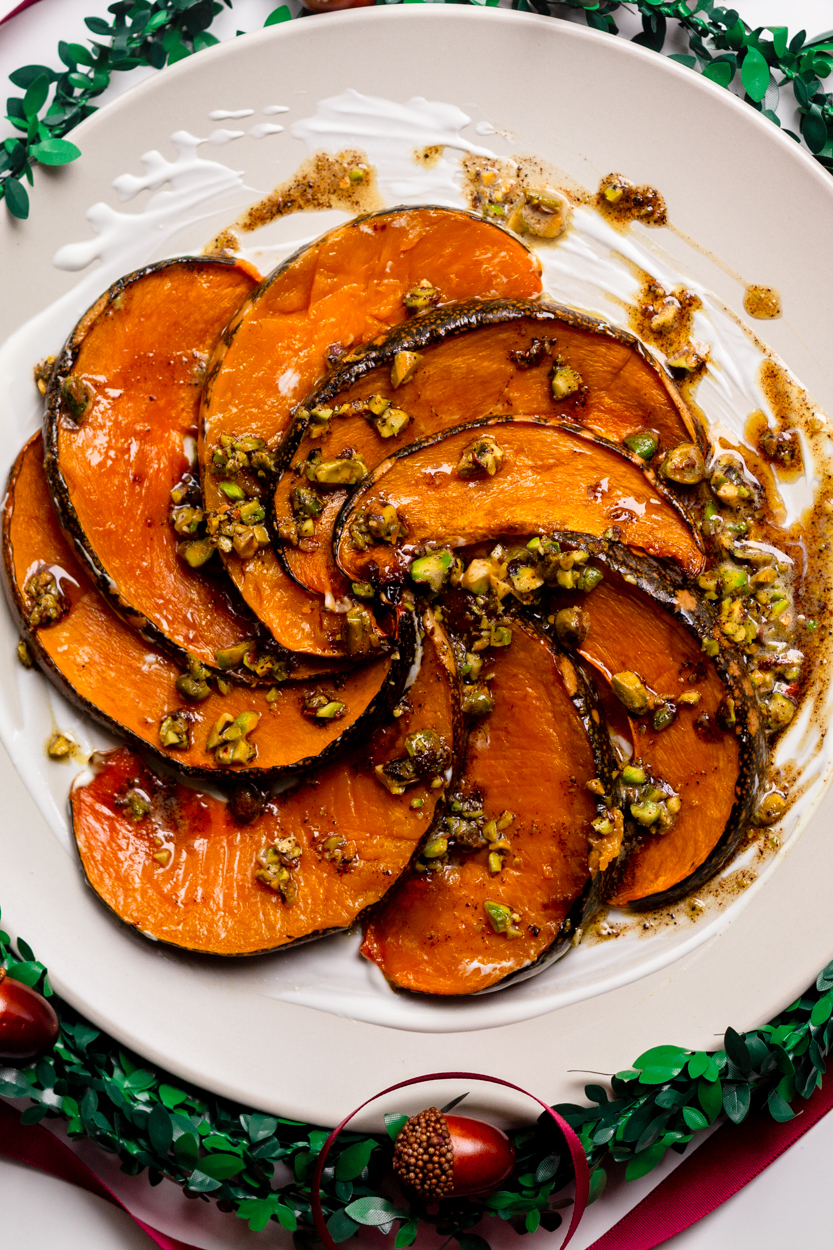 It has been years since we have a pumpkin dish for our Thanksgiving, Pumpkin Icebox Pie, Pumpkin Mousse and even Thai Pumpkin Soup. We love that this festive fall fruit is so versatile it can be used in almost any dish — including snacks, sides and sweets. This year rather than having the pumpkin as the star on the table we want to create something that is suitable for every mains on the table and we created the Roasted Pumpkin with Pistachio Oil.
This Roasted Pumpkin with Pistachio Oil is perfect as a side for your fish and beef dishes. With the sweet pumpkin and savoury pistachio oil, it balances out your platter from every bite you takes. Of course, it is also a dish perfect for itself.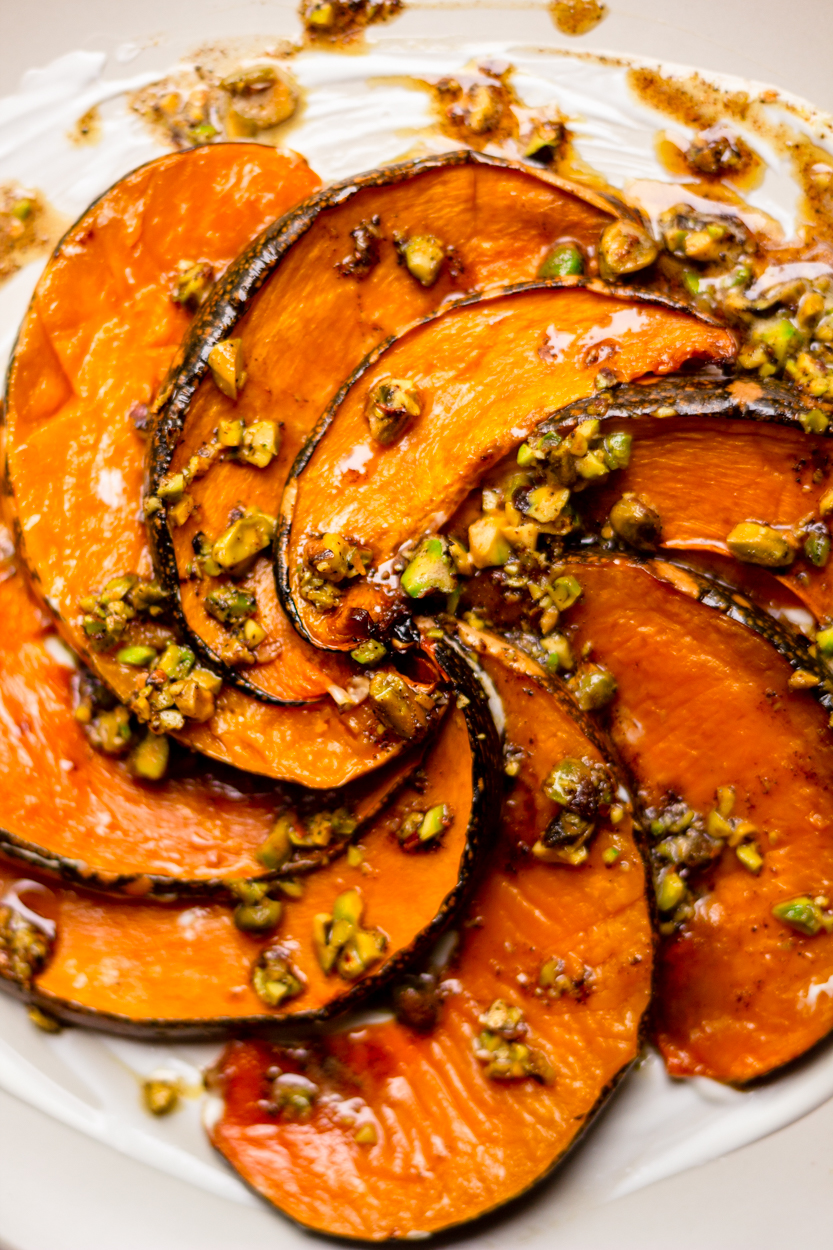 Oven-roasted pumpkin has always been on the top of my list of winter favourites but we recently found out about a combination which makes this dish even more tempting: pumpkin, pistachios and greek yoghurt!  We roasted pumpkin wedges the way we always do and added a little cumin to the olive oil which is very nice with the squash's sweetness. We whipped salty Greek yoghurt with lots of pistachios and browned olive oil to a thick dip that we served on top of the warm squash. The combination of nutty, sweet and salty aromas is simply brilliant!
Choosing of pumpkin
If you use a thick-skinned squash variety, such as those listed here, there is no need to peel; the skin becomes soft enough to eat. If you use a thinner-skinned squash, such as butternut or honey nut, peel and cut it into 1-inch-thick slices rather than wedges.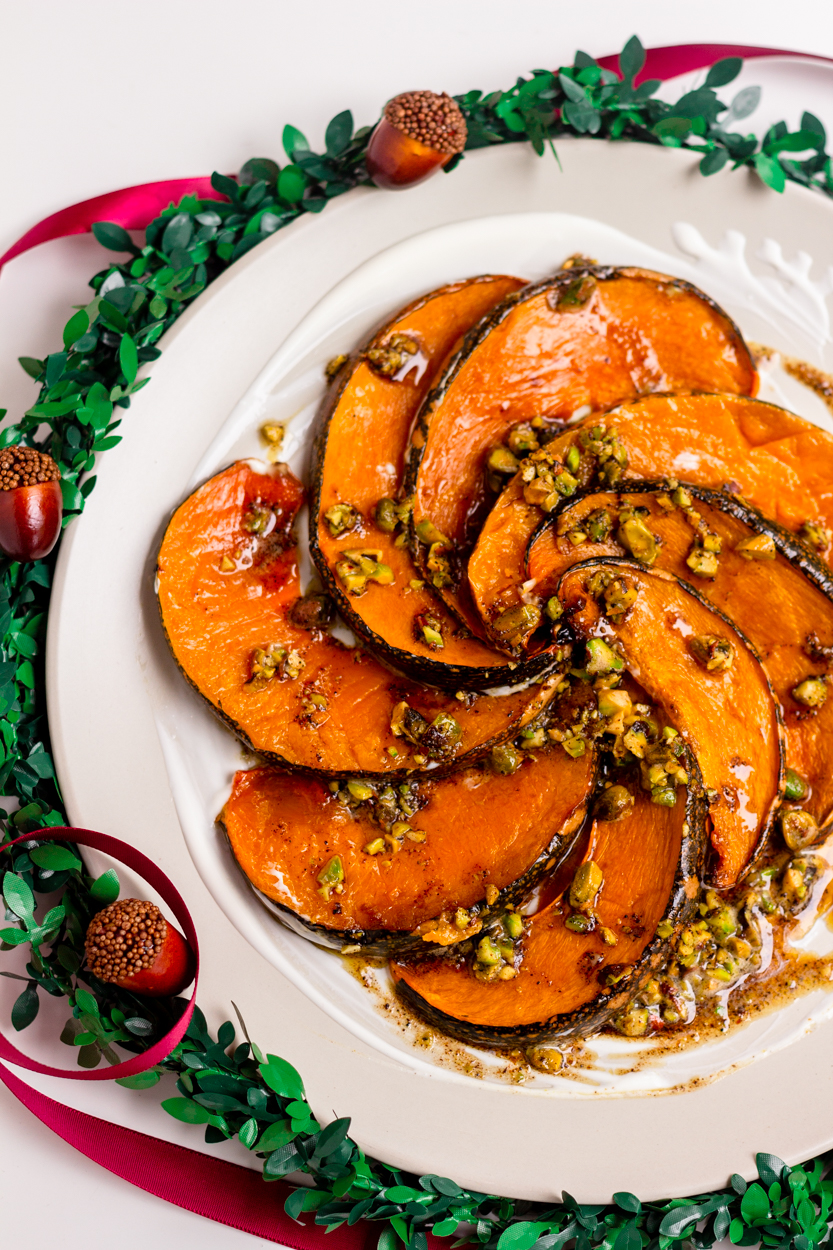 Take a photo of your version, send us an email, tag us on Instagram, tweet us, anything. We love to see you trying out our recipe!
xoxo, Joe
Thanksgiving with Roasted pumpkin
For a delicious side dish, roast butternut squash until caramelised and scatter with pistachios to serve.
Ingredients
1 butternut pumpkin, peeled and cut into chunks

2 tbsp olive oil

50 g pistachios, toasted

250g natural yoghurt
Methods
Heat the oven to 190C. Put the pumpkin wedges into a large baking tray. Roast for 35-40 minutes, until the pumpkin is soft and golden around the edges.
In a pan, heat the oil till brown, before adding in the chopped pistachio, mix well.
Serve with the yoghurt, pumpkin, pistochio mixture and top with a final drizzle of extra-virgin olive oil.