Mapo tofu is one of a must-have entree on our dining table. There're tons of option to make a Mapo tofu; you could buy the pre-made sauce in any Chinese/Japanese provision store or supermarket. However, to achieve the authentic taste you can simply make it from the stretch. This post we are going to share with you how to make it without a fuse – like the original Sichuan version.
Unlike the Japan version, this is less creamy and you will taste not only the spiciness but the numbness of it. Which you simply just have this dish to serve with a few bowls of rice.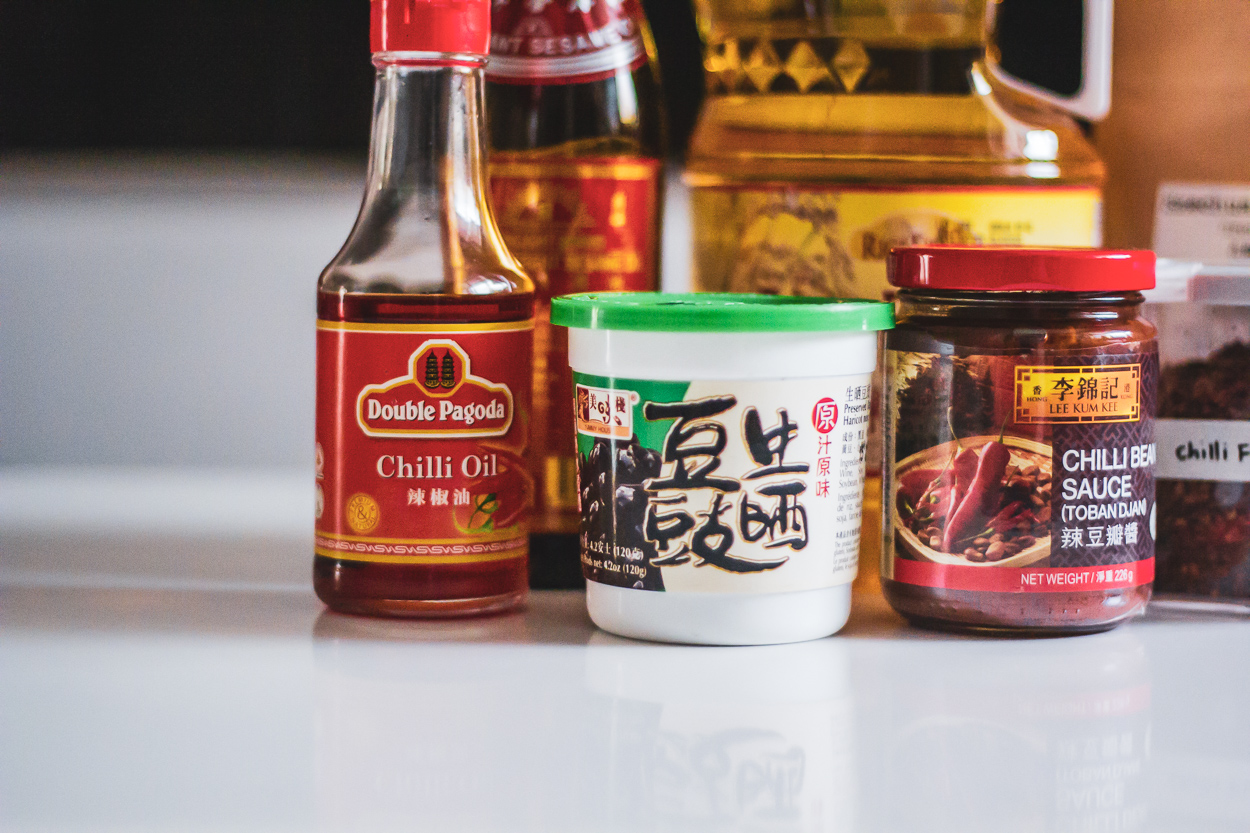 Cooking Chinese food is pretty much freestyle, it's the easiest yet complex culinary on the earth. You do not need much skill or procedure when come frying a dish. In a traditional Chinese family "wok" and the "ladle" are the most essential of all but not to forget the fire (which is very silly to mention about it).
Then you will need to have all the basic condiments in the kitchen such as oil, sesame oil, chilli oil, cornstarch, salt, and pepper. There are so many to list on but those we have mentioned are the most basic of all.
We do not use Olive Oil in Chinese dishes as it required heated heavily on the "wok".  Olive Oil, its flavour, its low burning point (280 degrees), and if nothing else, its expense, olive oil is not appropriate for Asian cooking. We highly recommend you other kinds of plants oils; that included Peanut Oil, Corn Oil, Sesame Oil, and any Vegetable Oil.
So this recipe another highlight of it are the chilli (oil), fermented black bean and (Hua jiao fen). Without these three main ingredients, the dishes will not be as delicious as it should be.
Another common step that we often used in Chinese cooking is called "勾芡, Gōuqiàn". It's like how the western region adds the flour to thicken the soup or the sauce.
Thus for us, cornflour is used regularly in Chinese cooking to thicken the sauces of the dishes. In our recipes, we have written that you need to add in 2 tablespoons of cornflour mixture. Cornflour mixture, in this case, refers to 1 tablespoon of cornflour mixed with 2 tablespoons of water.
Ingredients |
1 block silken tofu 19 oz box
1/4 lb ground pork
3 tablespoons Sichuan spicy bean paste 辣豆瓣酱
2 tablespoons chilli powder
3 tablespoons cooking oil
3 tablespoons chilli oil
1 tablespoon Sichuan peppercorns roasted and ground to powder
1 tablespoon light soy sauce
2 teaspoon fermented black beans rinsed and pounded
1 stalk of leeks or scallions chopped into 1 or 2-inch length
2 cloves garlic chopped
1/2 cup water
Salt to taste
Method |
Cut the tofu into small pieces, drain the water from the tofu and set aside. Heat up a wok and pour in the cooking oil and chilli oil. Add the chopped garlic, ground pork, spicy bean paste, and stir-fry until the pork is half-done. Then add in chilli powder, soy sauce, fermented black beans, and stir-fry until aromatic.
Add in the tofu and water; stir gently to blend the tofu (don't break them) well with the sauce. Lower the heat and simmer for about 3-5 mins or until the sauce thickens.
Add in the roasted Sichuan peppercorn powder and chopped scallions. Gently stir and blend well. Dish out and serve hot.
Take a photo of your version, send us an email, tag us on Instagram, tweet us, anything. We love to see you trying out our recipe!
xoxo, Angela.