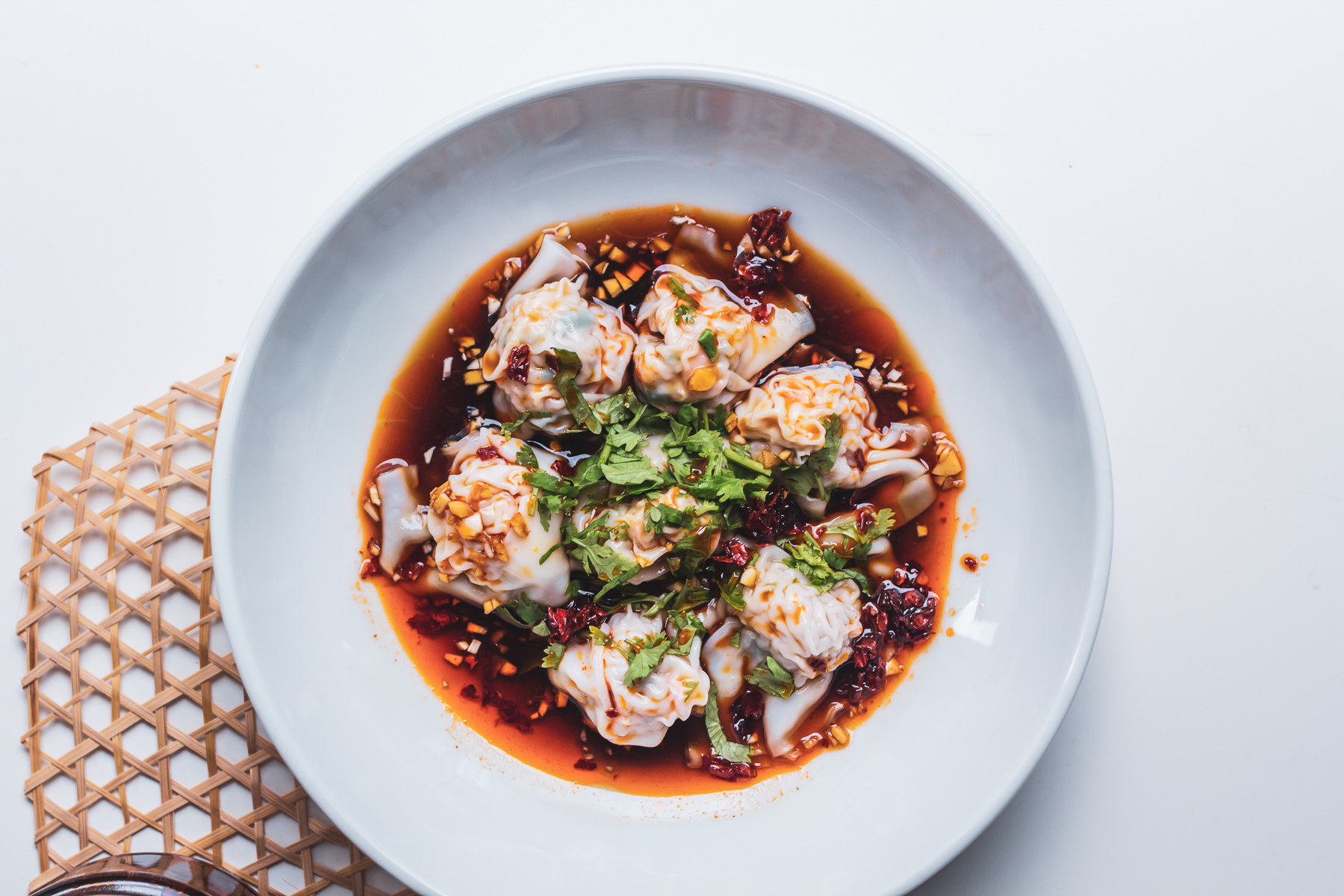 When it comes to Chinese New Year wonton/ dumpling is one of our favourite food. When we are young we will seat around our mother and she will teach us how to wrap them. However, we always ended up having flour all over us as we are playing instead of helping.
Moreover whenever one of our family is under the weather, or when I need to whip up something quick for dinner, Si Chuan Red Oil Wanton often comes to the rescue. This comforting bowl of classic wonton is our family all-time favourites.
In the dumplings you can wrap anything that you like from minced pork, prawn, cabbage, chives, spring onion to chicken or even tofu! These time we ended up making our homemade classic recipes – a combination of everything!
Homemade wontons make all the difference because of the fresh ingredients we use in the fillings. Nothing is more satisfying when you bite into these juicy little dumplings, served in a flavorful chilli sauce using our Homemade Chilli Oil.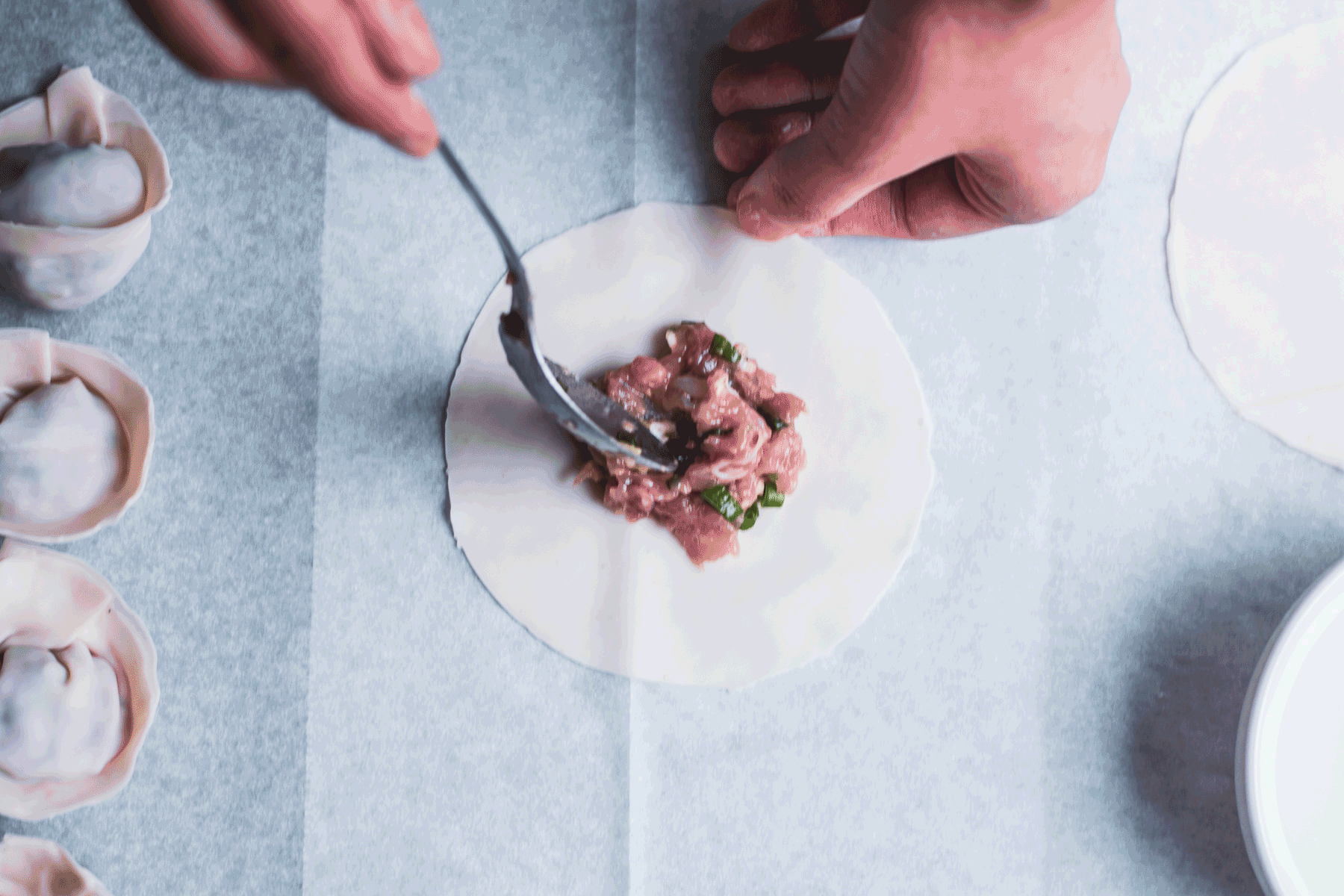 The wrappers used for wontons are square in shape. However, we also use the round one to make various type of shape. As are several ways to wrap wontons and everyone has their own preference.

Homemade wontons can be frozen and keep well for 1-2 months. Whenever you make wontons at home, make sure to make a bigger batch. This way you can quickly put a meal together whenever your family craves a bowl of wonton soup or when you need some tasty fried appetizer for a party. We call them the great emergency food – super convenient yet wholesome.

Ingredients|
2 green onions/scallions
½ kg shrimp, shelled and deveined
½ kg minced pork
1-inch ginger
1 package wonton wrappers
2 tsp soy sauce

1 tsp sesame oil

½ tsp sugar

1 Tbsp potato/corn starch

¼ tsp white pepper powder
Chilli Mixture (2 tbsp of Homemade Chilli Oil, 1 tbsp of vinegar and 1 tbsp of soya sauce)
Method |

To make fillings, chop 2 green onions into small rounds. Save some chopped green onion to serve with the sauce. Chop cilantro and set aside to serve with the sauce.

Cut the shrimp into smaller pieces, and then cut them into even smaller pieces (almost like a paste). In a large bowl, combine the pork, shrimp, and chopped green onion. Grate fresh ginger and add to the mixture. Add all the wonton seasoning ingredients to the mixture and mix well. We like to marinate them in the fridge for at least 2 hours.

While you wrap wontons, bring a large pot of water to boil.  Place a wonton wrapper on your hand. Place a teaspoon of the filling in the centre of the wrapper. Start with a small amount so it's easier to work with. Use your finger to moisten the edges of the wrapper with water.

When the edges have been moistened, fold the wrapper in half to create a rectangular shape, pressing any air that might be trapped around the filling. Fold the sides inward so that they overlap.

Wet the portion where the sides meet. Pinch to close and seal. Place the finished wontons on a baking sheet lined with parchment paper. Cover with plastic to keep them moist as you continue with the remaining fillings and wrappers.

After wrapping wontons, put 5 to 10 wontons in the boiling pot (depending on how big your pot is – the key is not to overcrowd the pot). Cook 5 minutes, or until wontons float on the surface of the water and are tender and translucent. I boil wontons separately from the stoup so the soup stays clear.

Transfer wontons to serving bowls. Continue with the rest of wontons. When you are done with cooking, pour some chilli mixture over wontons and garnish with chopped green onions and cilantro.
Take a photo of your version, send us an email, tag us on Instagram, tweet us, anything. We love to see you trying out our recipe!

xoxo, Joe