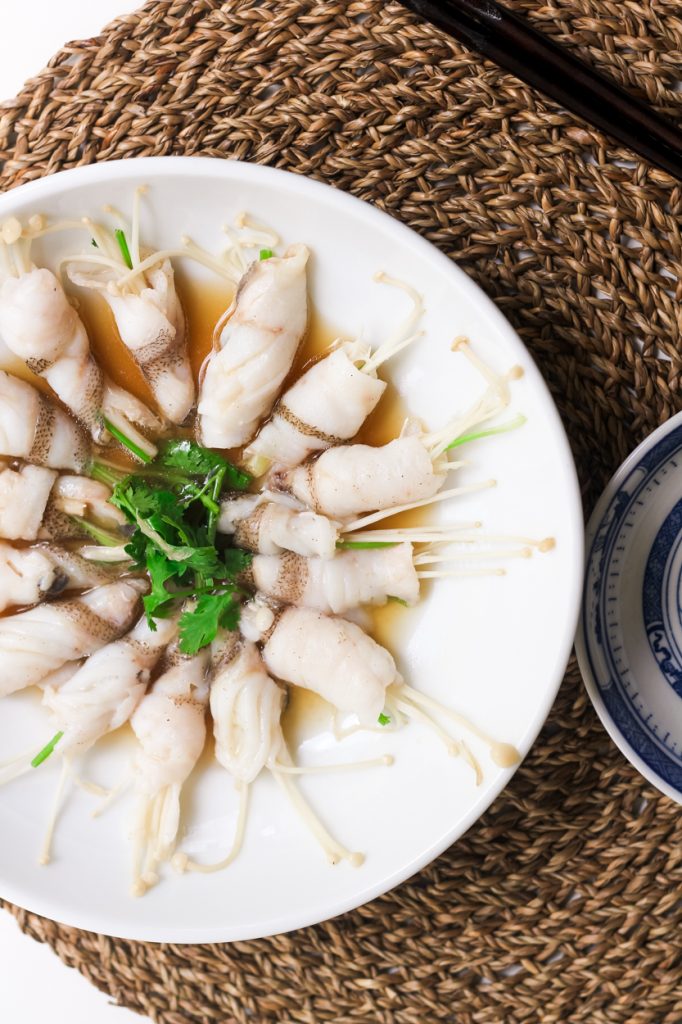 Today we are sharing one of my mom best dish – Stream Fish with Hong Kong Styled Soy Sauce. We love her fish dishes as she knows her ways to make it the best – simple and delicate. Unlike steaming the whole fish, we suggested her make it in fish rolls. Making them into bite-size, roll up with vegetables, it is easy to eat for all ages.

To us, nothing tastes as satisfying as steamed fish with a bowl of white rice, drizzled with the soy sauce from the steamed fish. Sometimes, my dad can have 4 bowls of white rice with just Hong Kong styled soy sauce. We promised that this steamed fish is just so delicious!
We are going to be biased on this: we personally think that fish is best eaten steamed. (Yes, sashimi and sushi lovers, you can protest now). It's mostly a personal preference; we love the texture of a perfectly steamed fish–the flesh is tender, silky, and oh-so-delicate.
Our Family Heritage
In the previous blog posts, I think we did mention that we were born in a Chinese family with a strong influence from both Cantonese and Teochew culture. My mom is Teochew in blood and she made delicious food since we were young. I believed that is why both of us are so into cooking and good food.

While my grandma was born in a Cantonese family, she enjoyed great flavoured Cantonese dishes and delights. My mom spent her 30 years to refine her recipes into dishes for our family. Some dishes she made wasn't the most traditional as she studied on her own without anyone teaching her. And many dishes were mixed with the Teochew's flavours. Therefore, as compared to traditional Cantonese dishes it definitely tastes lighter in flavours.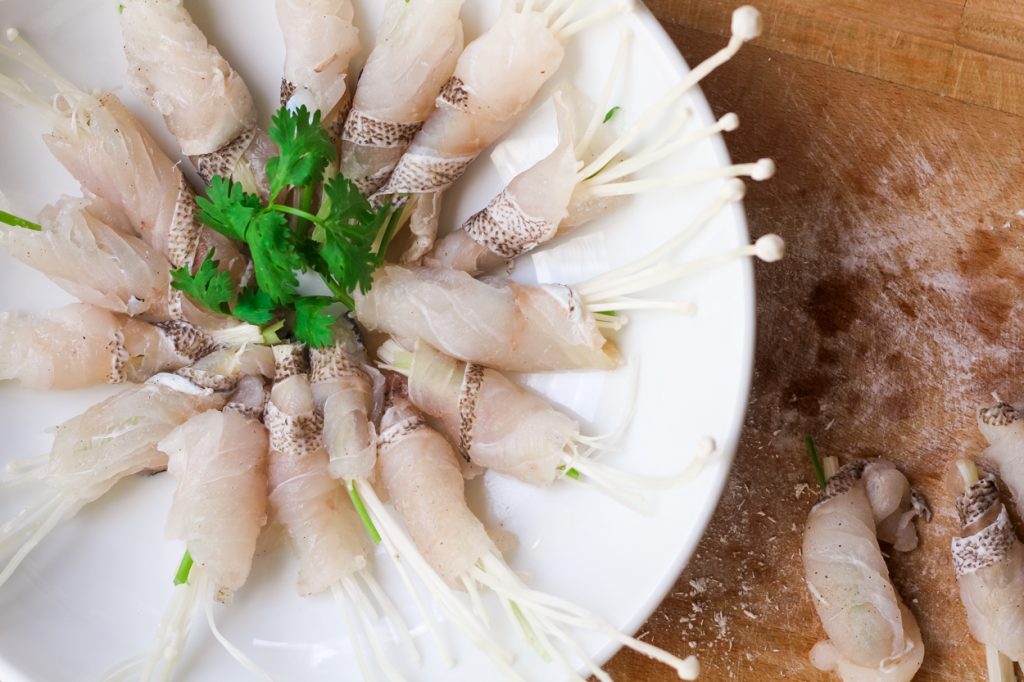 How to steam good Fish Roll?
3-5 minutes steaming time. Set a timer for it.
Discard the fishy and cloudy fish "water" after steaming. Contrary to common belief, it doesn't add flavours to a steamed fish dish. If any, it will leave a bitter–from the fish guts if the fish was not cleaned properly–and fishy taste.
Rock sugar. Wonder why the soy sauce is so good that you can just eat plain steamed rice with the soy sauce mixture? Rock sugar is the secret.
Use oil. Heat up some oil in your wok and pour it over the fish before adding the soy sauce. It gives your steamed fish that perfect sheen before you top it with the soy sauce mixture.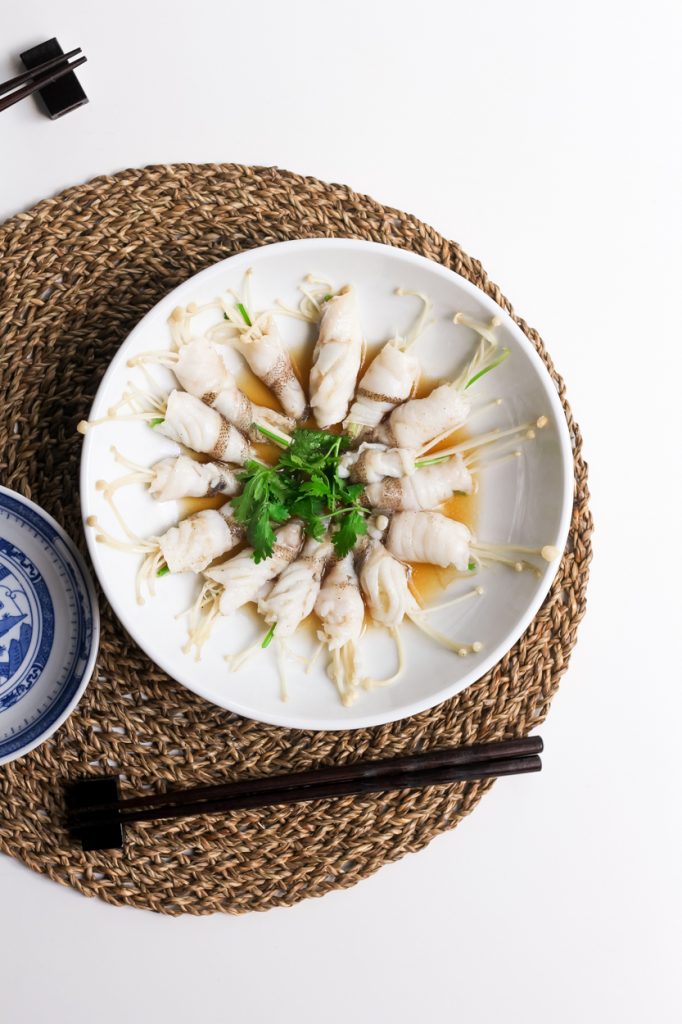 Time flies, it's happened to be the end of June. Singapore has reopened the city last Friday and the crowds flock into the malls and streets. Hence, personally I miss the quiet streets during the circuit breaker – I feel unsafe yet. Our city has to reopen the city for the economy but not because it's safe!

When we are able to create more delicious recipes, staying at home becoming a norm for us as there won't be any craving for us to head out.

Below is our steamed fish recipe. Enjoy!
Stream fish with HK Soy Sauce
Steamed fish, Chinese steamed fish recipe.
Ingredients
250g red grouper meat, sliced

20g enoki

some coriander stalks or spring onion

Hong Kong Sauce

4 tablespoons light soy sauce

2 tablespoons Shaoxing wine, or rice wine

2 tablespoons water

1/4 teaspoon sesame oil

3 dashes white pepper powder

2 tablespoons rock sugar, grind into powder form or to taste
Methods
Season red grouper with some salt and pepper, roll up with enoki and coriander stalks, steam for 3 minutes till fully cooked.
As soon as the fish is done steaming, transfer it out from the wok. Discard the fish water and set aside.
Heat up a pan over high heat and add 2 tablespoons of cooking oil, swirl around until it's hot. Pour the hot oil over the steamed fish. Put the pan back onto the stove, add the soy sauce mixture and stir well. As soon as the sauce bubbles up and boils, pour the soy sauce over the fish. Topped with cilantro leaves and serve the steamed fish immediately with white rice.