Roasted Carrot Soup is an easy carrot soup recipe with tomatoes, garlic, cumin, and Greek yogurt to make it creamy and filling. This tomato-based vegetarian soup is simple and healthy, and the leftovers are perfect for lunches and dinners all week long!

Roasting carrots in the oven means this carrot soup is more hands-off than a traditional soup that involves sautéing veggies on the stovetop. But this Roasted Carrot Soup is also miles better than a standard carrot soup because roasting caramelizes the veggies and adds depth and complexity to the flavor. This alone makes for a delectable soup, but we decided to take it to the next level by adding cumin, freshly grated ginger (optional), cream, and vegetable stock. This is a vegetable soup worth getting excited about!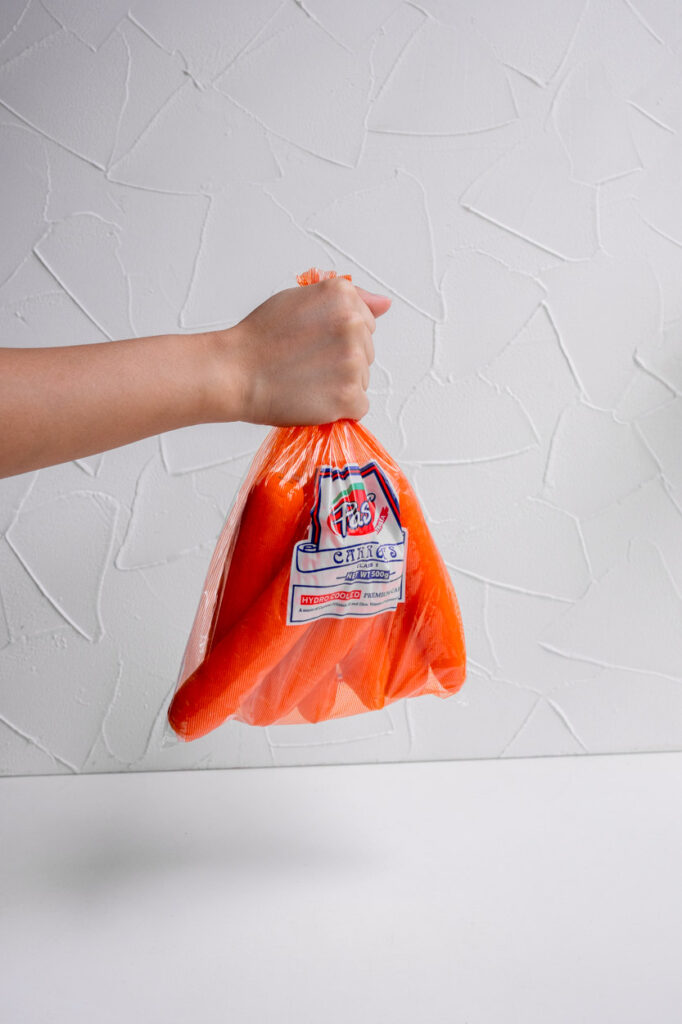 Why you'll love this recipe
Simple Ingredients: All you need is 4 ingredients to make this flavourful soup.
Rich Flavor: Roasted carrots have a rich, sweet, and savory caramelized flavor that is made even better by turning them into a gorgeous creamy soup. You can really taste the roasted carrots and I love it.
Easy to make: There are a few steps involved in getting this soup just right, but they aren't very hard. Follow these easy instructions to learn how to make carrot soup that everyone will love.
4 Simple Ingredients
Carrots. The trick to the rich, almost intoxicating taste of this simple carrot soup is roasting the carrots which enhances their flavor and makes them super sweet.
Cumin. Added to the carrots prior to roasting for a little extra kick.
Vegetable Stock. We like to use the vegetable stock for more flavors
Cream. Gives the soup a light tang that balances the sweetness of the roasted carrots and onions and creates a smooth, velvety texture. The cream's high protein content makes the Roasted Carrot Soup more filling too.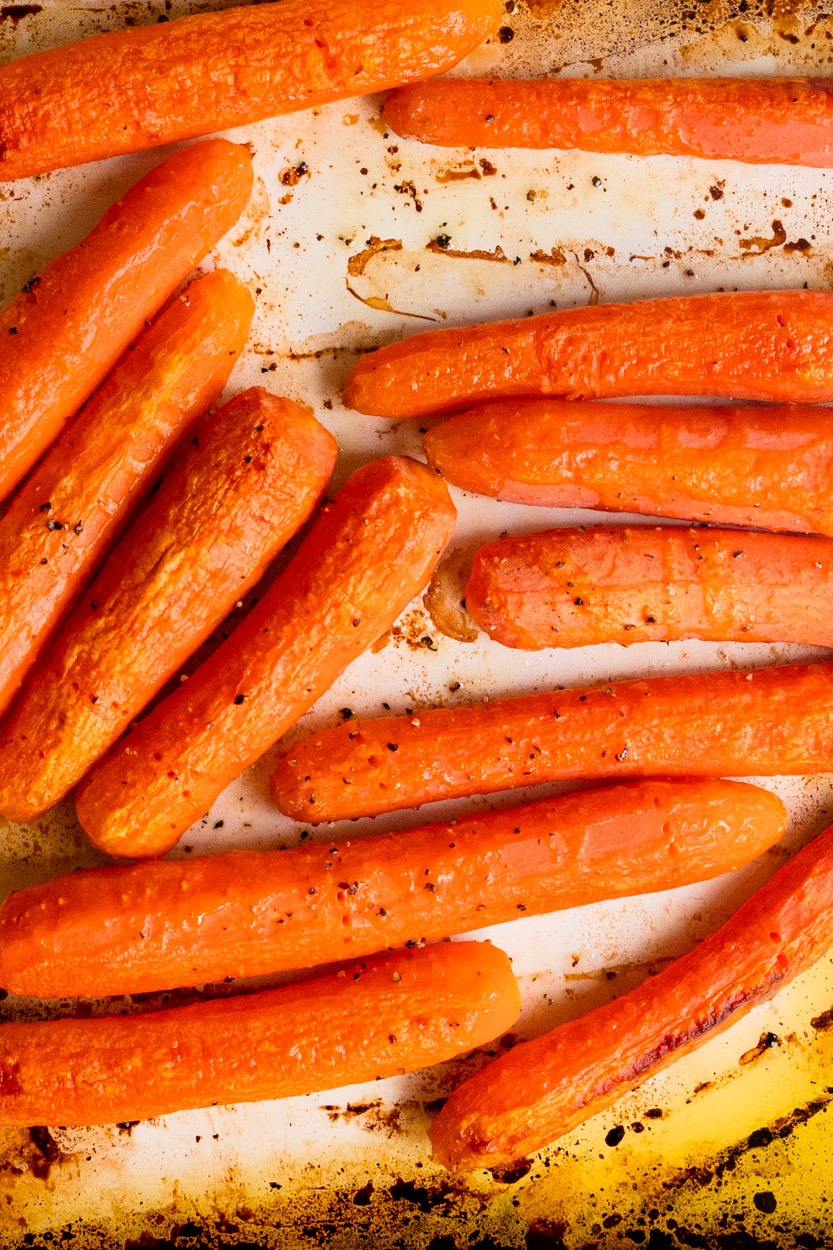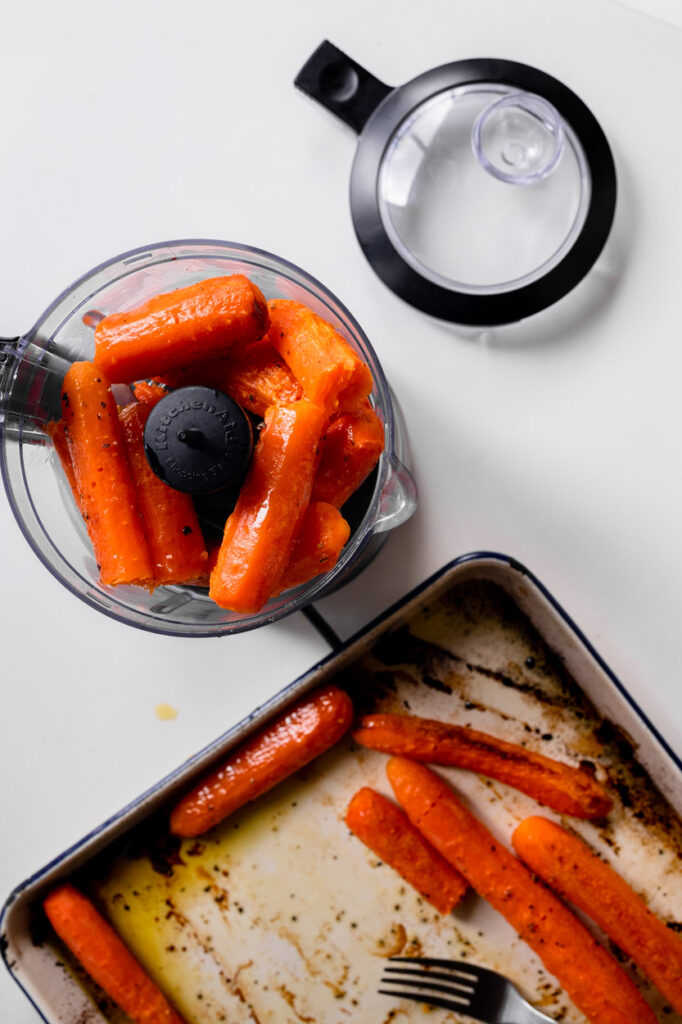 Additional tips to make your life easier
Use two sheet pans if needed. If you crowd your vegetables, they'll steam instead of roasting and caramelizing. If your veggies look crowded on the sheet pan, transfer half of them to a second pan so they have sufficient space.
The broth needs to be hot. You're not cooking the soup after pureeing, so heat up the broth before you put it in the blender with the vegetables. Vent the top a little to let steam escape and avoid hot soup splattering all over the place.
Don't overload your blender. You can puree the soup in batches if you need to.
How to store and reheat?
This is the kind of soup that tastes better and better as the days pass! Store it in an airtight container in the refrigerator for up to 5 days; reheat it in the microwave or on the stovetop.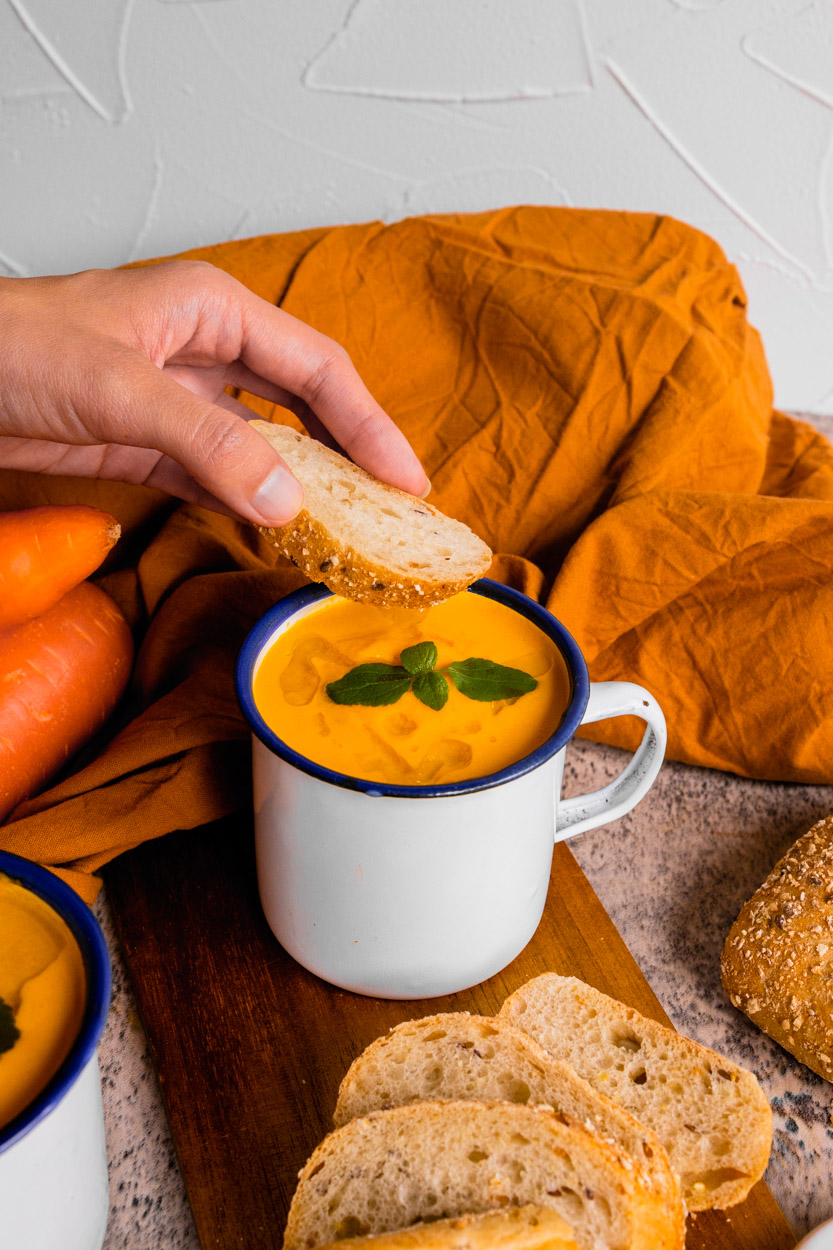 If you recreate any of these Roasted Carrot Soup let us know how you liked it by leaving a comment and rating below or by tagging us on Instagram, we love seeing all of your tasty recreations!
xoxo, Joe
Roasted Carrot Soup
Ingredients
Roughly 1 pound, 465g carrots, washed, dried

1 tbsp olive oil

1/2 teaspoon ground ginger (optional)

3 cups great quality vegetable broth, boiling hot*

1 can, of 400g cream

3/4 teaspoon sea salt
Methods
Preheat oven to 425 degrees F/218 degrees C.
On a large sheet pan prepared with a silicone mat, parchment, or foil, add the carrots and the onions. Drizzle the olive oil over the vegetables and season with a grinding of fresh sea salt and ground black pepper. Rub the seasonings and oil into the vegetables and spread them out.
Roast for 30 to 35 minutes, turning halfway until veggies are roasted and carrots are fork tender.
In a large blender, add all the remaining ingredients to the vegetables. Ensure that the broth is very hot. If you're not using a large blender (holds at least 6 cups) then do this in increments. Vent the top a little to let steam escape and avoid hot soup splattering all over the place.
Using the soup setting on your blender, or a very powerful blend option, blend until creamy and smooth. My blender automatically blends for about 3 minutes continuously.
Taste and add salt and pepper to taste if necessary. Top with garnish, we use carrot oil and basil leaves. Serve in bowls and enjoy!