Mid -Autumn Festival is around the corner, lantern and lights are already up, all ready for the event. During the mid-autumn festival or mooncake festival, other then mooncake one of the foods that will be seen is the Pomelo. It has the shape of roundness and the full moon to associate with the mid-autumn festival. So Pomelo is a popular fruit for harvest festival celebrated by Chinese. Chinese New Year comes, this seasonal fruits is to use as decoration and also popularly selling in the market as believe and symbolic is 'to bring prosperous' and "to have" wealth and good fortune in meaning.
Since we have so many Pomelo, we decided to make some Honey Pomelo Dandelion Tea for the humid day. Honey Pomelo Tea is made from the flesh, skin, steep in boiling for 1 and half hour with rock sugar and honey, as the skin of Pomelo has the effect of reducing and lower blood level, in alternative healing this syrup is made to use in home remedies for treatment.
Wash Pomelo skin thoroughly in warm water with salt. Peel the skin and cut it into thin slices. After cutting the Pomelo skin into slices, place them into the warm water with salt and soak it overnight. This helps them to remove the bitter taste. Bailout the Pomelo skin and discard the salt water, rinse with clean water and set aside ready for use.
Peeled the Pomelo fruit pulp or flesh of Pomelo beforehand, slightly blend it with the juicer for 1 min. Or use "compress" method to press it with spoon lightly. Keep aside for use. Remove some of the thick peel or rind and all the membranes the translucent segments containing the teardrop sacs, which is bitter in taste.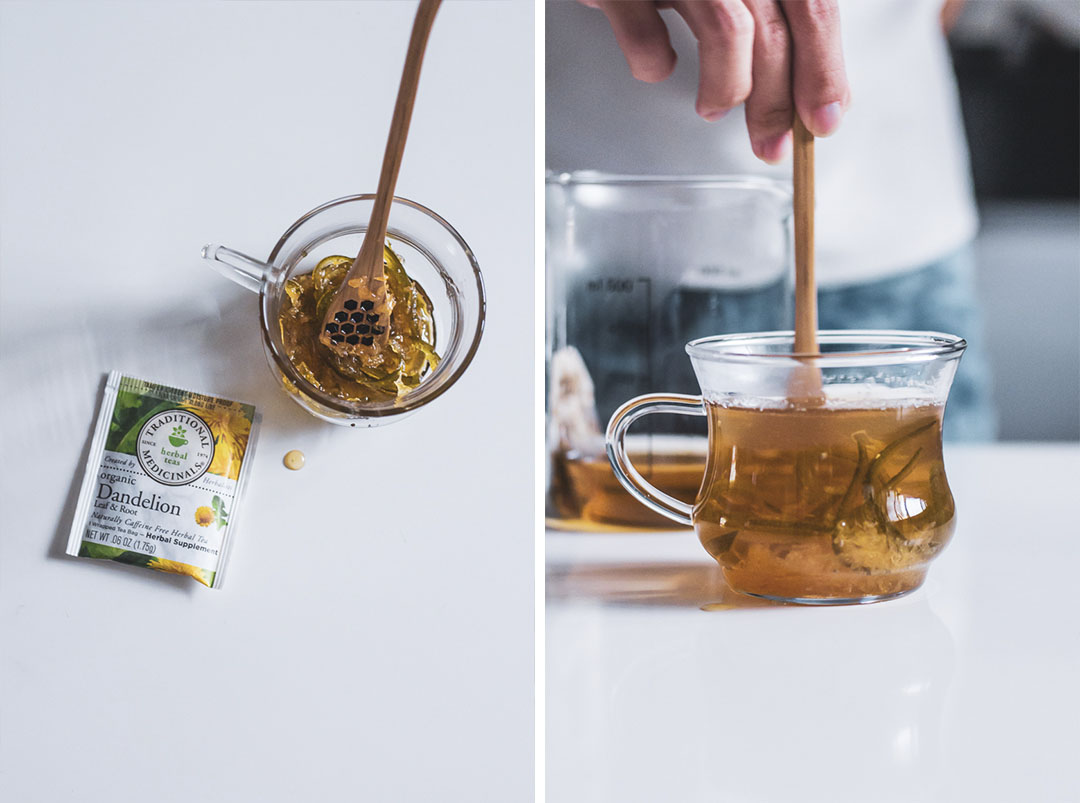 Ingridents|
1 Pomelo (Skin & Flesh)
70g Rock Sugar
2 tbsp of "Mai Ya" Sugar
300ml of Pure Honey
2 tbs.Salt (for soaking and cooking the skin)
Method|
Firstly, use 2 cups of water to cook Pomelo skin slices with 1 tbs. of salt for 10 minutes. Discard the salt water and rinse it thoroughly with water and drain dry.
Place the blended or "compressed" Pomelo flesh and juice and Pomelo skin to cook till boil, stir in rock sugar and mai ya sugar continue cooking and stirring.
possible to continue cooking and stirring it for at least 1 hour, slowly reduce to low heat and stir till the ingredients become more and thicker, the color will turn to golden yellow. Remove from heat when it turn to golden yellow and in thicken form like jams.
Wait till it is almost cold, add in pure honey and stir well. Keep into the clean glass container and keep in a refrigerator.
Take a photo of your version, send us an email, tag us on Instagram, tweet us, anything. We love to see you trying out our recipe!
xoxo, Joe