Ochazuke (お茶漬け) – usually served in one bowl, it consists of steamed rice with savoury ingredients, partially infused with green tea. Ocha means green tea, and zuke means "submerged". It is more commonly eaten as a quick meal or as a filling snack at the end of a meal in Japan rather than as proper mealtime food.
Ochazuke is the kind of comfort food that we crave because it is soothing to eat and easy on the stomach. My midnight hunger pangs would always be satisfied with this rice dish after a long day. We immediately felt comfortable when we tasted the warm tea and rice and it instantly soothed our busy day. There is no easier way to make a meal than this!
Choose the Tea
To make Ochazuke, you can use various types of green tea, such as Genmaicha, Sencha, Hojicha, etc. Usually, dashi broth is used instead of green tea when you order Ochazuke in Japanese restaurants. Most of the green tea tastes wonderful with this dish, thus you could grab anyone that you could find. We use one that has roasted rice in it which adds a malt taste to the dish that we like about it.

For best flavour, bring spring or freshly drawn filtered water to 85 C into a pot with 2 tbsp of tea leaves. If you don't have a thermometer, you can achieve the temperature by letting boiling water cool for about 2 minutes. Steep it for 3 minutes before enjoying them, and do only prepare the tea last as we want to serve it hot.
Choose your Topping
In order to make a dish more flavourful, toppings play an important role. Thanks to the versatility of the Ochazuke recipe, you can add any toppings you like. The following are some good options you can use in your kitchen:
Saba / Salmon – is a very popular ingredient used in Ochazuke, not only it is easy to cook, but it also adds a wonderful touch of fanciness to Ochazuke. We got our salmon at Isetan where it is well prepared and seasoned with miso. All we need is to cook them in the oven for 17 minutes at 170 C. You can place it as a piece or break it into smaller flakes and mix it in the rice.
Umeboshi – these plums are commonly used in Japanese cuisine, they taste salty and sour which will make your dish more appetite. Not to mention umeboshi is one of the popular toppings to be used in this dish. As it was said that the effects of citric acid (クエン酸) on plums are said to be good for restoring energy, preventing heat stroke, and keeping obesity at bay. It's quite hard to find them in the local supermarket thus we always head over to Mediya Supermarket or Don Don Donki for them. Look for one that is seedless as it is easier to enjoy later.
Eggs – who doesn't like eggs? I'm sure we all have eggs in our pantry thus this is a great option we have nothing at home. We like to pan fry them thinly and slice them into thin stripes before topping over the rice. Seasoning it with salt is the key in making the eggs.
While the topping is all we need additional seasoning and sprinkle help to complete the dish. Below are some of the options we like to use:
Nori – is dried seaweed that you can sprinkle over the rice before pouring it into the tea. It is a typical rice seasoning in Japan. 
Chirimen Sake – boiled and completely dried salmon. We found this at Isetan Supermarket and were told that they are rich in calcium and taste good with rice and soup.
Instant Flavouring Pack – these were commonly found in Japan where they like to add this special powder to their rice. They have assorted flavours from plum and salmon to nori. It will instantly enhance the flavour of the rice right away.
There are many other toppings you can use for this dish, and the options are unlimited. All you need are rice, topping and green tea, the combination will make you your comfort food.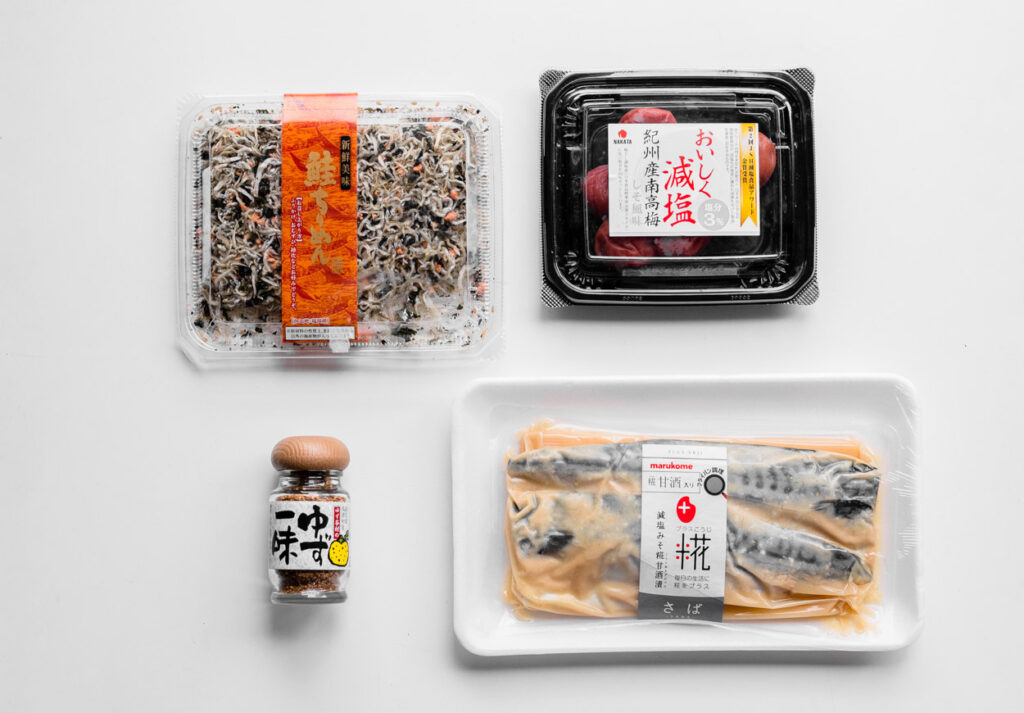 Suggested Combination of Ochazuke
As mentioned there are unlimited combinations of Ochazuke, thus you can create whatever ways you like to your preferences. However, below are examples of how we do it:
Umeboshi Ochazuke – Rice + Shrimp Flakes + Umeboshi
Saba/ Salmon Ochazuke – Rice + Nori seasoning powder + Saba/ Salmon + Nori
Egg Ochazuke – Rice + Ume seasoning powder + Egg Stripe + Chirimen Sake
Mixed Ochazuke – Rice + Shrimp Flakes + Tokusei Tenkasu
Never limits yourselves with these options.
We hope you enjoy making and eating this quick and easy Japanese Ochazuke! Take a photo of your version, send us an email, tag us on Instagram, tweet us, anything. We love to see yours!

xoxo, Joe
Ochazuke (Green Tea over Rice)
Ingredients
2 tbsp of green tea leaves + 200 ml of water

200g – 300g cooked rice (2 portions)

Saba Ochazuke

2 miso saba fillets (approx 200g)

2 tbsp of Nori seasoning powder

Nori (for garnish)

Umeboshi Ochazuke

2 Umeboshi

2 tbsp of Shrimp Flakes

Egg Ochazuke

2 Eggs

1 tsp of salt

1 tbsp of Ume seasoning powder

1 tbsp of Chirimen Sake
Methods
In a bowl, top it with rice, seasoning powder and then your topping. Before enjoying them pour the tea covering half of the bowl. Enjoy!

(Read up on the post itself on how to cook the saba & egg.)