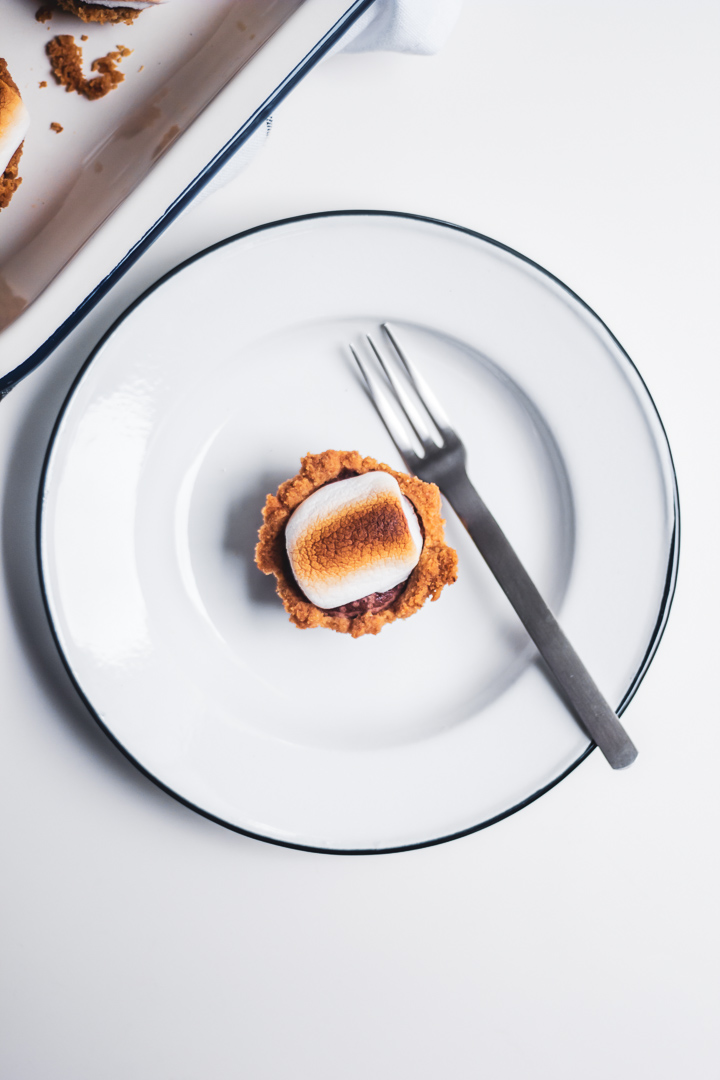 One of our favorite activities is making s'mores around a campfire on the beach. While it is a little cold for a trip down to the beach thus with today's recipe, you can enjoy s'mores all year round. This may be a little bit different version than you make around the campfire but it is just as delicious!
The first step is to form your graham cracker tart shell. I used an aluminum cupcake holder, I put 1 1/2 Tbsp of the graham cracker mixture in each cupcake holder and then used the handy-dandy little roller to form the tart shell. You could absolutely do it with your fingers but this little tool is so much easier and faster. Isn't it awesome!
After your tart shells are formed and baked for five minutes you fill them with your chocolate mixture and then bake again. Use a sharp knife to gently remove them from the muffin tin and allow them to cool on a cooling rack.

Place the tarts on a baking sheet and then place half of a large marshmallow on top of each tart. Here comes my favorite part, put them under the broiler until the top of the marshmallow is golden brown. Watch them closely so they don't burn. (This is the first time we use the broiler function in our oven.)

I think these cute little mini s'mores tarts are best eaten warm but truth be told they are pretty yummy after they have totally cooled too. Now, the only thing left to do is enjoy. You can pop the whole thing in your mouth at one time, they are that small or make the yumminess last a little longer and enjoy it in a couple of bites.

Ingredients|
1/3 cup of butter

3/4 cup of sugar (1/2 cup for the filling, 1/3 cup for the tart shell)

1 1/4 cup of finely crushed graham cracker crumbs 18 squares

1/2 C sugar

1 egg

1/3 C flour

1/4 C unsweeteened cocoa powder

1/4 C butter melted

10 large marshmallows halved
Method |

Preheat oven to 325 degrees F.
For the tart shell; melt the butter and add in the sugar. Stir in graham cracker crumbs. Press crumbs into bottom and sides of the cupcake holder (approx. 1 1/2 Tbsp crumbs per tin). Bake for 5 minutes. Cool in the pan on a wire rack.
For the filling; combine sugar and egg. Beat on medium for 2 minutes or until thick and pale yellow. Whisk together flour and cocoa. Add into the egg mixture and beat until smooth. Add in melted butter. Spoon filling into tarts.

Bake 15-20 minutes or until set and slightly puffed. Cool on a wire rack for 5 minutes and then gently remove tarts from the holder. Cool Completely.
Cut marshmallows in half. Place half of a marshmallow cut side down on top of each tart. Broil for 30 seconds or until marshmallows are puffed and lightly toasted on top. Now you can enjoy them!
Take a photo of your version, send us an email, tag us on Instagram, tweet us, anything. We love to see you trying out our recipe!

xoxo, Joe