Mandarin Oranges and Lemon are one of my favorite things about the spring produce season. My family and I for that matter can eat dozens of Mandarin Orange a week. It's always so sad when they stop appearing on the grocery store shelves. Time to make the most of them, right?
This lemonade does just that. Mandarins have such a concentrated sweet flavor that is more intense than a regular orange, so I thought they would be delicious in a lemonade. And I obviously have some sort of obsession with lemonade. And, as with every lemonade I make, I think this one might be our new favorite.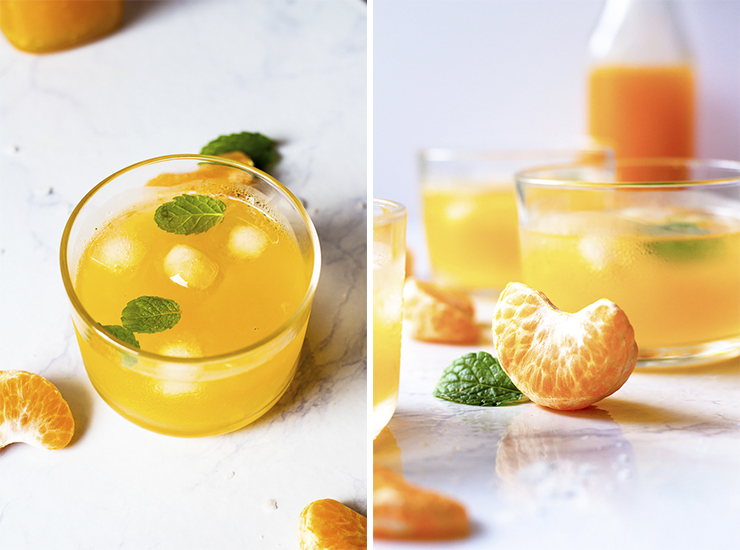 Most homemade lemonades are simple enough, as is this one. It starts with a lemonade base, a simple syrup made of fresh lemon juice, sugar, and water. That's cooled and mixed with juice mandarin oranges(clementines work too!) and crushed mint. I used a new, white mortar and pestle to crush the mint for these lemonades. Now the bowl is stained green. But it was totally worth it.
Mint and mandarin are dreamy together. I think I'll be freezing mandarin juice just so I can drink this all spring long.
Ingredients |
1 C. Freshly Squeezed Lemon Juice
1 C. Sugar
1 C. Water
½ C. Freshly Squeezed Mandarin Orange
12 Mint Leaves
Water, to dilute
Method |
Combine the lemon juice, sugar, and water in a saucepan and bring just to a boil.
Remove from heat and let cool. Pour into an airtight container and chill completely.
Crush the mint leaves using a mortar and pestle.
Combine the chilled lemonade base, crushed mint leaves, and mandarin juice. Add water to taste.
Serve over ice.
Hope you like them! Share with us your version! Take a photo of yours, send us an email, tag us on Instagram, tweet us, anything. We love to see yours!
xoxo, Joe