Pen Cai is a traditional Cantonese festival meal composed of many layers of different ingredients. It is served in large wooden, porcelain or metal basins called "Pen", due to the communal style of consumption. The Chinese name, transliterated as "big bowl feast", "basin cuisine" or "Chinese casserole". It is a treasures pot for a good fortune year ahead.

When coming to Chinese New Year dishes, there are so many kinds of dishes out there based on their regions, culture and meaning behind it. While we are no experts, both Joe and I have always attempted to make things out of our interests. On the day of Ren Ri, 人日 (in Chinese culture, is believed to be the common birthday of humankind. It is celebrated on the seventh day of the first month in the traditional Chinese calendar), we decide to challenge ourselves to make a pot of sea of treasures to share with our family.

We chose Pen Cai, 盆菜 (Poon Choi Cantonese) over Buddha Jump over the Wall, 佛跳墙 for a simple reason. But many readers might ask what's that? It a pot of nutritious Chinese delicacies simmered long and slow until fall-apart tender like Pen Cai but that usually include more expensive ingredients like the shark fin, which we don't encourage to have it. We have compiled the easiest step for you to follow, which you could simply recreate at home in no time. Are you ready to impress your family and friends with a pot of treasures of delicious.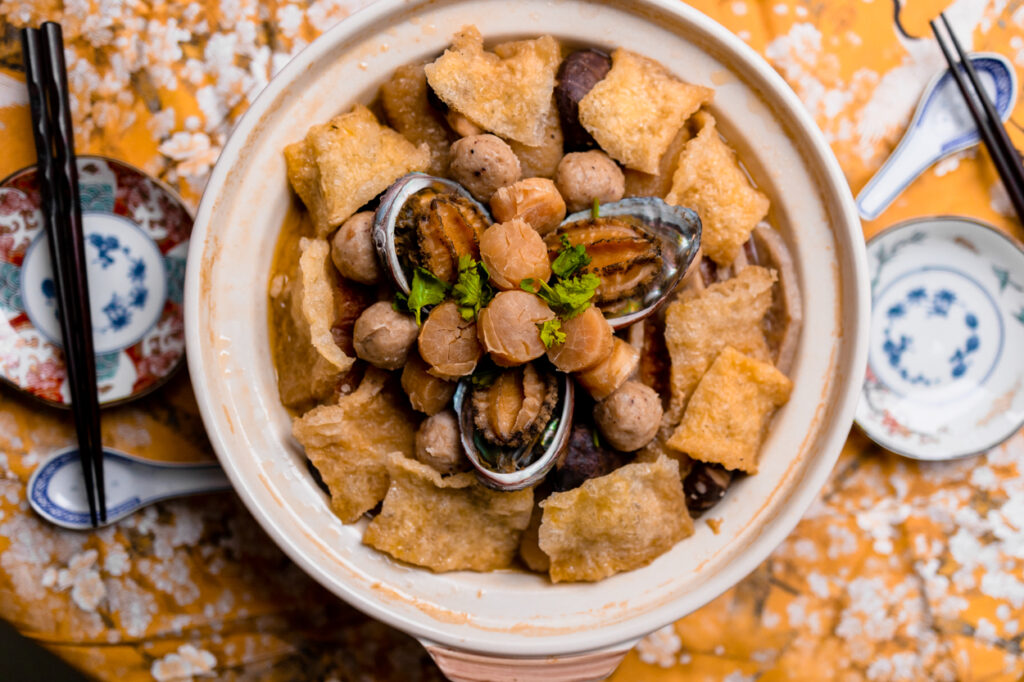 There is a various version of Pen Cai and there wasn't a standard procedure to define right or wrong. After researching and interviewed our mom, the following are the ingredients you might like to consider to put in your pot. We brought lots of food during Chinese New Year, especially the dried goods, those are the ingredient we don't often have it on the normal days, except for a special occasion.

– Cabbage, cut into 5-cm pieces
– roast duck
– chicken
– roast pork belly (we roasted our own roast pork belly, we might share our recipe sometime soon)
– yam, sliced 0.5-cm thick and pan-fried till golden brown
– dried mushrooms, soaked overnight for flavour texture, keep the water for the soup
– pre-soaked sea cucumbers, cut into 6 – 8 pieces
– fried fish maw, soaked in hot water for 30min and cut into pieces
– meatballs
– Can abalone or fresh abalone
– dried scallops

(Optional)
While many other recipes also include prawns, scallops, black moss as they represent great things for New Year hence we have run out of those ingredients so we give it a passed but please include them as you wish! The taste will be just flavourful and remain tasty still!
Layer the Cabbage as the base. A simple tip is to gather all the ingredients above before begin the layering. We pouched the cabbage with salt water for a couple of minutes and magic happens. Cabbages consider "cold type" for the body in Chinese Medical therefore, always slice a few slices of ginger and place under the pot. *(Mom's tip) Ginger also help to make the soup turned soup when there are leftover and seafood in the pot.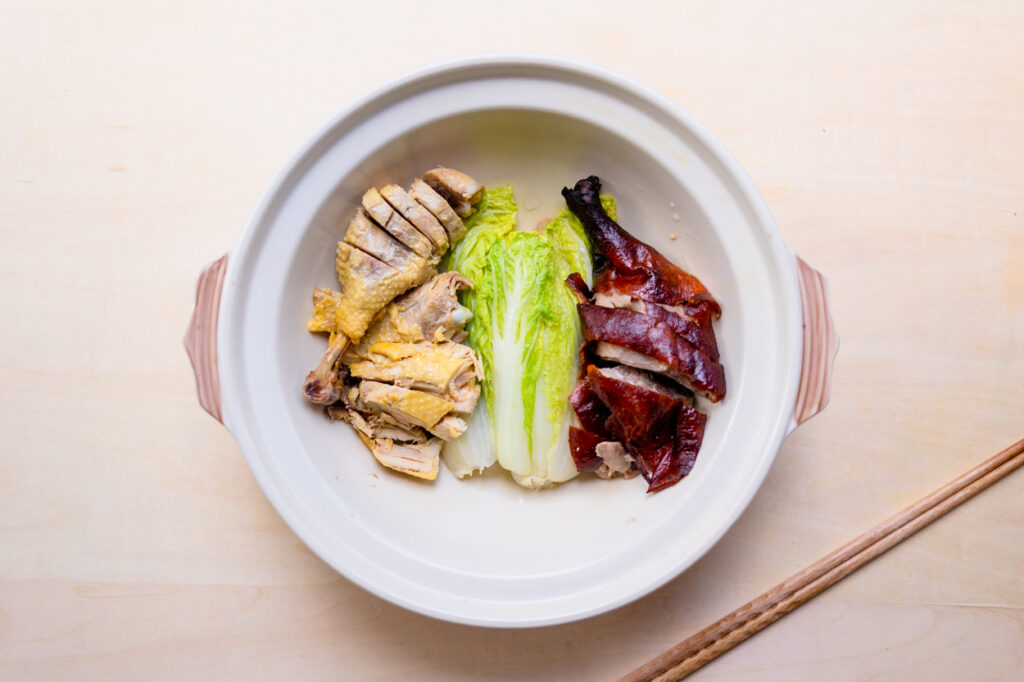 Keep the leftover and prep ahead of time…
We mentioned above, over the course of the Chinese New Year, we keep leftovers from previous meals for this dish. After we are a small family of 4, it is quite impossible for us to finish all the food. Chop both roast duck and poached chicken in smaller pieces and layer them on each side of the cabbages. For those, who don't want to cook everything from scratch, you can always buy a small portion fresh from the store.
Following is to layer the roast pork belly and the yam. This year Lunar New Year reunion dinner, I successfully make my first crispy roasted pork belly that my family love it (hence it require 2 days to prep ahead so we might share the recipe later time the year while Joe recuperation from this busy festive season, as those who might know she started her bakery business and she really work hard during this CNY).

You need to slice both the roast pork belly and the yam, about 0.5-cm thick and pan-fried till golden brown sandwich with the yam on top of the cabbage.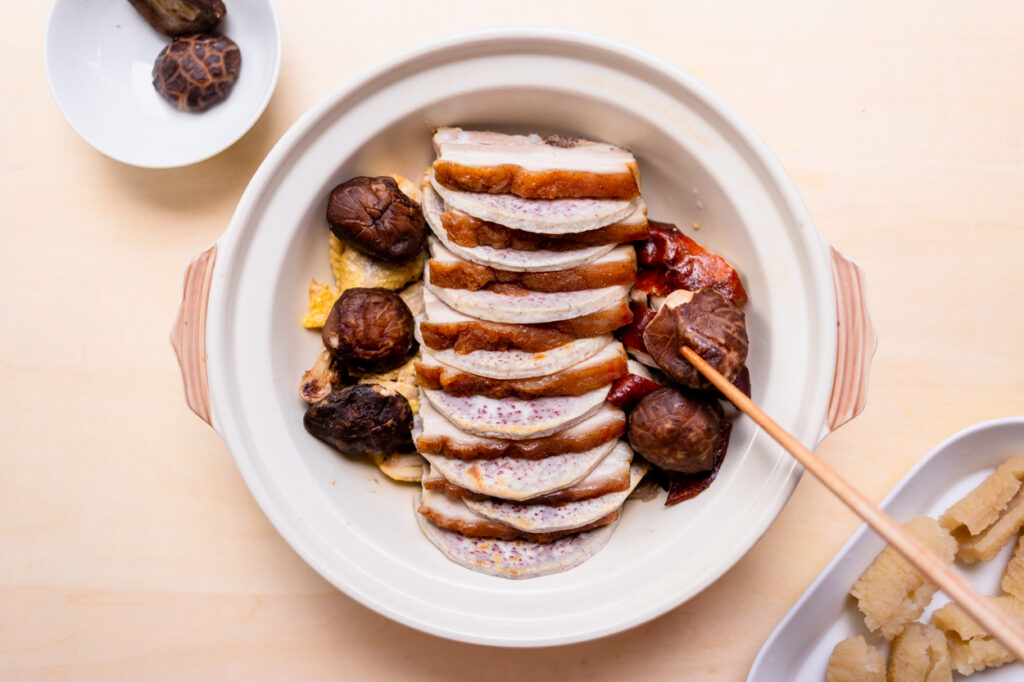 Arrange the mushrooms and sea cucumber along the sides of the claypot. Always and always remember to soak the dried mushrooms overnight for flavour and soft tender texture. Many recipes suggest to soak 15 mins ahead of time but don't believe it as a different type of mushroom take a different amount of time to soften. 15mins is never enough therefore overnight is the best option you should follow. Also, never discharge but keep the mushroom water for the soup or other cooking purpose. they smelled delicious and things taste better with them.
Add the fish maw and meatballs, top with abalone and dried scallops. Pour the mushroom water and some chicken stock into the claypot until it's nearly full. Cover and simmer over low heat for 1 1⁄2 hours. Add the remaining chicken stock after an hour. Once it's cooked, garnish with Coriander or leek.
We hope that you enjoy the Treasure Pot, Pen Cai like we do. Fear not, next week onward we are sharing some cleansing and simple meals after the joyful festive season!

xoxo, Angela
Make an impressive beautiful Treasure Pot | 盆菜
Ingredients
1 tbsp minced ginger

1 tbsp minced garlic

1 pc white cabbage, approximately 300g cut into pieces (blanch in water and drain)

6 pcs Chinese mushrooms (soaked in water until soft and drained)

5 pcs dried scallops

1 pc fish maw (soaked in water overnight until soft and drained before cutting into pieces)

1 pc sea cucumber, cut into pieces

3 pieces fresh abalone, 1 can abalone, thinly sliced (reserve the abalone brine in the can)

12 pieces of taro, sliced and pan fry

some roast pork

some roasted duck

some steamed chicken

some meatball

1 tbsp cooking oil

1 litre chicken stock (can be store bought or home made)

1 tsp oyster sauce

1 tsp sesame oil

1 tsp dark soya sauce

2 tbsp hua diao wine

dash of pepper
Methods
Start by layering the ingredients that you have prepared. The start will nabe cabbage, ginger and garlic. Layer on the top with roasted pork and sliced taro. Slice in the taro in between the roasted pork. Add the side of the roasted pork will be your chicken and duck. Then topped it with mushroom, sea cucumber and fish maw. In the middle will be your meatball, abalone and dried scallop.
Pour the chicken stock to cover the ingredients and seasoning and cook it for 1 hours. Pour the leftover chicken stock and cook for 30 minutes more. In the meantime if you have ingredients like prawn, scallop or black moss. You can add in at this time. Serve with corriander.