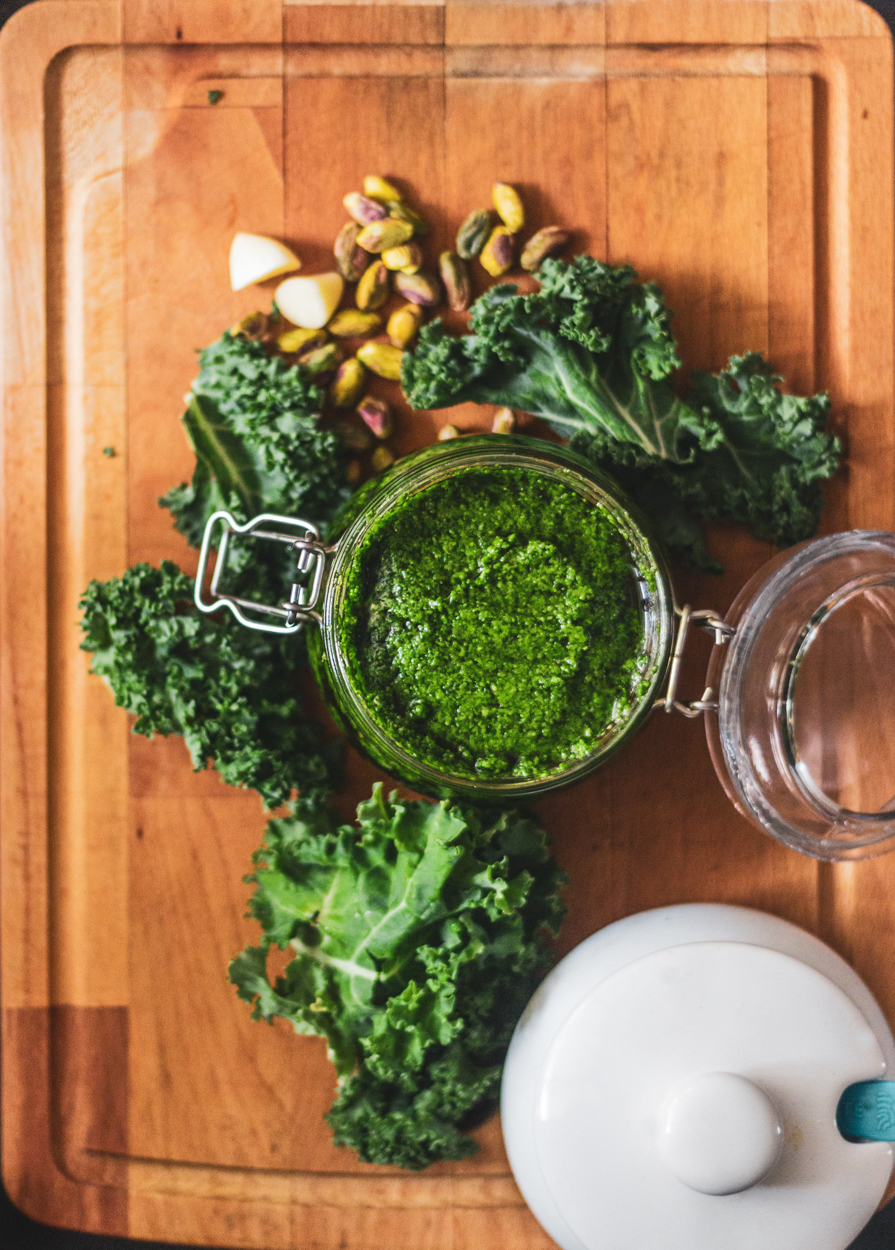 Purchased pesto is one of the best convenience foods on the market, and pesto from scratch is simple to prepare and even more delicious. Traditional pesto is made of fresh basil leaves, olive oil, Parmesan cheese, garlic, and pine nuts, but we also love to explore other combination including alternative herbs and nuts such as parsley and almond.
Sometimes we love to experience different forms of the fresh produce we can get. When there is an extra herb, before it turns bad, we will make into pesto or hummus. Over the years, we shared several alternatives to favour the Pesto. It is something you can make and store in your fridge for at least 1-2 weeks. You can enjoy it with any food; from pasta, sandwiches to dipping.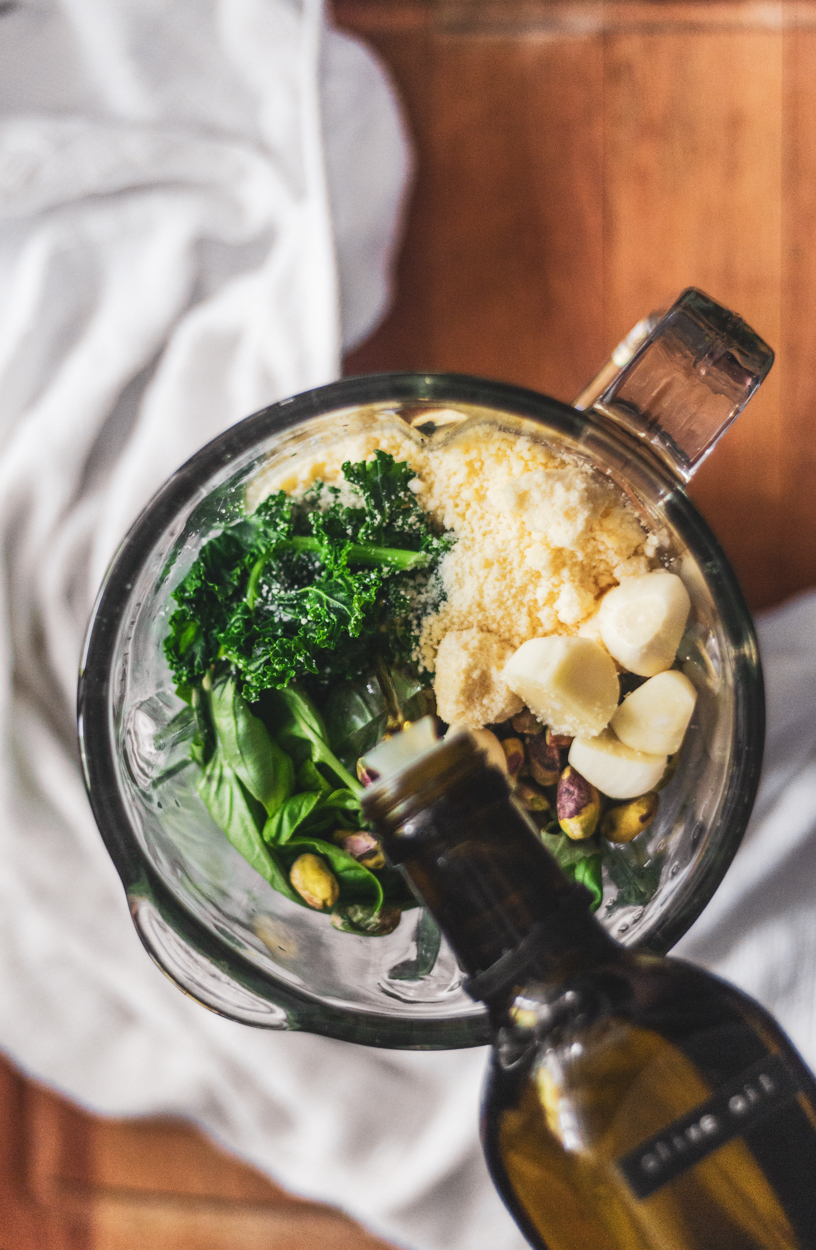 How to prepare the kale?
One of the reasons people dislike kale so much is the texture. The reality is that it's a hardy, thick, leafy green. All you have to do to combat this, though, is tenderize it. If serving raw in a salad for example, dress it ahead of time and let it hang out for awhile. Unlike other wimpier greens, kale will hold up to this pre-dressing and instead of getting soggy it will get more flavorful and more tender. Cool, eh?
In this recipe, we are going to tenderize the kale by cooking for it in boiling salt water for 30 sec. To prep, the kale just tears the leaves off the thick stems. Drain and dry it one the cloth, it will help to cool the kale down and absorb the excess water.
Why use pistachios?
We were attracted to the pistachios because of the green-on-green concept, and trust us, it worked out perfectly. We have never had a pesto we've loved so much – so much that after writing this we're going to make more to put on some pasta. It's creamy of course, the natural oil in the nuts plus the olive oil helps with that. But then the flavour is out of this world (could this possibly be my most favourite phrase?) We can eat a bag of pistachios like a champ but cream up?? Why have we never thought of this! All the flavours seem to marry together so well and you're left with a pesto that's all up to your imagination and that you want to put on everything, which is exactly what we did.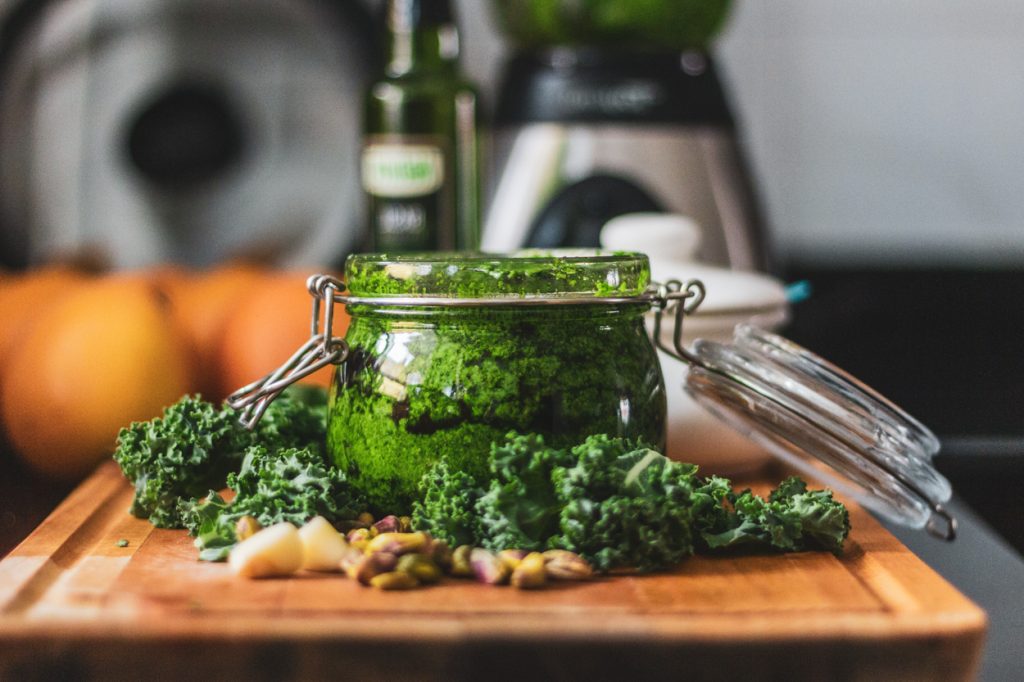 Like so many recipes, this really is a formula that should be used as a guide more than a law. You can feel free to get creative, if you don't have pistachios, try walnuts or pine nuts or even almonds. While I've made kale the star of the show here, other greenery can be added or swapped, like parsley to brighten the flavor, and  baby spinach or arugula make great pesto, too. So, don't feel restricted by this recipe. Instead, use it as a launching point for all the great pestos in your future!

xoxo, Angela
kale pistachio pesto
Ingredients
2 cups kale, washed and de-stemmed

1 cups sweet basil, washed

1/4 cup de-skinned pistachios

1 cup olive oil

4 cloves roasted garlic

4 tbsp Parmesan powder

1 teaspoon fine sea salt

1 teaspoon ground black pepper
Methods
Cook the kale in a pot of water for 30 sec, drain and leave it aside to cool down. After cool squeeze the excess water out from kale.
Add kale, pistachios, parmesan, garlic, and olive oil to a food processor and pulse until combined, scraping down the sides after each pulse, for about 2 minutes.
Season it with salt and pepper next and continue to pulse until combined, for about 2-3 more minutes. Feel free to add more olive oil if you want a more runny consistency, or more nuts if you want a thicker pesto.