Detox salads don't have to be dull and unappealing! Try to make this revitalizing and light Kale Salad with Juicy Grapefruit, and Olive Dressing. If you've been eating well lately (just like me), you probably need some. As, this salad is designed to wipe the slate clean, to energize you and to make you feel good! It's also delicious and easy to make and kale olive dressing is so good! You can actually make a double batch and use it for other dishes (e.g. pasta).
We've lately begun consuming citrus fruits like lemons, oranges, and grapefruits for this Spring season. They are traditionally among the most common and affordable all seasonal fruits. Being an indispensable source of nutrients, they help the body to maintain its immune function.
Though this is the first time we use kale as the greens for our salad, and it was a fabulous experience. We don't know how to appreciate before but now Angela just in love with it. Yet, after making the salad we found out that we have to remove the stem of kale and chop them into smaller piece. Since the stem of the kale is hardly edible. Now we know, thus (you better) don't make the same mistake like us.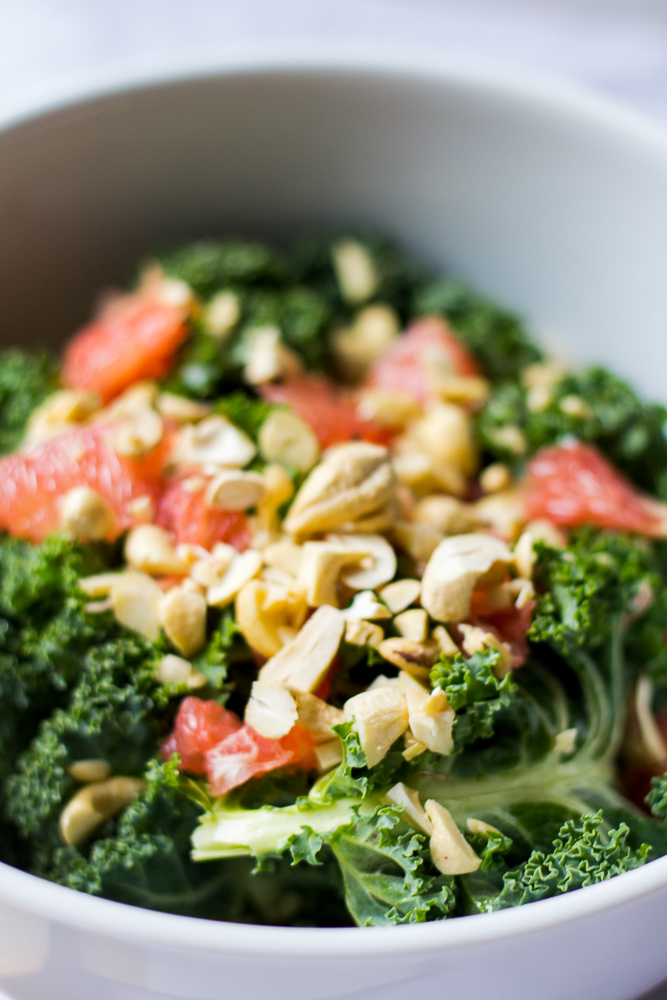 We heard that the kale have a chewy texture. Hence what happens when you add MORE crunch? Other than kale and grapefruit the last main ingredient for this dish will be the (our favorite) cashew nut. Crunchy, honey roasted cashews and sweet juicy squash. Pretty sure that quad is all we need for Thursday.
Ingredients |
1 pink grapefruit
2 tablespoons extra-virgin olive oil
Kosher salt and freshly ground black pepper
8 cups thinly sliced kale
1 cup of Cashew Nuts
Method |
Using a sharp knife, cut peel and white pith from grapefruit; discard. Working over a small bowl, cut between membranes to release segments into bowl. Squeeze juice from membranes into another small bowl; add any accumulated juices from a bowl with segments (there should be about 1/4 cup juice total). Whisk oil into juice and season to taste with salt and pepper.
Place kale in a large bowl and drizzle 3 Tbsp. dressing over. Toss to combine and let stand for 10 minutes while kale wilts slightly. Toss once more, then arrange grapefruit segments and chopped cashew nut over kale. Drizzle with remaining dressing and serve.
Share with us your making! Take a photo of yours, send us an email, tag us on Instagram, tweet us, anything. We love to see yours! 
xoxo, Joe.