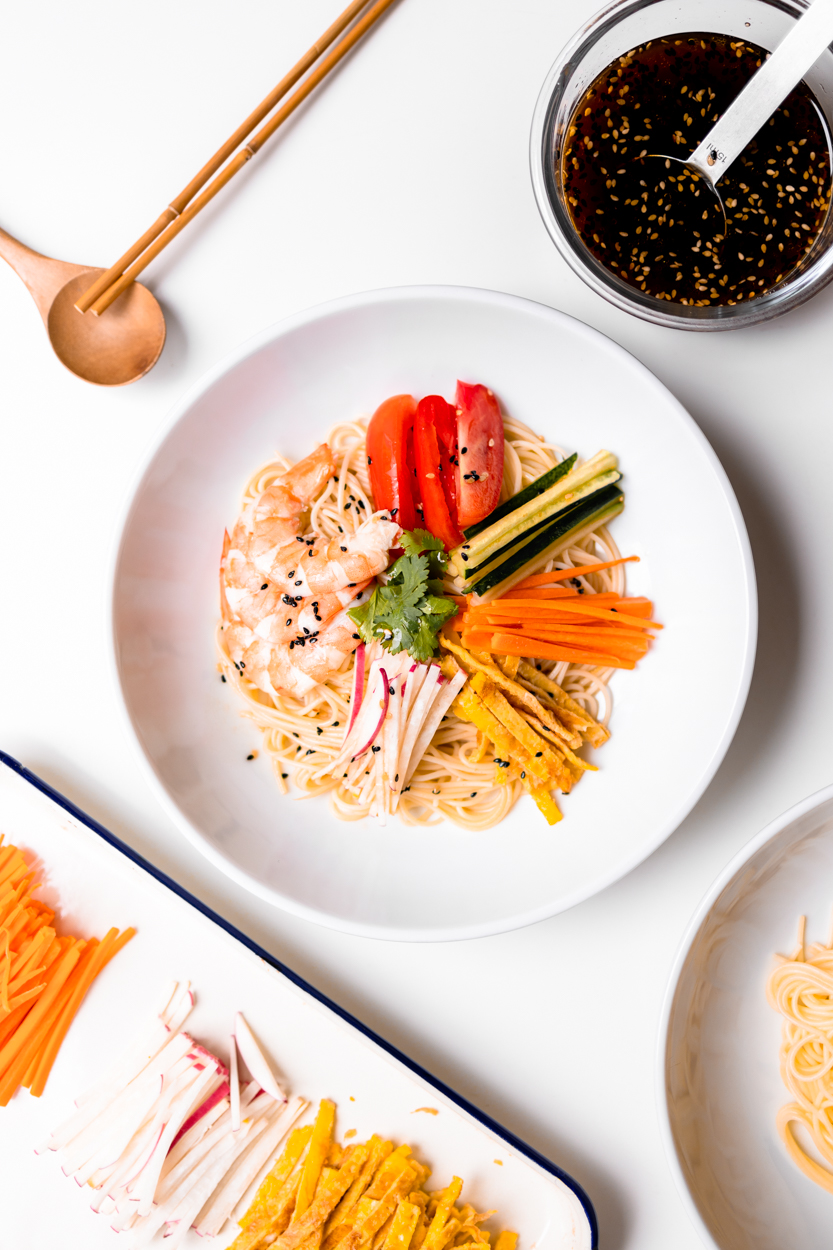 Have you tried Hiyashi Chuka? Hiyashi Chuka or "chilled ramen" is a cold Japanese ramen salad that's the perfect light meal for a hot summer day. With loads of veggies and protein over a bed of chilled ramen noodles drizzled with a tangy sesame dressing, it's sure to wake your appetite on even the hottest of days. It's also a great dish for gathering at the end of the Chinese New Year.
What kind of noodle to use?
Hiyashi Chuka by definition is made with ramen noodles, but in Japan, ramen noodles come in dozens of varieties. I like using thin spaghetti for this as they have a nice texture when chilled and the kinks in the noodles help them hold onto the toppings as you slurp the noodles and it is one of the noodles that is easily grab at the home pantry. However, the best option is still fresh ramen!
What kind of topping on Hiyashi Chuka?
The toppings can be subdivided into three broad categories: proteins, vegetables, and garnishes. There is a lot of room for improvisation here, and we encourage you to experiment with what's in season around you. 

Protein
For this recipe, we used prawn and egg as our protein. However, chicken breast, ham, egg, or imitation crab is also commonly used. The skies the limit here, you can also make Hiyashi Chuka with everything from leftover your leftover.

Vegetables
In this recipe, we use watermelon radish, cucumbers, carrots, tomatoes as the vegetables that we like as we just grab whatever we have in our pantry. Corn and even broccoli make for delicious toppings for this dish, and we even venture to say the best vegetables are the ones you already have in the fridge.

Garnish
Corriander is our best friend especially when it comes to salad based dishes. The freshness just matches our liking. We also added some freshly toasted sesame seed for the crunchy texture for every bite.
Making the Sauce
There are also many options you could do with the sauces. You could even grab the ready-made one from the shelves. However, this year mission for us is clear whatever bottles of sauces we have at home, we decided to use the ingredients available at home and make them.

We decided to make a Soy Sauce Vinaigrette – this style of dressing is light and tangy with a balancing sweetness and a hint of nutty sesame oil. The ingredients are usually soy sauce, rice vinegar, sugar, white pepper and ginger. You could also make Creamy Sesame where it will make your salad richer. Using the same ingredients you have for the soy sauce vinaigrette you will add-in tahini (sesame paste).
On hot days, a cold noodle dish like Hiyashi Chuka is a delicious nutritious meal to cool your body down, while filling up your tummy.  Now go ahead, pick up some ramen and your favourite toppings, and create this cool Japanese dish!

xoxo, Joe
Hiyashi Chuka | 日式冷面
Cool down and relax with this Japanese Cold Ramen dish called Hiyashi Chuka. It's a bright, flavorful, fun way to experience the magic of ramen on a hot day!
Ingredients
3 serving of thin spaghetti/ fresh ramen

topping

6 prawn, unshelled, cooked and halved

1 Japanese cucumbers, julienned

1 Carrot, julienned

3 tomato, cut into wedges

5 watermelon radish, julienned

coriander

Sheddered Egg

2 large eggs (50 g each w/o shell)

2 tsp sugar

¼ tsp kosher/sea salt

1 Tbsp neutral-flavored oil (vegetable, rice bran, canola, etc)

Sauces

6 Tbsp soy sauce

4 Tbsp sugar

3 Tbsp rice vinegar

2 Tbsp sesame oil

2 Tbsp water

1 Tbsp toasted black/ white sesame seeds (roasted)

¼ tsp grated ginger
Methods
For sauces: In the oven-roasted sesame seed till brown leaves cool the side. In a bowl combine all the ingredients for the sauces, stir well.
For eggs: you make a thin egg crepe and cut it into thin strips. Whisk together the eggs, sugar, and salt. Heat the oil in the pan over medium heat. Pour the egg mixture into the pan and cook on both sides. Cool the egg and thin-sliced it.
For prawn: do not de-shell them before cook! As the prawn will curl up more and it is not presentable. Cook it in boiling water, drain it once it turns fully orange. Let it cool in ice water before de-shell it. Cut it halve.
For vegetables: Skin the carrot and julienned the carrot, cucumber and the watermelon radish. Lastly wedge your tomatoes.
For assemble: Cook your noodle base on the instruction on the package. Assemble them on the bowl. Drizzle your sauce before serve!
xoxo, Joe