This might be a piece of great news for those who want to have fast and easy Oven-roasted Vegetables that never fail to serve on your dining table. This is the recipe that you want to remember by heart and do not want to miss. You just need 5 staple ingredients in your pantry and you can put a well-seasoned plate of oven-roasted vegetables on your table. We promised, it's a beautiful and delicious stand-alone or goes with any of your dishes and does not compromise the taste of it.

So are you ready to get started with us? We believed that almost 99% of the human race loves to have garlic as we do. It is the most pleasant ingredient loved by everyone. Garlic grows in many parts of the world and is a popular ingredient in cooking due to its pleasant and delicious taste. It gives a slightly spicy flavor infuses in all the food you are prepping. We almost everything with garlic as it just makes things more delicious. So this ingredient would never go wrong with any other ingredients.

Not until recently that I discover garlic powder as I'm too used to garlic but why we fall in love with powder form is before it helps to marinate and infused your food even quickly and deeper.

The 5 staple ingredients
Oil (flaxseed oil, olive oil or any other selection)
Salt
Pepper
Garlic Powder
Chili Flakes (Optional)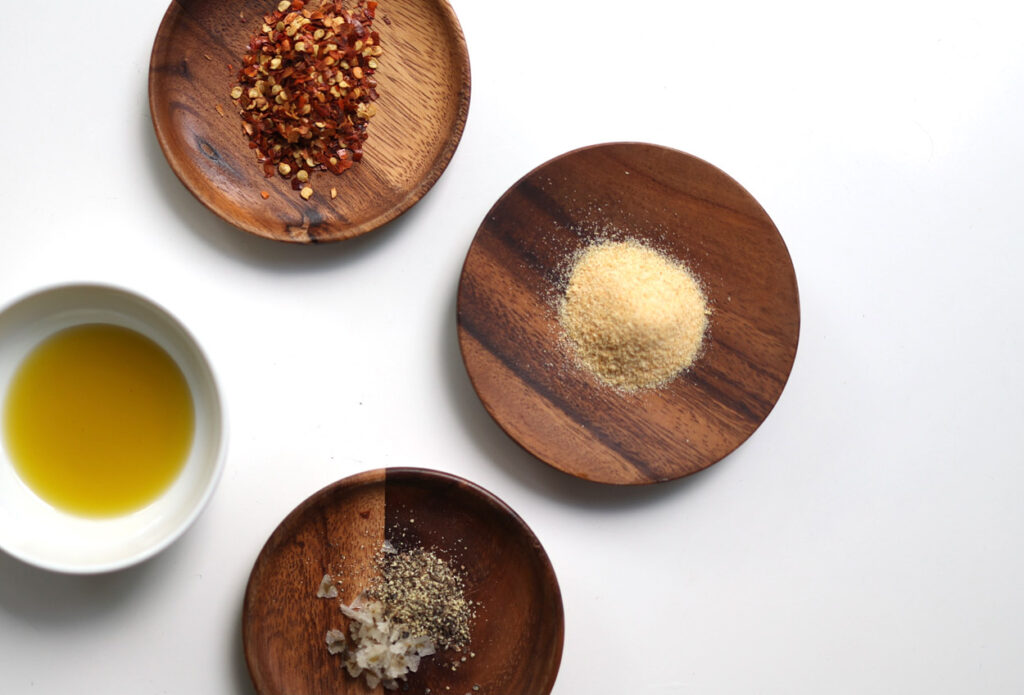 What kind for oven-roast, any veggies?
These days whenever we cook we love to have a tray of roasted veggies as our side on the table. You can roast just about any vegetable but if you really need to ask, what kind of vegetables are best for roasting, personally we preferred to go with Crunchy and Hard Vegetable. . Just use the same simple method – chop (things such as green beans and asparagus just leave whole), drizzle with oil, season, toss and roast. Toss once or twice through baking.
Just keep in mind different vegetables take various amounts of time so we usually like to roast vegetables with the same cook time together (or give more firm root vegetables a head start then add others later on). However, there are times where we a rushing, we will mix all the vegetables in a tray and cook them at a go. A simple tip to undercooked or overcooked some vegetables to chop the easier cooked vegetables into bigger pieces and the longer times smaller pieces.
Cauliflower – 25 minutes
Celery – 25 minutes
Sweet Corn  (cobs left whole with husks) – 40 minutes
Eggplant – 20 minutes
Head Lettuce – 15 minutes
Pumkins – 30 minutes
Potato – 30 minutes
Sweet Potato – 30 minutes
Carrots – 30 minutes
Onion – 15 minutes
Brussels Sprouts – 30 minutes
Broccoli (don't forget the Brocollini) – 30 minutes
Peas and Beans (like chickpeas) – 20 minutes
Zucchini – 25 minutes
A swap for a happy planet, never been so happier with my Flexitarian Diet and I've lost 8kg.
Back in July, I shared my resolution on becoming a flexitarian, ever since I have been eating happier and felt my body getting stronger never better than before. It has been almost 20 weeks now, meal planning has infused into my everyday life without knowing but busy days could catch me off my grid, there is where I fall in love with oven-roast vegetables. What best about that, not a day the menu is repeated and I could enjoy freshly roasted seasonal vegetables as my main or as a side based on my preferences.

I chose to be flexitarian for many reasons and not compromised my old life, this allows me to appreciate my meal more and avoid sudden changes in my lifestyle. A vegan diet is in most cases better for the environment than a flexitarian diet when you consider all the factors that affect the mother earth. However, I still want to contribute to the environment through what I eat. Fear not about changing your way of eating, here are some tips for you to swap your meals to plant-based.
Start small – like me if you're used to eating meat every day of the week, why not start with a meat-free Monday?

Change your mindset – rather than thinking of it as limiting your diet, start thinking about how you can incorporate lots of new foods and ingredients into your diets, such as soy protein, grains, lentils, and many others…

Make meat the side – Switch your meals around so that meat isn't at the center. That way you won't notice if there is less of it. Each week I will cater 20% of the meals on my meals unlike in the past. This allows me to appreciate the meat whenever I have it.

Make simple swaps for more meat-free meals – use halloumi instead of bacon, a marinated tofu, and tempeh instead of a beef burger, or beans and peppers instead of mince in chili, you'll soon learn just how versatile vegetables and pulses can be.
Having vegan meals is so much more than just salad in your meals!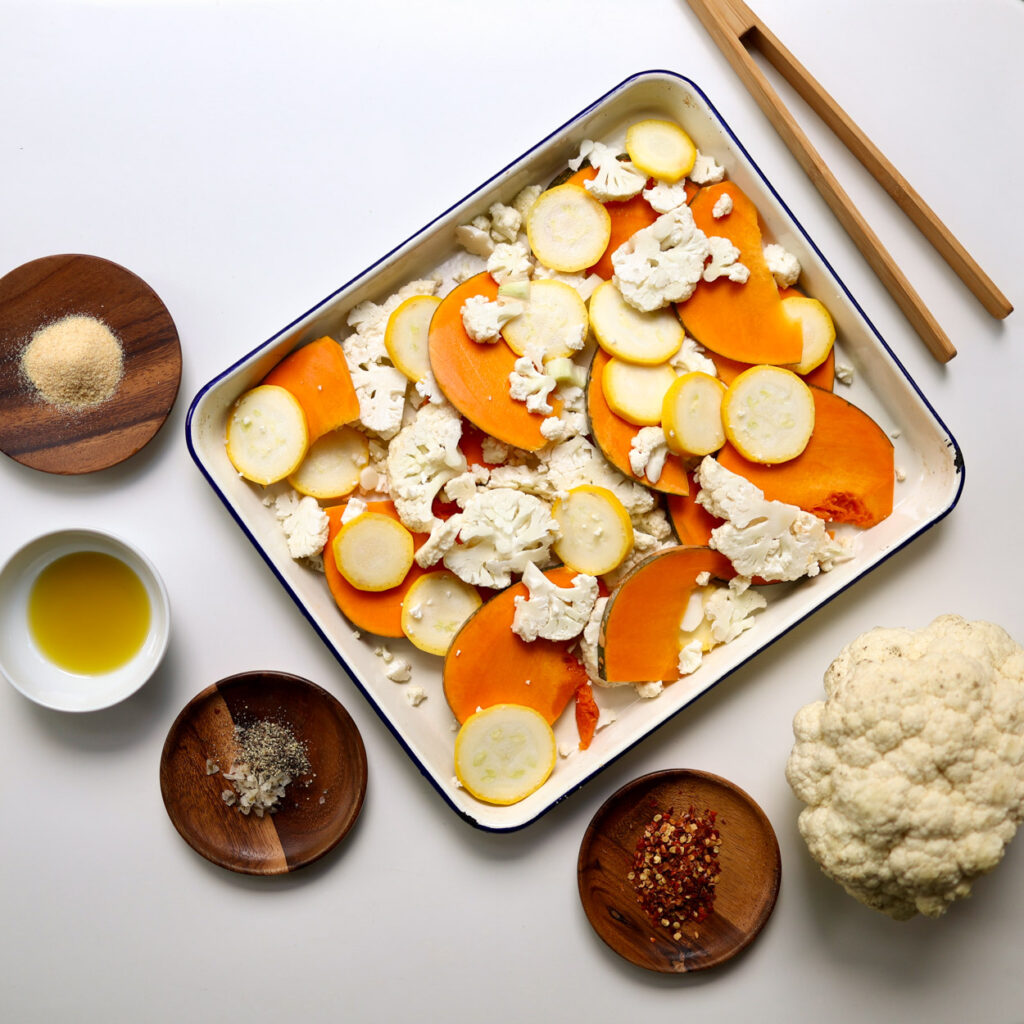 We share what we love and as much as we love vegan meals, our blog is a mixture of healthier and flavourful tastes. Gonna head to bake another tray of vegetables for our lunch. Try it with us.

xoxo, Angela.
Garlic Oven Roasted Vegetable(s)
Ingredients
Your choice of mixed vegetables

1/2 yellow zucchini, thinly sliced

1/4 pumpkin, thinly sliced

1/4 cauliflower, cut into smaller pieces

2 tbsp of garlic power

2 tbsp of olive oil

salt and pepper to taste

1 tsp of chili flakes (optional)
Methods
Lay all the prepared vegetables on the baking tray, season them well with the seasoning. Bake for 30 minutes in the oven at 200C.
Don't forget to toss halfway. The edges of the baking sheet cook hotter than the center, plus if you don't toss they may brown too much on the bottom.
Drizzle with lemon (optional) and serve warm.